REVIEW: The Warrior by Margaret Mallory
In an adventure across land and sea, a deep love is rekindled between young lovers across sixteenth century Ireland and Scotland.  Will their secrets bring them closer together or tear them further apart?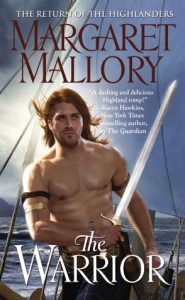 The Warrior by Margaret Mallory
Return of the Highlanders, Book 3
Available October 30, 2012
ISBN: 978-0446583091 | Rated 5 out of 5 Stars
Book and review courtesy of Romance Junkies.
In the third book of Margaret Mallory's THE RETURN OF THE HIGHLANDERS series, we return to the Isle of Skye in sixteenth century Scotland, prior to Duncan MacDonald's journey to fight in France.  We're introduced to the young lovers, Duncan and Moira, in the height of their passion for one another, when their love first blossomed without Moira's chieftain father's knowledge.  Duncan always sensed he would lose Moira because his warrior status and uncertain parentage weren't a match to strengthen the clan's power or wealth.  Neither expected to be ripped from one another instantly by Duncan being sent off to war with his clansmen, and Moira quickly married off to an allied chieftain's son.  It was a miracle Duncan wasn't killed for violating his chieftain's only daughter's innocence, but he couldn't fight for her when he was assured she wanted another.
For seven years, Moira endured the cruelty of her husband, Sean, chieftain of The Glens in Ireland.  After the death of her oldest brother and father at the Battle of Flodden, Sean's cruelty became worse.  He knew Moira couldn't be defended by the weakness of her clan's current status, having recently lost warriors and land to another clan, leaving her youngest brother, Connor, in charge.  She was stuck with Sean and he could treat her any way he wanted without fear of punishment.  When Sean almost kills Moira while teaching her son a lesson in loyalty and obedience, she vows to find a way for the two of them to escape her brutal husband.
Connor sends his most trusted warrior, Duncan, to his allies in Ireland to enlist their help against their fiercest enemy, the MacLeods.  Duncan dreads seeing the love of his youth, who he never forgot, with her new husband, but he cannot refuse Connor's request.  Will the young lovers survive a public meeting without anyone discovering their true feelings for one another?
Duncan is an irresistibly fierce hero by looks and deeds alone, but it's his heart that burns the brightest.  Moira's strength and spunk can't be denied and she's the perfect heroine to match Duncan's pride and loyalty to his clan.  It doesn't take long to hope for Moira and her son's happiness, but Duncan's story isn't without sacrifice either.  Love doesn't come easy for the MacDonalds, so expect the worst before they can ever look forward to a possible happy-ever-after.
Author Margaret Mallory knows exactly how to capture a reader's heart, gripping it tightly, not letting us breathe until the final page is turned.  THE WARRIOR is heartbreaking, filled with tension, breathtaking passion and nonstop adventure from beginning to end.  I cried by chapter eight and I'm still not sure how Margaret Mallory convinced me to care so deeply about characters I had just met.  I haven't read the first two books in the series, so without any prior knowledge of what has happened so far, I was thrust into a world I couldn't leave until I knew their tale.  That's the mark of a master storyteller.
For historic adventure across land and sea, THE WARRIOR is everything that lovers of highlander novels crave.  If you've longed for a book that you must read within twenty-four hours, then this novel will match those desires, while igniting a few more in the process.  A perfect romance, THE WARRIOR begins with heartache, enhances with hardship, teases with love and passion, and then rounds out the torture with uncertainty and danger until you're desperate for a happy ending so you can breathe again.  Superb storytelling!
Order Print or eBook at AMAZON | B&N
~~~
What's on your mountain?

Print this Post