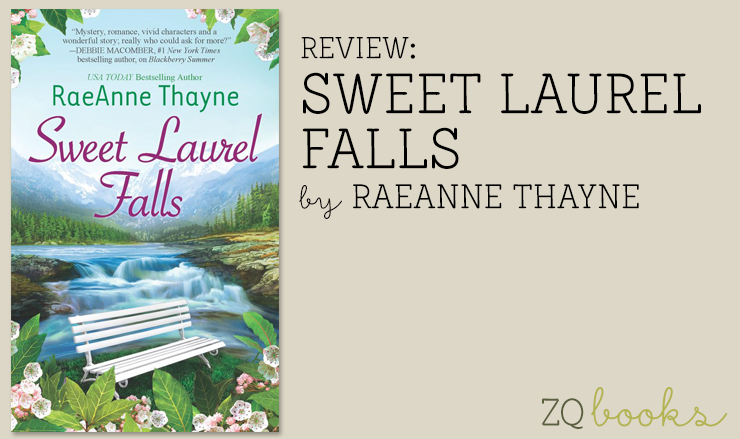 REVIEW: Sweet Laurel Falls by RaeAnne Thayne
High school sweethearts reunite twenty years later when a daughter discovers who her father really is—and brings him home—unannounced, without warning—in the middle of her mother's book club Christmas party.  Will the past dampen the reunion, or will the promise of the future give them hope?
Sweet Laurel Falls by RaeAnne Thayne
Hope's Crossing, Book 3
Available September 25, 2012
ISBN: 978-0373776702, Rated 4 out of 5 Stars
Book and review courtesy of Romance Junkies.
Maura McKnight-Parker dreads the Christmas season this year.  She needs to be festive as owner of Dog-Eared Books & Brew, but looking back at the past year, Maura isn't sure she can tolerate one more sympathetic comment.  After her youngest daughter, Layla, died in a car accident that shook Hope's Crossing in Colorado to its core, Maura hasn't found anything that can take her mind off the loss.  She exists, but she doesn't live, often pretending she's okay, when she isn't.  Her oldest daughter, Sage, surprises Maura by bringing her unknown father home for the holidays, right in the middle of Maura's book club Christmas party.  Nothing like your first love, who doesn't know he's a father, to jazz things up for the holidays.  Talk about surprises!
Jackson "Jack" Lange can't believe he's back in Hope's Crossing, after leaving as a young man and swearing he'd never return.  Having endured the cruelty of his father after the death of his mother, Jack doesn't want to be reminded of those painful adolescent memories.  But, how can he resist the intelligent, young woman who claims she's his daughter?  He can't deny it just by looking at her.  Why didn't Maura tell him that she was pregnant twenty years ago?
Sage had no idea that Jackson Lange, the famous architect, was her father, but it didn't take long for the two of them to put two and two together when they met by chance at an architectural lecture.  Are Sage and Jack the last to find out, or did Maura leave everyone else in the dark, too?  And speaking of secrets—Sage has one of her own that may just shatter this reunion.
As the third book in the HOPE'S CROSSING series, SWEET LAUREL FALLS concludes some storylines from books one and two, so I highly recommend that you read the first two books, BLACKBERRY SUMMER and WOODROSE MOUNTAIN, prior to this one for the best enjoyment.  For fans of the series, the Angel of Hope causes some commotion, so you'll love what you find out in SWEET LAUREL FALLS.  It's quite charming actually, and I enjoyed the stories shared by the characters.  There's also some catch-up with the couples from the first two books and an unexpected new spark of attraction besides Jack and Maura.
SWEET LAUREL FALLS is about the power of family, good friends and hope when life has been endured after a tragic loss, and now needs to be lived.  I had a hard time with this book and it's probably because the sense of loss from Maura's point of view is so realistic, but then again, so is Jack's, so it's hard to decide which one has more to overcome.  It takes a large portion of the novel for Maura and Jack to consider each other together as a couple, as well as for them to forget and forgive the past.  Their emotions are raw, oftentimes so much so that you're not sure they'll ever get past what they've suffered.  There's no easy answer for this couple, in addition to the conflict Sage faces.  In your heart you know what they should do, but if it was your own reality?  Deep quandary.
As always in Hope's Crossing, hope is the light that guides them, even if it takes them a while to find it.
RaeAnne Thayne writes conflicts that are thought-provoking—often staying with you to ponder.  Ms. Thayne's dialogue and character thoughts are often laugh-out-loud funny, or uncannily true-to-life.  Also, her unique style increases your vocabulary which I look forward to in my reading.  In addition, who doesn't absolutely love the name of Maura's bookstore and coffee shop, Dog-Eared Books & Brew?  I loved that and wish I could visit it for real.  I'm sure you'll agree after your visit with the Books and Bites book club Christmas party at the Dog-eared Books & Brew.  More gossip than books and a few shockers are in store this year!  I want to go—how about you?
Order Print or eBook at AMAZON | B&N
~~~
What's on your mountain?

Print this Post