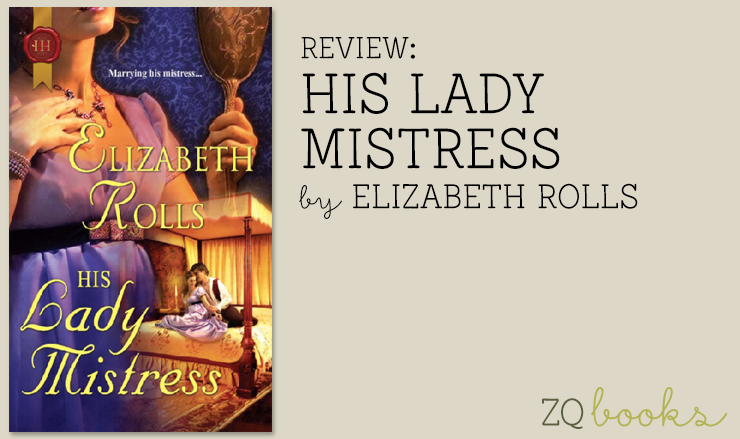 REVIEW: His Lady Mistress by Elizabeth Rolls
HIS LADY MISTRESS by Elizabeth Rolls is an enjoyable rags-to-riches Cinderella theme with some twists.  I like Elizabeth Rolls' books because they usually have some quirky humor.  This one is a bit dark in comparison, but still a good story.
His Lady Mistress by Elizabeth Rolls
Published February 21, 2012 in eBook
ISBN: 978-1459202757, Rated 4 out of 5 Stars
Book courtesy of publisher for free.
I received this ebook as a free read from the publisher, with no expectation of review.
In the year of 1817, a fifteen-year-old girl follows two men who throw a dead body into a pony cart.  A stranger on horseback also follows the two men.  The young girl, Verity Scott, follows at a distance, describing the grisly scene step-by-step since the man in the cart is her father.  The stranger turns out to be a friend of her father's from the war, the one person who insists on some decency in her father's burial.  The stranger, Max Blakehurst, shows kindness to Verity when she needs it most, creating a bond in Verity's heart that never will be forgotten.
Jumping forward to 1822, Verity is forced by her guardians to change her name to Selina Dering.  Left to wear raggedy clothes while her cousin dresses in societies' finest, Verity blends into the background, not really a servant but treated like one.  Once again it seems as if Max Blakehurst has come to Verity's rescue, when he attends a house party thrown by her relatives, but he doesn't recognize her.  Her aunt and uncle assume that Max is interested in their daughter as a potential wife, but he's really there to find out what happened to his colonel's daughter after the man's suicide.  Verity's uncle insinuates that she has also committed suicide which horrifies Max even more because of his lack of attention toward the girl.
Blakehurst bumps into "Selina" just after she's fended off her male cousin during one of his advances.  Sworn to secrecy about her identity, or be thrown out on the street, Verity doesn't tell Max who she really is for fear of the consequences.  All Max wants to do is rescue "Selina" from the cruelty of this family somehow, the most likely way is to take her as his mistress.  He didn't rescue Verity in time, so he sees his rescue of "Selina" as some type of make-up for his past.  Verity accepts Max's offer as "Selina the governess," but intends to keep her true identity to herself in hope of earning an annuity for her future.
I love rags to riches stories and this one has a few more twists than expected.  The cruelty Verity faces from her guardians is beyond imaginable, which makes it believable that a young, innocent woman would accept a position as a mistress with a well-renowned rake.  She has no money of her own, no references and no way to escape other than relying on Max, who turns out to be an earl.
Lord Blakehurst is well-meaning, if not a bit misguided by his wealth, reputation and basically acting as a man who sees his bachelorhood as necessary for one specific reason.  He's a rake who needs taming but does Verity have the fortitude to win him over?
There are several secondary characters who add to Verity's distress and others who eventually come to her aid, making her circumstances a constant upheaval.  It will either break her or make her stronger, but her happy-ever-after depends on developing strength.  Will Max realize what he has before it's too late, or will Verity be forced to find her own way without him?
I enjoyed Verity's personal growth.  Max can be such an idiotic man at times, but that's all the more reason to hope he'll eventually get his act together.  Verity doesn't know her own self-worth, but she has enough backbone to stand up to the worst of London society.  I sometimes wanted to strangle Max for all his posturing and self-importance, when Verity could have used some compassion.  Oh, Max has compassion—he just misunderstands everything about Verity most of the time.  Luckily, there are some secondary characters who are more than willing to point out his ignorance, which is very entertaining.
HIS LADY MISTRESS isn't as humorous as I've come to expect from author Elizabeth Rolls, but no one draws out personalities at house parties or society gatherings better, which is apparent once again in this book.  From dogs to children, the secondary characters enhance the plot.  If you like house parties, society balls, snotty matriarchs who need a set down, or a brooding hero in need of a strong, compassionate wife, then HIS LADY MISTRESS is sure to please.
~~~
What's on your mountain?

Print this Post