REVIEW: The Lady of Secrets by Susan Carroll
If you love historical fiction that focuses on the witch hunts and anti-Catholic sentiments of the seventeenth century, then this novel will make you feel as if you're right there amongst the subterfuge and plotting against King James I.  Mixing in a bit of fantasy is perfect!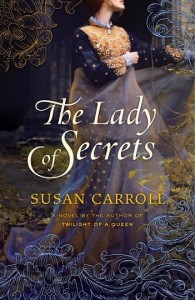 The Lady of Secrets by Susan Carroll
Series: Daughters of the Earth, Book 6
Published December 11, 2012
ISBN: 978-0345502957, Rated 5 out of 5 Stars
Book and review courtesy of Romance Junkies.
In the prologue we're introduced to a fifteen-year-old girl on the day of her execution for witchcraft.  Her twin brother bribes his way into a visit with her beforehand, hoping that she'll deny the charges against her.  But she cannot, for she is guilty.  His pleas for the king's leniency go unanswered, leaving him to make a horrifying choice that will haunt him forever.
Years later in 1605, the appointed Lady of Faire Isle, Margaret "Meg" Wolfe, has responsibilities to those who seek shelter on Faire Isle.  Due to her nature, she cannot refuse the request for healing when it is needed, even if she must leave the safety of Faire Isle.  It is on one of these healing missions that she's faced with a request that will revive her past and invade her dreams.
Her best friend, Seraphine, cannot let Meg wander far without her protection.  Known for her fighting skills, the beautiful Seraphine is an enigma.  Well-armed, she intends to protect Meg against whatever happens.  Unable to predict what they'll uncover, will Seraphine's bravado decline in the face of true evil?
The benefactors seeking Meg's healing ability for James Charles Stuart, the king of England, seem to have Meg and Seraphine's safety in mind, but the ever watchful Seraphine urges Meg to be cautious.  What if these two men desire more from Meg than her healing gifts?  Can Meg safeguard her heart as well as her life?  Can anyone with healing abilities be safe when the king is so easily provoked into burning witches?
Dr. Armagil Blackwood has no respect for a wise woman claiming to know the art of healing.  After all, he is trained as a doctor, even though he's inebriated quite often.  His friend, Sir Patrick Graham, a professed Catholic in dangerous times, has need of Meg's healing abilities and he won't tolerate Dr. Blackwood's rude behavior when it threatens his life's ambition.  Meg proves her skills to Blackwood and Graham but will they prove valuable to the king?
Blackwood is the exact opposite of Graham so they make a very unlikely pairing as best friends, but they are entertaining when they clash, especially since Blackwood enjoys taunting Graham beyond his patience.  Each man seems to appeal to Meg so it's difficult at first to figure out which man she's attracted to most.  We know she'll choose someone but will safety and nobility, or someone notorious, prevail?
Meg's healer's spirit is steady throughout the novel.  Her spiritual light easily conflicts with the darkness of the times, making her journey all the more ominous for a woman with her past.
I really enjoyed this book and I think the subtle humor, as well as the fantasy elements, are what delighted me most.  Even in the direst of situations when you know the characters must be terrified or angry, dry humor offsets the darkness.  And some of the malevolent secondary characters offer a subtle humor in-between their most evil moments that makes their madness so much more realistic and caustic.  None of the characters are cookie-cutter and some are so unique that you don't expect to root for them in the end.  The historical time is well depicted but in the end it's the characters who drive the story.
In an era when every woman and many men fear being accused of witchcraft, or tried for treason for practicing their Catholic faith, you can't ever be sure who can be trusted.  That mistrust kept me guessing and surprised me when I least expected it.
You do not need to read the entire DAUGHTERS OF THE EARTH series to understand THE LADY OF SECRETS, the sixth book.  But, you might wish you had because who can read just one?  Author Susan Carroll weaves such a good yarn that you're beyond stunned when she's woven swiftly through your blind spot.  I did not see that coming—excellent twists!  For pure adventure through history, THE LADY OF SECRETS spins a tale worth re-reading.
If you'd like to know more, check out my Q and A interview with Susan Carroll at Romance Junkies' blog.
Order Print or eBook at AMAZON | B&N
~~~
What's on your mountain?

Print this Post