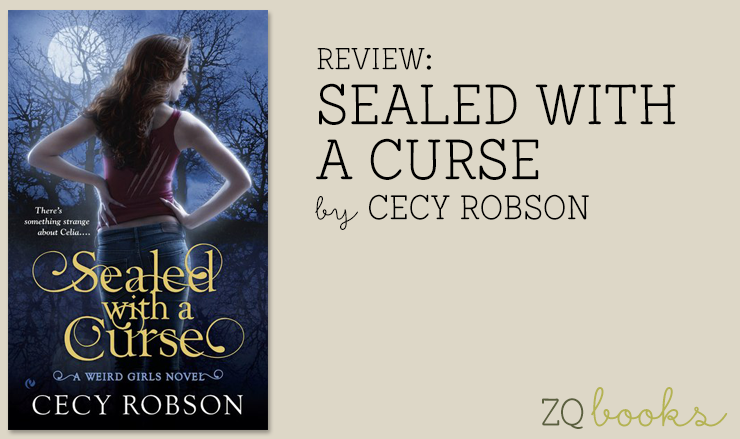 REVIEW: Sealed With a Curse by Cecy Robson
Four sisters in an urban fantasy world with the last name of Wird is not the only weird thing going on in this novel.  For an unexpected combination of entertainment, this is a debut novel you don't want to miss.
REVIEW: Sealed With a Curse by Cecy Robson
Series: A Weird Girls Novel, Book 1
Published December 31, 2012
ISBN: 978-0451416735, Rated 4 out of 5 Stars
Book and review courtesy of Romance Junkies.
I don't usually like cutesy in fantasy or paranormal, and I lean more toward horror, or dark sensual paranormal and urban fantasy as my preferences.  This book started off in my mind as leaning toward cutesy so, although I was momentarily entertained, I couldn't imagine that it would hold my attention until the end.  The world seemed more like a weird parody of a Queen of Hearts scenario influenced by ALICE IN WONDERLAND in the beginning—very clever, but not necessarily something that would continue to intrigue me.  I was oh-so-wrong.
In the beginning from Celia's point of view, we're introduced to her sisters—Emme, Taran and Shayna—as they walk into vampire court.  One of them may have flamboyantly skipped or sashayed while listening to the hissing vampires observing the proceedings.  Each of the sisters has a magical talent, courtesy of a misaligned curse, but they try to fly under the supernatural radar, keeping their talents secret.  Today, everything will change.  They're still weird, but more of the supernatural community will know it.
Misha Aleksandr, a master vampire, has accused the sisters of killing one of his family members.  The vampire society is ruled by this court, with the masters responsible for their people's actions.  Forced to explain who and what they are in court, the Wird sisters' talents are no longer secret.  A replay of the incident from their memories, broadcasted for all to see in court, leaves a lasting impression on more than one attendee.
When chronic bloodlust is found to be the cause of the vampire's attack on one of the Wird sisters that led to his death at their hands, they're released from court because the punishment of death would have been carried out on that vampire anyway.  Next, Misha approaches Celia to help him because he believes a witch is behind the war on his family, causing the chronic bloodlust.
Celia is torn.  Her inner tigress wants to help, but in doing so she'll expose her sisters to more danger.  It's bad enough avoiding a sexy vampire breathing down her neck, but when an even sexier werewolf becomes one of Celia's admirers, her inner tigress is about to implode.  Can any of them save Tahoe from an evil that's spreading beyond control?  Better yet, will they survive the impending war?
Celia is a sympathetic, yet strong, heroine.  She's used to acting on her own in the best interest of her sisters.  She never expects love to find her and if it does, Celia doesn't expect anyone to accept who she is because she's such an anomaly in the supernatural world.  Celia wants love, but is she willing to let someone know her vulnerabilities?
Sizzling with testosterone-infused werebeasts who don't trust the very rich, sleek vampire and his followers, four wild magic-wielding sisters full of surprises and kick-ass fighting skills are in the middle of these dominant men posturing with one another.  They all want the same outcome, to stop the virus that seems to be running amok in their world, but getting there by working together cohesively is a whole other matter.
I don't think I've ever read anything quite so ridiculous and at the same time, so engrossing and creative.  Author Cecy Robson has set the bar high, even for herself, to outdo this outrageous book, but after reading the sneak preview of book two in the back of SEALED WITH A CURSE, I'm grinning in anticipation.  If that teaser is any indication, book two seems just as wacked as book one and I can't wait!
Don't let me fool you into thinking that SEALED WITH A CURSE is all laughter and light because it's also filled with some gruesome killings and well-described fight scenes with some "ewww that's gross" horrific violence on both sides.  All while there's interspersed wisecrack commentary from the sisters participating in or observing the action.
SEALED WITH A CURSE is a kaleidoscope, filled with repartee from four wacky sisters who hook up with some uber-sexy werebeasts and vampires, looking for love and fighting against evil.  SEALED WITH A CURSE is like mixing ALICE IN WONDERLAND with DRACULA, landing in Oz, then giving it a twist and a shake—so fun!
Order Print or eBook at AMAZON | B&N
~~~
What's on your mountain?

Print this Post