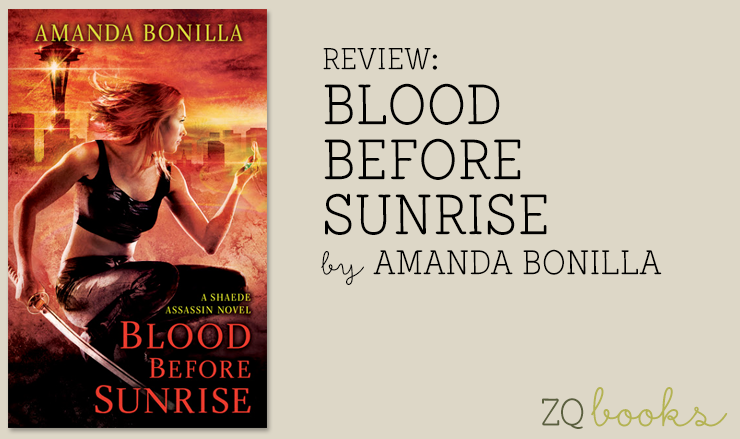 REVIEW: Blood Before Sunrise by Amanda Bonilla
If you love Urban Fantasy, then this series deserves a spot in your immediate to-be-read pile.  Fascinating world-building with love-to-hate villains, you're never quite sure if the lead couple and their friends will live through the evil that's determined to destroy them.
Blood Before Sunrise by Amanda Bonilla
Series: Shaede Assassin Series, Book 2
Published July 3, 2012
ISBN: 978-0451237460, Rated 4 out of 5 Stars
Book and review courtesy of Romance Junkies.
In the beginning, we are reunited with Shaede Assassin Darian, her friend and mentor, Raif, and her boyfriend, Tyler, while they're searching for the elusive Oracle.  The Oracle caused so much trouble in book one that catching her to atone for her behavior is high priority.  The Oracle is a seer of the future, which can be good or bad, depending on whose future she's spouting about.  Spoken mostly in riddles, the Oracle's clues can be more frustrating, sometimes, than knowing nothing at all.  This time is no different because when they find the Oracle, she announces she knows where Raif's daughter is, the daughter who has been missing for years but assumed dead.
Raif isn't interested, assuming that the Oracle is spouting more lies or has basically flipped out, spiraling into the abyss of madness.  But Darian believes that all clues should be followed, especially since she feels that she owes it to Raif to find his daughter, giving him back some of what he's lost.  Loss is something very familiar to Darian and Raif means everything to her, so she vows to help find his daughter whether he wants the help or not.
Tyler becomes extremely jealous of Darian's relationship with Raif and his brother, Xander, the High King.  Tyler is a genie or Jinn and has bonded to Darian, meaning that he will protect her at all costs.  The fact that they have fallen in love and have committed to each other makes the bonding even more precarious.  Yes, they are committed to one another but they're both very independent with responsibilities beyond what they have together.  It's not like Tyler to be so jealous of Darian's friends or colleagues, and they both know it's becoming a problem.
In BLOOD BEFORE SUNRISE, Darian's abilities are changing, giving her more ammunition against the evil that's always jockeying for control.  Her independence isn't always an asset, often testing her strength close within its limits.  Will she learn to lean on those who have her back, or go after what she wants alone, only to regret her decision after it's too late?
BLOOD BEFORE SUNRISE shouldn't be read unless you've read the first book in the SHAEDE ASSASSIN series, SHAEDES OF GRAY.  You might understand book two without reading book one, but you'll miss the essence in book one that makes book two a more emotional read.  Since Darian's relationships continue from book to book, you'll ruin the depth of this series by reading it out of order.
Darian is a kick-ass heroine quite confident of her skills as a warrior.  She's an assassin, ridding her world of the worst creatures who threaten her world that is shared with humans.  Darian is madly in love with Tyler, devoted to him so much that she'll risk his anger in order to protect him.  Even though Darian seems to be so hardened that she's beyond caring, we get to see a different side of her in this book.  She's still deadly when needed, but emotion plays a bigger role in book two.  Darian's relationship with Tyler is very sensual as well as loving even though Darian has issues with trusting anyone completely.
BLOOD BEFORE SUNRISE should be considered more urban fantasy fiction than romance.  It combines paranormal and fantasy elements in a world on the fringe of war.  There's romance but it's not traditional, nor does the book always focus on the lead couple.  There's also some physical abuse that may be upsetting to some readers.
I love the grit in this series.  I might have a few "ewww, that's gross" moments but I get a kick out of it.  It's that fine line that seems horror-influenced that keeps me riveted even though I don't always want to see what happens.  Darian is far from your preconceived heroine.  She's also not so convinced of her own abilities not to aspire to change for the better.  Oh sure, she's often snarky and hardened enough to believe she's the best warrior, but part of that is posturing to give her confidence to win.  She's not so detached that she's not willing to change, for the right person, and my hope is that much of what she experienced in book two will be considered lessons learned for the better in book three.
Besides all that, Darian attracts some of the sexiest alpha men.  If they're not attracted to her, they're interested in using her for their own purpose, so recognizing friend from foe is never easy.  This includes an unexpected villain in this book who will probably make your skin crawl.
If you love imaginative world-building with action-packed twists and turns, then BLOOD BEFORE SUNRISE will captivate you.  There's some creepy evil to overcome in this novel, with gory details of battles against malevolence of the mind and body.  Never a boring page, BLOOD BEFORE SUNRISE paces the jittery edge of good against evil, leaving you desperate for book three, CRAVE THE DARKNESS.
Order Print or eBook at AMAZON | B&N
~~~
What's on your mountain?

Print this Post