REVIEW: Return to Willow Lake by Susan Wiggs
From best friends to lovers, Sonnet and Zach complicated their friendship during one night of passion.  Can they leave their one-night-stand as just a memory and go back to being best friends?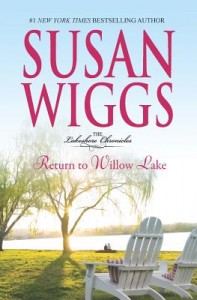 Return to Willow Lake by Susan Wiggs
Publication date: Hardcover – August 2012
Publication date: Mass Market – February 2013
ISBN: 978-0778313847, 978-0778314998
Rated 4 out of 5 Stars
Book and review courtesy of Romance Junkies.
When Sonnet Romano returns to her hometown to be in her stepsister's wedding, she never expects to fall into bed with her childhood best friend.  Zach Alger looks nothing like he did in high school, but it has been years since they've seen one another and they've both changed.  While Sonnet has been "saving the world" in her high-powered job in New York City, Zach stayed in their hometown, shooting videos of weddings, hoping someday for his big break.
After her stepsister's wedding, Sonnet decides to cut loose and have a few drinks.  All it takes is one kiss from Zach and she's falling into his arms on a boat on Willow Lake.  One kiss leads to another and before they've had time to think about it, they've done the deed and recorded themselves doing it, accidentally.  Can their friendship ever go back to what it was before they got to know one another on a much more intimate level?
Sonnet returns to New York City to her perfect job, a new perfect boyfriend, looking forward to spending time with the father she barely knows but adores.  When she earns the fellowship of her dreams, she can't imagine anything standing in her way.  When her mom becomes pregnant, Sonnet returns home to support her and finds out she's needed for something a lot more serious than following her dreams.  It has always been Sonnet and her mom facing life together since her dad wasn't around much during her childhood.  She's enjoyed the time getting to know her dad and is determined to prove that she's worthy of his pride.
Can Sonnet leave her New York life behind while concentrating on what's really important and still keep everyone happy, including herself?
Susan Wiggs knows how to push the reader's emotion to tearful doubt before giving us a satisfying end.  Part of this novel evolves around a film crew creating a show about some city kids enjoying a camp in a small town.  This adds something different to the plot, as well as giving Sonnet a new perspective.  There's also a secondary story involving Sonnet's mom that brings forth some very emotional issues.  I haven't read any of the LAKESHORE CHRONICLES novels prior to this one, but I didn't feel lost and I easily became connected to the characters without any backstory.
RETURN TO WILLOW LAKE is rich, detailed women's fiction that concentrates on family values.  It's an enjoyable book that takes on prejudice, blended families, politics, illness and true love…then mixes it up with determination and friendship, teaching lessons on the way to more than one happy-ever-after.
Order Hardcover, Mass Market, eBook or Audio at AMAZON
~*~*~*~
What's on YOUR Mountain?

Print this Post