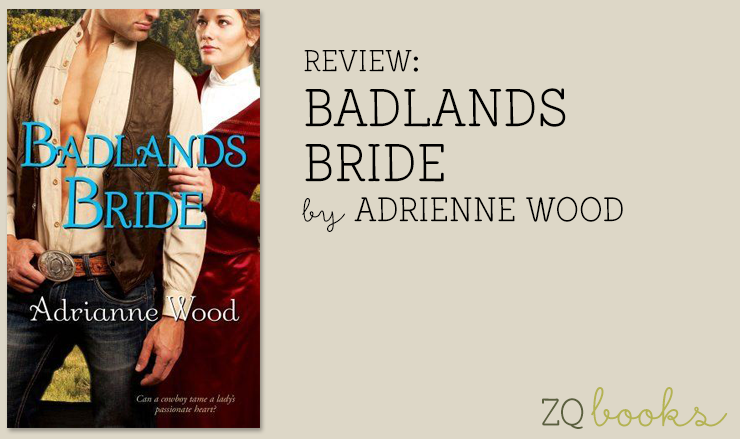 REVIEW: Badlands Bride by Adrianne Wood
An archaeological dig in the Colorado badlands is the setting for this entertaining western historical.  From Colorado to Boston, a young heiress searches for her true love while trying to follow high society's rules for proper young ladies.  She may just find out that she's more naughty than nice!
Badlands Bride by Adrianne Wood
Publication date: December 2012
ISBN: 978-1451698244
Rated 4 out of 5 Stars
Book and review courtesy of Romance Junkies.
Mason Donnelly wanders into a fossil expedition in the Colorado badlands, financed by Charles Bertrand Highfill of Boston, when he takes some time off from his journalist position.  Mason had written a not-so-complimentary article after his last visit to one of Highfill's bone hunting sites, so he isn't sure of the welcome he will receive at the encampment.  Highfill doesn't seem overly concerned about the slant of Mason's previous article, even though he does mention the slight, but his granddaughter is not so pleased.
Miss Lily Highfill has set her sights on Cecil St. John as her future husband.  As her grandfather's business partner and a well-considered gentleman of Boston society, Cecil is exactly the type of man her mother approves of as well.  Currently, Cecil seems more interested in his work at the bone site than courting Lily properly, so she decides to get his attention back.  Cecil should not be so sure of himself, especially since he has been ignoring her so much lately.  Lily entices Mason Donnelly to play along as an interested suitor to make Cecil jealous.
It doesn't take long for Lily and Mason to realize that their time together has increased their sexual awareness of each other.  Even so, a transient newspaper reporter and a Boston heiress will never be allowed to follow their hearts for one another, will they?  Besides, their plan worked and Cecil is now determined to have Lily as his bride.  Will Cecil's claim to Lily and her grandfather's approval sway her desire for Mason?
Mason's future as a reporter depends on finding the next great story to gain his job and his readers back.  The Highfills are definitely hiding something and Mason is determined to uncover what's going on.  But, will exposing these secrets ruin any chance that he might have with Lily?
BADLANDS BRIDE is a fun start to a trilogy about high society sisters who can't seem to stay out of trouble.  There's plenty of suspense to keep readers turning the pages but I was especially intrigued by the entertaining characters and the setting.  Lily is a feisty heroine who defies society rules as much as she tries to follow them.  Forced to live with her aunt in Denver for the last eight years due to previous bad behavior unbecoming to a lady, she's bound and determined to earn her mother's respect by choosing Cecil as her betrothed.  Before long she realizes that Cecil truly bores her and Mason excites her.  Can her moral upbringing stand a chance against the sexual allure of a man she knows will never be hers forever?
Mason, on the other hand, is honorable while tempting Lily with his not-so-honorable intentions.  Getting himself in and out of scrapes is part of his charm.  Sometimes bumbling in his methods, it's easy to see why Lily is interested in him more than Cecil.
Of course, there are also villains to suspect, secondary characters to wonder about and several mysteries to resolve before Lily's past and present allow her to stand proud with whatever decision she makes, with or without her family's approval.
The archaeological dig scenario made the setting in this novel quite interesting.  There are no cowboys or a ranch in this book, but instead, this western has high society gentlemen getting dirty, threatened by local miners who don't want them there, along with intellectuals and financiers trying to orchestrate everything their way.  There are still horses and guns, so the western feel is most definitely there, even though it's not a small town—but a tent town of bone hunters instead.
BADLANDS BRIDE gives western historical lovers a fresh story from a new perspective, sure to please the treasure hunter within.  After meeting Lily's sisters at the end of BADLANDS BRIDE, I can't wait to see what kind of trouble Emily gets into in STOWAWAY BRIDE, due to release in November 2013.
WHAT'S ON YOUR MOUNTAIN?

Print this Post