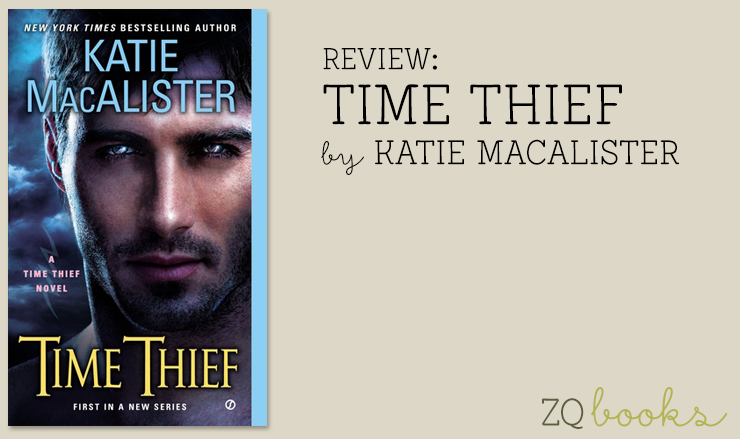 REVIEW: Time Thief by Katie MacAlister
If you love unusual storylines filled with quirky characters, then this witty and inventive paranormal novel may be just what you're looking for…
Time Thief by Katie MacAlister
Series: Travellers, Book 1
Publication date: May 7, 2013
ISBN: 978-0451417428
Rated 3.5 out of 5 Stars
Book and review courtesy of Romance Junkies.
Kiya Mortenson talks to an allergy sufferer while she waits to be seen in a walk-in clinic to make sure that her brains weren't fried when she was struck by lightning.  At first, I was sure that the lightning strike had scrambled something by the way Kiya circled from one thought to another.  Dalton McKay, the allergy sufferer, seems to think the same thing, but he can't help talking to Kiya anymore than I could stop reading her thoughts and their conversation.  What a hoot!
Kiya's next problem is that her 1969 VW Bug, Eloise, is on her last leg after a near crash with a logging truck.  Loving Eloise as much as she does, Kiya accepts a ride from a stranger, who offers to pay for a tow when they get to town.  This leads Kiya to get a job with the stranger's grandmother, taking care of the woman's five pugs so she can raise money to fix Eloise.  The grandmother, Mrs. Faa, happens to live in one of three RVs nestled in an Oregon forest.  Mrs. Faa and her family refer to themselves as Travellers, but Kiya thinks they resemble the kind of people she has heard described as Romanies, or Gypsies.
Half the entertainment of this book is the journey, which happens bit by bit as clues are laid out, one quirky tidbit after another, so I'll keep this short so that you can experience the TIME THIEF as I did, without any spoilers to ruin the fun.
By the end of chapter three, I didn't have a clue of what was going on or where this story was leading, but I was entertained.  Kiya is a scatterbrained heroine, often talking to herself, much to the fascination of Peter Faa, a member of the Watch that patrols the immortal world.  Peter is investigating several murders, suspecting that this group of Travellers is responsible.  Peter can be just as eccentric as Kiya, and when they can't resist each other one more moment, their peculiar behavior is infectiously funny.
A cast of twisted characters that are laugh-out-loud silly keep the reader wondering what will happen next.  TIME THIEF is a kaleidoscope of weirdness, sure to please fans of Katie MacAlister's wit and talent.  Ms. MacAlister certainly has a vivid imagination that took me for a wild ride in an inventive paranormal world unlike any other.  It will be fun to see where this TRAVELLER series goes next.
What's on your Mountain?

Print this Post