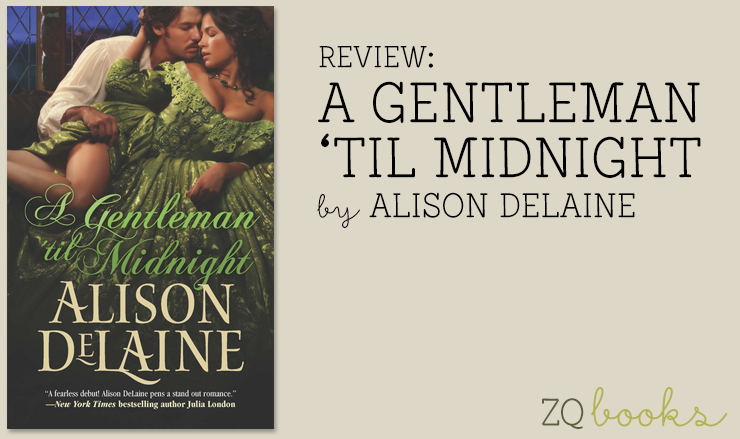 REVIEW: A Gentleman 'Til Midnight by Alison DeLaine
Swashbuckling good fun is to be had when a woman captains a ship that is rumored to be involved in less than legal behavior, and then she is forced to act as a lady to retain her inheritance.  London has never seen the likes of this or the line-up of men ready to wed her for the value of her land.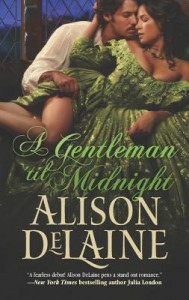 A Gentleman 'Til Midnight by Alison DeLaine
Category: Historical
Publisher: Harlequin HQN
Release Date: December 31, 2013
ISBN: 978-0373778362
Rating 4 out of 5 Stars
From the waters of the Strait of Gibraltar to a London masquerade and then off to Scotland, this historical romance novel is a romp with pirate panache.  It begins in 1767 upon a ship captained by Corsair Kate, the notorious Lady Katherine Kinloch, heir to the Scottish Dunscore, her childhood home.  She's not the only female on board her ship, each one with an opinion of what to do about the man they've found almost drowned.  Should they rescue him or leave him to his fate?
Once pulled aboard, Naval Captain James Warre realizes that telling anyone who he really is would only result in his death or injury.  He becomes known as Midshipman Thomas Barclay, the only survivor of Warre's ship that sank.  James will wait until they arrive in London to admit who he really is, then formulate a plan to assist Lady Katherine in retaining her family home.  After all, it's James' brother who has brought Katherine's inheritance into question, plus it's the least he can do for the captain who saved his life and for the woman whose life he endangered years ago.
Lady Katherine and others she's rescued create a female cast of characters who are so full of life that society gossips won't tire of them easily.  Katherine's reputation arrives in London before she does and Corsair Kate is a fascination for women as much as she is for men.  Will she be able to sway the vote that could give Dunscore to her cousin before she has a chance to see her family home again?
At over four hundred pages, A GENTLEMAN 'TIL MIDNIGHT by Alison DeLaine is an intricate story.  Those who love a historical with substance should really enjoy this book.  I'm especially fond of the premise for this fictional tale which held my attention from the very beginning.  The opening scene on the ship when they try to decide what to do about Captain Warre, who is an unknown, almost-drowned man to them at that point, possibly diseased and dangerous to all aboard, is very entertaining.  Captain Warre can't control his lust for Corsair Kate and her very formidable reputation, and the women on the ship recognize their sizzle immediately.
Even though Captain Kinloch demands respect, her friends are not afraid to try her with their humor.  In fact, they seem bound to annoy her every chance they get.
Katherine is smart and resourceful, yet still feminine when necessary, even though it pains her to dress like a lady.  She's also vulnerable enough to abandon control in the heat of the moment, then becomes uncomfortable, wafting back and forth between what she thinks she should do and what her heart wants her to do.  All in all, Katherine is an engaging female lead with strength and heart beyond what you'd expect from someone who has been held in captivity.
James is the perfect hero for Katherine in that he tests her at every turn.  He brings out her anger and her passion.  I found James to be just as compelling as Katherine and his interaction with other male characters in regards to Katherine was oftentimes very funny.  Page 235 says it all when he describes what he should be looking for in a wife and what is keeping him from doing just that.  It contains one of the funniest lines in the book in my opinion and made me laugh out loud.
I thoroughly enjoyed the moments when the characters were ensconced within London society, visiting friends and going to the theatre or parties.  The male characters' reaction to Lady Katherine, all of them gobsmacked by her allure which is enhanced by her reputation, while James is trying to reduce his own attraction is so amusing.  Every time one of his male friends barely mentions their desire for Katherine, it sets James off inside his head and yet, he cannot say exactly what he is thinking without giving away his own feelings.  It's a laugh-out-loud tug-of-war between what he's thinking and how he must appear that makes his struggles so charming.
Even though this book is filled with a well-developed story, I still wanted more.  There was so much that I loved about this novel but there were also particulars that I either missed, or that weren't detailed enough, leaving me to wonder about them.  I have so many questions about Katherine's past and the past of the women who traveled with her.  I'm guessing that those details will be revealed in future books and it's probably a good thing that I'm still curious because I'll want to read those too.
A GENTLEMAN 'TIL MIDNIGHT is a classic romantic adventure with an unusual plot.  The attraction between Katherine and James is immediate and yet, they fight their fate until the very end.  Their combative nature is engaging and their conflict kept me reading, knowing full well that they'll figure it out eventually, but neither will go along quietly.  And, you won't really want them to, either.  It's that explosive fire between them that can't be extinguished that draws you forward, hoping for a happy-ever-after and then some.
Review written by Dorine, Courtesy of Romance Junkies.
Support this site by following the above links, buying books by clicking on the graphics, or commenting below…
What's on your mountain? Have you ever read a historical book with a female ship captain?

Print this Post