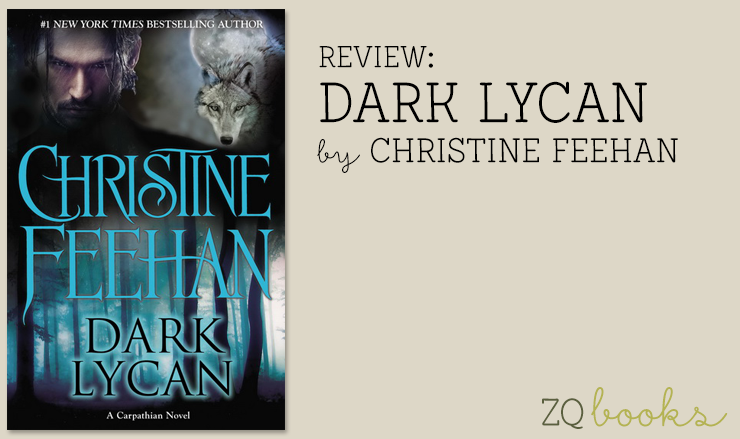 REVIEW: Dark Lycan by Christine Feehan
In a fun "good versus evil" adventure, DARK LYCAN creates anticipation for what's next in this new DARK series trilogy by Christine Feehan.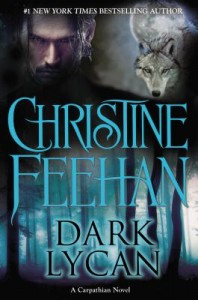 Dark Lycan: A Carpathian Novel by Christine Feehan
Series: Dark Series, Book 24, first book in New Dark Trilogy
Category: Paranormal Romance
Publisher: Berkley Hardcover
Release Date: September 3, 2013
ISBN: 9780425268339
Rated 3.5 out of 5 Stars
Format: Read Hardback print copy from my public library.
DARK LYCAN features Tatijana, a Dragonseeker, and briefly introduces her sister, Bronnie.  They're healing in the earth and Tatijana can't wait to explore everything around her.  Bronnie still needs to rest so Tatijana sets off by herself, nightly, exploring a nearby tavern and its regulars.  She, of course, draws attention to herself without even trying, becoming a curiosity.
Fenris Dalka has also been visiting the tavern, observing those who frequent it.  He is immediately drawn to Tatijana and becomes acquainted with her in order to protect her.  He recognizes several threats to her amongst the regulars and decides to get involved, despite his misgivings.  He soon discovers that the lady is capable of protecting herself, wanting to protect him as well.  They sense that their attraction is more than they assume, at first, because they are destined lifemates.
I read this book to discuss in an online bookclub that I coordinate, so I spent more time than I normally do considering how the book affected me as a reader.  It was an interesting experience, considering that it's book twenty-four in a series that I haven't kept up with, except for the first few books I read years ago.
It was a bit difficult to pick up book number twenty-four and just run with it.  Because this book was the beginning of a trilogy, I thought it would be easier to read.  It was and it wasn't, so I focused on why to better understand myself as a reader. Gradually, a few things from the earlier books came back to me, but I don't feel that this book should be considered a standalone.  I think that if you read paranormal consistently, then your ability to jump into this series at this point may be much easier than someone completely new to the genre.  But, I feel as if I missed too much to have the book hold as much meaning to me as it would to someone who has read the entire series.  I just never felt well-connected to the characters.
For a seasoned fan of the DARK series, read DARK LYCAN so the next two books in the trilogy are more cohesive because this book leads into the next two books.  If you've never read this series, then you should read the series in order, starting with DARK PRINCE, first published in 1999 and a classic of its time.
Although I enjoyed this book, some words were repeated to a point that they became abrasive to me.  Some of the repetition didn't allow the book to feel as original as it could have been, in my opinion.  I don't know if those words and phrases are what create connectivity in the series for other readers, but for me, they were used too often.  If this happens a few times in a book I'm reading, I just ignore it, but if it's repetitive enough that it flags my attention, then I start to get exasperated.  I don't know what that says about me as a reader… perhaps, impatient?  The good thing is that it didn't keep me from wanting to know what happens next.  I do love a good adventure story and this book is best at that in my opinion.
DARK LYCAN put me in mind of medieval fantasy, with battles for survival of each "race" and a set of newly-made friends fighting evil together, as well as unraveling the mysteries of their future.  Yes, there's a love story there, as well as many other love stories progressing, but the romance and sex wasn't what kept me reading.  I just really enjoyed the adventure of good against evil.  The Carpathian language is explained in detail in the back of the book, so if you love books with their own language, then this DARK trilogy will appeal to you.  DARK LYCAN isn't an overly complicated story, it's fun, and for long-time fans, probably even more so because of updates on familiar characters.
I especially enjoyed the male camaraderie in battle that was often edgier than when the males were with their females or families, showing their protective nature.  The males are very alpha and their need to protect, even when the female is perfectly capable of protecting herself, is what rules their thoughts, unless they work hard to block it.
My rambling may sound as though I didn't like the book but I did enjoy it enough to look forward to the next one in the series.  I just preferred the adventure and male camaraderie over the romance between Tatijana and Fenris.  I had to really think about why that was in order to figure out why I anticipate the next two books, when the romance didn't intrigue me that much in this one.
I absolutely love the GHOSTWALKER series by Christine Feehan and it's the series I've read most.  I think there's a maturity with the characters in those books more so than in this book.  The sensuality seemed steamier than in DARK LYCAN.  This book felt more like paranormal adventure aimed at young adults rather than a romance aimed at an adult audience, just due to the plot and interaction of the characters, even though it might not be appropriate for teens.  Maybe that was because Tatijana was so sheltered from the world that she has a more innocent way of reacting to everything.  She has witnessed the horror of the mage who held her captive for most of her life, so she's not ignorant of her world's atrocities, but she has more light inside her than dark, which makes her stand out amongst the dark around her, therefore making her responses seem immature or less worldly.  At least for me, that's the only way I can explain it.  It just wasn't as visually stimulating, pushing the slow build of sensuality, as I remember in other books that I've read by Christine Feehan.
I guess because I expected more sensuality in this story, when it focused more on the battles and plot, then that's what I focused on, automatically.  By the middle of the book, I found myself skipping all the one-on-one scenes with this couple to find out what happens next in the adventure.  I wanted to know more about Dimitri, Mikhail and the very interesting Zev, more than I was interested in the relationship of Tatijana and Fenris.  Maybe that's because they committed so early in the novel that I was ready to move on?  I'm not sure, but it's how I reacted to the book overall.
Sometimes I'm just in the mood for a good paranormal with male bravado and it really doesn't matter what else the author adds to the book.  If I'm not snagged at the beginning by those components, I'm skipping them to get to what I really want to read at this moment.
DARK LYCAN satisfied my need for a good adventure story with a multitude of fascinating otherworld beings and elements.  I'm looking forward to book two, DARK WOLF, and book three, DARK BLOOD, of this new DARK series trilogy because the lead male characters snagged me.
I read the hardcover from my public library but the mass market paperback is projected to release in March 2014.
Review written by Dorine, Courtesy of TBR Mountain Range.
Support this site by following the above links, buying books by clicking on the graphics, or commenting below…
What's on your TBR Mountain Range? Tell me your paranormal favorites for 2013.

Print this Post