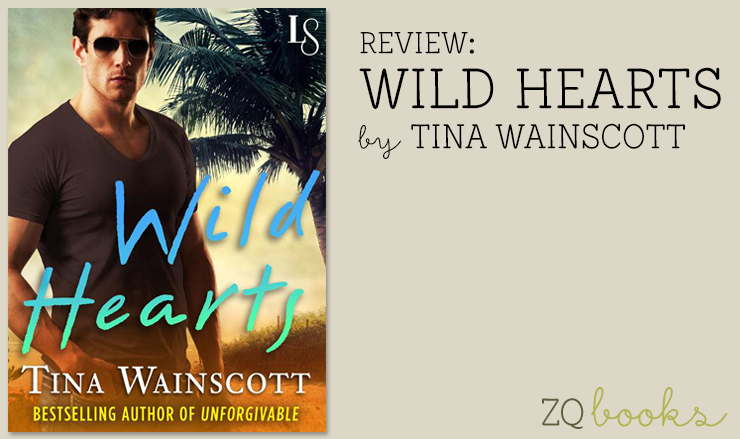 REVIEW: Wild Hearts by Tina Wainscott
An exciting, although very short, introduction to the upcoming THE JUSTISS ALLIANCE series, this novella is sure to rev up your anticipation for more details about these irresistible Navy SEAL heroes and the women who dare to love them.
Wild Hearts by Tina Wainscott
Series: The Justiss Alliance Series, Book 0.5
Category: (Novella) Contemporary Romantic Suspense
Publisher: Random House Publishing Group – Loveswept
Release Date: January 7, 2014
ISBN: 9780553390803
Rating 4 out of 5 Stars
Format: EBOOK
This novella kicks off with a Navy SEAL team in the midst of a clandestine mission in Mexico that neither the U.S. nor Mexican governments will admit sanctioning.  This team is well trained and will risk their lives for the right cause, even if they'll take the rap when anything unexpected occurs.  They've planned, they have their sources who are solid and they're qualified.  What could possibly go wrong?
The unexpected happens and the question is, how will each of them deal with the fallout?  Chase Justiss of The Justiss Alliance offers a challenge this team might not be able to refuse.
This is the type of novella that's even better if you're listening to music while reading.  Two songs that hit my playlist within the first chapter, added to the mood and excitement of the mission going down: Put Your Lights On by Santana and Come Together by the Beatles.  Happy coincidences sometimes add to the reading experience.  Try them and see if you agree.
After the mission and consequences, we're introduced to each of the team members and follow their immediate plans away from the team.  This is clever because it amps the anticipation for the series.  I'm sure that after reading more about each of these men and the experiences that have brought them to this point in their lives, you will be ready for more…NOW, no waiting, please.
Here are the team members and a teaser about each of them…
Rick "Risk" Yarbrough, aka Farm Boy, base jumps to chill out.
Julian Cuevas, aka Salsa Boy, uses Salsa music as his ringtone, has just recently purchased a Harley and is smooth with the ladies.
Saxby Cole, aka Sooch for Southern Charm, is a wealthy Louisiana charmer.
Knox Logan is a cowboy when at his family's ranch in Montana.  Knox really got to me in chapter six.  His introduction is heartrending.
Rathmusen "Rath" Blackwood is from Breckenridge, Tennessee, and rides a Harley.  He's ready for vengeance.
And let's not forget the illustrious Chase Justiss, the mysterious man in charge of The Justiss Alliance.  Just a glimpse of him and I'm already wondering…what is his story?
In addition to this short novella, a small blurb for each of the upcoming books is included, as well as an introduction from author Tina Wainscott explaining how the series came to be.  I think all of it really adds to the reader's enjoyment and anticipation.  I'm not always a fan of promotional bits at the end of a book, but I think this time it answers the reader's need at that particular moment perfectly.
My only warning for WILD HEARTS is that the language is raw, as it should be for men battling for their lives, and the camaraderie of this team is going to make you want the next book, now.  If you're expecting a romance, stay tuned because this is the introduction to the rest of the books in the series, so it does its job of an introduction and creates an almost insatiable need for what's next.  WILD HEARTS is such a great teaser, so make sure you grab it on January 7, 2014!  WILD ON YOU (starring Rick "Risk" Yarbrough) is available on February 4, 2014, then WILD WAYS (featuring Julian Cuevas, aka Salsa Boy) is predicted for May 13, 2014, followed by WILD NIGHTS (about Saxby Cole, aka Sooch) at a later date. From the detail in this novella, it seems as if there will be three more books but the titles aren't mentioned.
Based on this prequel novella, I believe that THE JUSTISS ALLIANCE series will be highly anticipated by those who love military men and the justice they seek!
Review written by Dorine, Courtesy of Romance Junkies.
Support this site by following the above links, buying books by clicking on the graphics, or commenting below…
What's on your TBR Mountain? Read any good Romantic Suspense lately?


Print this Post