REVIEW: Home for the Summer by Mariah Stewart
If you enjoy sweet, contemporary romance with career-oriented characters, then this story is a perfect one to try.  It's one of the better written stand-alones within a series that I've read.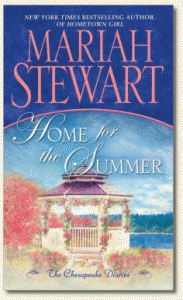 Home for the Summer by Mariah Stewart
Series: The Chesapeake Diaries, Book 5
Category: Contemporary Sweet Romance
Publisher: Ballantine Books
Release Date: May 29, 2012
ISBN: 9780345531223
Rated 3.5 out of 5 Stars
Format read: PRINT
A contemporary romance, HOME FOR THE SUMMER is Mariah Stewart's fifth book in her THE CHESAPEAKE DIARIES series.  New to the series, I didn't have any trouble at all getting to know the characters and if anything, reading a book in this series out of order only made me more curious to find out more.  This book has a diary theme in that the family has their history written down in diaries by their ancestor, and the main character's mother writes in one now.  That's how the book begins, with an entry from Grace's diary, which familiarizes the reader with the story about to unfold.  I have a weakness for books with diary or journal entries, so this appealed to me right off.  They were nicely placed and not overdone.  The entries added an enjoyable addition to the developing storyline, giving an insight on things we might not know otherwise, and a hint at some of the more quirky aspects of the characters, adding a curiosity that the heroine hopes to satisfy concerning her mother.
Still single at thirty-five, Lucy Sinclair is married to her career; too busy coordinating other people's weddings to have a relationship herself.  When she is back home in St. Dennis, Maryland, coordinating a wedding, Lucy lands another client who is interested in using her family's inn.  She has to find a way to coordinate a week-long affair on the East Coast while running her business on the West Coast.  What will it be like to be home for the summer?  Will she overcome the nightmares of her past?
Clay Madison has waited forever for his best friend to answer his question about what happened to their friendship.  Did he do something to hurt Lucy to make her stay away from her hometown and distance herself from him when she's home?  He's always been in love with her and he is determined to find out if she can love him too.  An organic farmer, as well as in the process of opening a brewery with a friend soon, Clay can't imagine living anywhere else other than St. Dennis, Maryland.
Can a long distance relationship work for two entrepreneurs whose long-term friendship as kids became distanced by something in their past?
Those who are familiar with this series will enjoy more time with Brooke, Clay's sister, with an update on her relationship, as well as updates on Steffie and Vanessa.  Reading this series out of order, HOME FOR THE SUMMER made me curious to read Brooke's story in book four, HOMETOWN GIRL.
Although Lucy has a career as a wedding and party planner to the stars, she's very down to earth.  I liked that Clay has found a new way to keep his family's farm prospering by growing organic vegetables and herbs for restaurants, as well as organic hops for his future brewery.  All the businesses in this book are intriguing which just adds to the overall story, in my opinion.  I really enjoyed the high-caliber business that Lucy created with her partner, Bonnie.  These businesswomen are just on the cusp of even more success when a series of events put a strain on everything they've built.  This creates a great conflict to be explored throughout the book.
For those who like small town romance, there is a similarity to those running through this book but I liked that the majority of the story took place at the inn, or in the rural community surrounding it.  There is a very small town as well, but the appeal to me was the inn and the holiday festivities taking place there before we get to the "summer" part of the book.  We get to experience more than one season so another appeal is that the book covers a length of time for this romance to bloom.
HOME FOR THE SUMMER is an enjoyable romance about two kids who grew up as best friends, separated through early adulthood, then fate brings them back together in their thirties.  As they explore the memories of their past and eventually what tore them apart, their love for one another blossoms.  This is a sweet romance with a closed door approach to the character's sensual relationship.  Their love story is slow-paced and believable, allowing them to become reacquainted and sort through their challenges.  There wasn't anything I didn't like about this story, other than I wish I had read the previous books, which may have added to my enjoyment of this one.  Overall, it's a good contemporary romance with interesting career-oriented characters that made me curious for more.
I'm looking forward to book seven, AT THE RIVER'S EDGE, coming out on January 28, 2014, which is about Sophie, who comes from a law career, and Jason, who is a landscaper, another intriguing plant related career.  I love gardening themes and we get a brief glimpse of Jason in HOME FOR THE SUMMER.  It sounds like Sophie will be involved in a new restaurant, which is another favorite theme for me.
HOME FOR THE SUMMER will satisfy those who enjoy a contemporary romance that centers on the activities at a very busy family resort style inn.
Review written by Dorine, Courtesy of Romance Junkies.
Support this site by following the above links, buying books by clicking on the graphics, or commenting below…
What's on your TBR Mountain Range? What are your favorite career choices for heroes or heroines in romance novels?

Print this Post