REVIEW: Shoreline Drive by Lily Everett
Fall in love with a cranky veterinarian, right along with the woman and child who capture his heart.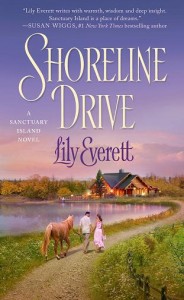 Shoreline Drive by Lily Everett
Series: Sanctuary Island, Book 2
Category: Contemporary
Publisher: St. Martin's Press
Release Date: January 28, 2014
ISBN: 9781250018397
Blue Ribbon Rating: 5 + Recommended Read
Formats Available – Print, eBook
When Meredith "Merry" Preston names her baby Alexander, using Dr. Ben Fairfax's middle name, Ben is emotionally tied to her and her son.  It is hard enough that as a vet he delivers a human baby, bringing back all the bad memories from his past.  When there is no time to get Merry off the island, the vet does what's necessary which invariably attaches his heart to them against his will.
Pregnant Merry came to Sanctuary with her sister to get to know her estranged mother.  She never expects to fall in love with the island enough to stay, but the chance to get to know her mother and raise her child on this harmonious island is too tempting to pass up.  Merry eventually realizes that too much togetherness is cramping her own mothering style.
When Ben proposes a marriage of convenience to give Merry the freedom she craves, she can't deny it's a good idea.  Except for one thing.  How can she keep her distance from the man she's so very attracted to and not risk her heart while they're living life together?
I have been impatiently waiting for Ben and Merry's story since I finished book one, SANCTUARY ISLAND.  The best part?  It was even better than I anticipated.
Ben and Merry are both quirky characters which are my favorite kind.  Ben is the cranky veterinarian who seems at odds with people, yet his kindness shines through when he's caring for animals.  He hides behind his job so he won't have to care for anyone else, after a tragedy left him incapable of love.  But Merry and her baby sneak through his defenses and turn his world upside down.  Merry feels for Ben's need for an heir, so his reasoning for their marriage of convenience seems sensible, but is it the truth?  Will she agree to this façade of a marriage or try to make it on her own alone?
In addition to Merry and Ben's story, there's a budding teen romance to enjoy, along with appearances of other favorite characters from book one.  Second to this adorable couple, the animals steal the show.  If you love country veterinary stories, this one won't disappoint.
Although SHORELINE DRIVE can be read as a standalone novel, don't cheat yourself out of the fun of reading book one and two together.  Rarely do I rate two books in a series as recommended reads, let alone two in a row, so don't miss reading both of these engaging contemporary stories for a weekend of happy-ever-after book bliss!
Adorable chemistry with sarcastic laugh-out-loud wit threaded seamlessly throughout the novel, SHORELINE DRIVE is a perfect feel-good contemporary romance.  This island's idiosyncratic characters and their bonded friendships once again come alive with the exquisite storytelling skills of Lily Everett.  Highly recommended!
Reviewed by Dorine, courtesy of Romance Junkies.
Support this site by following the above links, buying books by clicking on the graphics, or commenting below…
What's on your TBR Mountain Range? Do you enjoy books with characters who make you laugh?

Print this Post