REVIEW: The Dark Affair by Máire Claremont
From the depths of addiction rises a gripping historical love affair that will move you to tears before renewing your soul.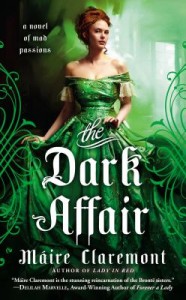 The Dark Affair by Máire Claremont
Series: Mad Passions, Book 3
Category: Historical
Publisher: Signet (March 4, 2014)
ISBN: 9780451418012
Rated 5 Stars + Recommended Read
Format read: PRINT and EBOOK
Having read LADY IN RED, book two in the MAD PASSIONS series by Máire Claremont, I was most anxious for Viscount Powers' story. THE DARK AFFAIR captivated beyond my expectations and to my surprise, Powers' heroine is a perfect, fearless Irishwoman who will face and then overcome his nightmares. She added to the appeal of this novel and increased my fascination with Powers.
After the death of his wife and daughter, Lord James Stanhope, Viscount Powers, began to use opium to ease his memories and his pain. Addiction eventually forces his father to commit James to an asylum in hope of curing his son of what will surely kill him. No one seems to be able to reach him until James meets the lady who will become his savior, if he's willing to let her.
Lady Margaret Cassidy makes a deal with a devil, or so it seems. In order to save her Irish people and her errant brother, Margaret promises to heal the son of the Earl of Carlyle. She has agreed to marry this earl's son and whatever else the earl demands, in exchange for the funds needed to save her brother from himself, as well as the people her family failed during the famine. At first the idea seems like a perfect plan, but will the deal be kept if she doesn't succeed?
Margaret tests James' patience at every turn, using her quick wit to tongue-tie the man who is so very used to getting his way. Her Irish stubbornness serves her well by not allowing James to bully her into submission. She's determined to save him from himself no matter how many times he tests her fortitude. Can she remember that he's her patient and avoid falling in love with the man she was forced to marry?
THE DARK AFFAIR appeals to the reader's hidden fears and emotions, touching on soul-deep sadness before renewing with hope. Author Máire Claremont is a wonder to behold in her technique, creating a beautiful, dark romance with such care for detail. Page after page while following James' addiction seems like only moments, yet, it's like you've known him for years as the depth of his sorrow and guilt is laid out before the reader to experience, right along with Margaret.
James is a powerful character who vividly portrays the madness of addiction. Margaret's empathy, due to her experience with her patients facing the same after the war, is both maddening and welcome for James. Eventually, he senses the deep-seated passion and pain within Margaret that she has denied. All her efforts have been focused on helping others, while rejecting her own needs. As this couple works through their individual vulnerabilities, their ultimate healing is well-earned and absorbing.
The highest compliment I can give an author is to buy their books after I've read them for free for review. Máire Claremont's books go everywhere with me on my kindle as well as reside on my keeper shelves as advanced copies. I've already reread a large portion of this book before writing my review. See if it speaks to you in the same way – I feel that its darkness is also its light – completely captivating.
Gut-wrenching, soul-stirring passion is THE DARK AFFAIR'S reign in glory. A Romance Junkies Recommended Read for all those who appreciate redeemable flawed characters.
Reviewed by Dorine, courtesy of Romance Junkies.
Support this site by following the above links, buying books by clicking on the graphics, or commenting below…
What's on your TBR Mountain Range? Do you enjoy dark, dangerous heroes?

Print this Post