REVIEW: Skinny-Size It by Molly Morgan
"Food is Fuel" is just one of the many healthy ideas presented in this delicious way to nutritious eating that's flavorful and fun.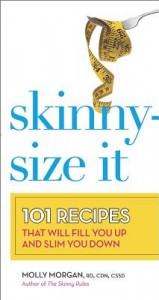 Skinny-Size It by Molly Morgan
Category: Cookbook
Publisher: Harlequin (March 25, 2014)
ISBN: 978-0373892983
Rated 4 out of 5 Stars
Formats available: eBook and Print
I shopped, thought, and cooked my way through the reading of this book and I lost another five pounds in the process.  SKINNY-SIZE IT is not just a great book for someone wanting to shed a few pounds, it's also good at teaching you how to rethink how you shop for food and prepare it, while being nutrition minded.
It's easier to completely change how you think about food while using a book like SKINNY-SIZE IT to guide you.  I've gone to a dietician and I have studied nutrition as much as possible, but incorporating what you've learned into daily meal prep is much easier with recipes to guide you.
SKINNY-SIZE IT is an idea book because it can help you transition some of your own recipes to healthy eating.  I've tried several cookbooks this year in my quest for Vegetarian or Vegan choices that are nutritionally sound, low-fat plus flavorful, and this book seems better suited to those who want a low-fat diet than many of the others I've tried.  That said, there are still recipes that include steak or chicken so meat lovers won't feel left out.
SKINNY-SIZE IT helps maintain the attitude that "food is fuel" as stated in the book and if you concentrate on how you're going to fuel your body, it's much easier to transition to a healthier way of living.
The "skinny skimps, swaps and skips" listed are valuable tools.  I used several of the tips gained from the book and my favorite is learning to "sweat" onions and peppers versus using oil.  That seems like such a simple thing but it really makes a difference when you're concentrating on not going over a specific number of fat grams per day.
"Skinny" tips are one of the advantages to this book because there are tips on what to look for based on the recipe you're making.  For example, in the "Stacked ALT Sandwich" recipe, the "Skinny Shopping" section has great tips on how to choose the healthiest whole wheat bread.  Plus, the Avocado, Lettuce and Tomato "ALT" combination for a sandwich is quite interesting.
So even if you don't try each recipe, the tips learned while reading them will help you in your daily preparation of food.
The only thing I missed in this book, in comparison to others similar to it, was photographs of the food.  In my opinion, the visual appeal of food is part of the process of maintaining an enjoyable, healthy diet, so I think photos would make this book perfect.  But, you won't be as hungry while reading without the pictures, so maybe that's a good thing!  Also, I think books with recipes are better suited to print rather than eBook, which was the format of my ARC, so I'll be looking for the print version to add to my already huge collection.
The recipes that I especially enjoyed for breakfast were "Tropical Mango Oatmeal" and "Apple Quinoa Crunch".  There were several muffin recipes that I'm anxious to try and the "Very Banana Pancakes" are on my wishlist.  For lunch you can look forward to "Quinoa-Bean Burgers" which have easy to find ingredients.  No more buying pre-prepared veggie burgers when you can make your own, tasty and fresh.  Another sandwich I especially enjoyed was the "Hummus-Cucumber Flatbread" which I made in a dried tomato soft taco.  Since breakfast and lunch are my least favorite meals to prepare, I tried those first so I'd have variety.  There are plenty of entrees, sides, snacks, sauces, dips and drinks to try, too.
I appreciated the nutrition facts per serving listed at the end of each recipe because it's extremely important to those of us with dietary restrictions.
There are so many recipes in this book that I'm anxious to try that it left only one or two that didn't appeal.  They're pretty easy, too, and have interesting changes in them, so much so that author Molly Morgan's versions of traditional recipes are more inventive than the originals.  The "Veggie Chili" is one such recipe that's sure to please.
SKINNY-SIZE IT is a good book for those who want to transition to a healthier way of preparing food while maintaining flavor and portions that you and your family will love.  Everyone is sure to gain ideas from the "skinny skimps, swaps and skips" provided throughout the book.  Learning about nutrition never tasted so good!
Review by Dorine, courtesy of the TBR Mountain Range. eBook provided free by NetGalley and Harlequin for an honest review.
Support this site by following the above links, buying books by clicking on the graphics, or commenting below…
What's on your TBR Mountain Range? Do you collect cookbooks?

Print this Post