REVIEW: Sweet Talk Me by Kieran Kramer
Can the magic of once being childhood best friends be recaptured and reunite in a romantic happy-ever-after, or will the memories they've made throughout the years be just that…sweet memories?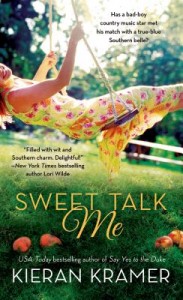 Sweet Talk Me by Kieran Kramer
Category: Southern Contemporary
Publisher: St. Martin's Paperbacks (March 25, 2014)
ISBN: 978-1250009913
Rated 3.5 out of 5 Stars
Format: Print ARC read
True Maybank struggled to make ends meet and hold on to her family's land after her parents died.  Having attained her dream of attending college, she didn't regret returning home before graduating to help raise her sister Weezie.  They're currently holding their own with their self-pick vegetable business but things will be much easier once True marries Dubose Waring, whose ambition is to become partner in a law firm.
Country music star Harrison Gamble escapes from his small town upbringing in Biscuit Creek, South Carolina, to realize his dream, but he never forgot the girl he left behind.  When Harrison sees True again in Atlanta, he can't resist offering her a ride home in order to catch up on the ten years they've been apart.  Can he resist the only woman he ever loved when he realizes she's engaged to the jerk Harrison remembers from high school?
True Maybank believes that Dubose Waring is the security that she and Weezie need after years of financial struggle.  It's their way to continue to improve Maybank Hall, their family home.  True thinks she loves Dubose, but does he love her enough to be who she needs forever?  Their wedding is just weeks away when Dubose must leave town on business.  All True's hopes for the joint planning of their wedding are tested with his absence.  Can an absentee groom expect his soon-to-be-bride to plan their wedding around every obstacle and still live up to his and his mother's expectations?
SWEET TALK ME sweeps the reader up into southern small town charm, emphasizing their quaint world with their self-declared Lowcountry drawls and colloquialisms, spanning from childhood to present day, retracing the lives of two endearing families.  Harrison's older brother, Gage, has always struggled socially but his keen sense of words becomes his savior as a crossword puzzle creator.  Gage's eclectic mind is very well portrayed and I couldn't help but cheer him on when he meets the "right" girl for him.  Weezie, True's sister, is another interesting character with personal challenges.  As Weezie's older sister, True tries to prepare her for the world and the time when she'll finally be on her own, but truthfully, True has a hard time letting Weezie go.
SWEET TALK ME is a coming of age love story that moves backward through the characters' lives amongst the present, allowing the reader to better understand their motivations.  All of them have hope and fear for themselves and each other but it's how they work together to resolve their problems and make the best of their situations that makes this story so sweet.  I wasn't always okay with the engaged True hanging out with her old flame in the absence of her fiancé.  That's a disaster waiting to happen.  But, the characters are all so charming that I couldn't stop reading even when I didn't agree with their choices.
Quirky characters and southern charm enhance more than one romance within SWEET TALK ME.  Author Kieran Kramer writes an engaging, contemporary happy-ever-after that is sure to be enjoyed by those who crave a diverse mix of characters and emotion.
Review by Dorine, courtesy of the Romance Junkies.
Support this site by following the above links, buying books by clicking on the graphics, or commenting below…
What's on your TBR Mountain Range? Do you enjoy stories where the language reflects the place it's located?

Print this Post