REVIEW: Against the Dawn by Amanda Bonilla
In the fourth book of this entertaining paranormal assassin series we get to know Darian's weaknesses as well as her strengths. Two strong men love her beyond her expectations and we finally get solid clues as to which one Darian might choose, if given a chance… If you love urban fantasy with a twist, then get the first three books to read before this one for a great reading adventure.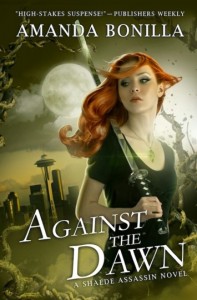 Against the Dawn by Amanda Bonilla
Series: Shaede Assassin, Book 4
Category: Urban Fantasy
Publisher: NYLA (May 19, 2014)
ISBN: 978-1625174772
Rated 4.5 out of 5 Stars
Format: eBook
If you haven't read SHAEDES OF GRAY, BLOOD BEFORE SUNRISE, or CRAVE THE DARKNESS, books one through three in the SHAEDE ASSASSIN series, then you might want to do that before reading this review. I won't spoil AGAINST THE DAWN, but it's difficult to write a review for a series this intricate without spoiling past books a little bit in setting up this preview.
Book four begins with Darian recuperating in the Faerie Realm with her good friend Raif's daughter, Brakae. Time passes differently in the two worlds so although it has only been a couple weeks in O Anel, Darian has been gone for more than six months back in Seattle in the mortal realm. She really hasn't had enough time to get over the shame she feels for what happened to her at the end of book three, but she knows it's time to move on. Will her new companions, insinuated as fear and hesitation, ruin her ability to fight evil?
Darian shows all the signs of a victim of rape. Having been addicted to the Cambion creature who enslaved her, Darian's mind can't cope with the idea that even though she made choices, those choices weren't really of her own volition, considering the creature's ability to sexually addict its victims. The beginning chapters are very poignant and throughout the book the reader can feel her confusion as Darian learns to accept her fate.
When she arrives home at her apartment Darian realizes that the Shaede King, Xander, has completely remodeled it while she was gone. Her normal dark environment is now earthy and light. Not that she appreciates his interference but it may help her start over if she can get used to it. In addition, Asher, her favorite warrior companion, has been sent to keep an eye out for her.
Xander's world is in an upheaval because of his refusal to go back to his kingdom. No one can get him to listen to reason and his obsessive tendencies toward Darian aren't helping the situation at all. Raif is beside himself with his brother's stubbornness and when he finds out how far Xander has gone to entice Darian to his side, he can't hold back his anger.
To add to the mayhem, Lorik wants Darian's help. Since Lorik is human, he shouldn't still be alive or looking the same as he did the last time Darian saw him. Can Darian work with someone from her past without memories of prior experiences resurfacing that are better left buried?
And then there's Tyler, Darian's Jinn. So much to explore and discover in this book because Jinns are a mystery and Darian is about to find out more than she imagined or hoped. Can they make a fresh start after what Darian experienced?
And that's just the beginning of this novel. Truthfully, it's so fun to read this series and I think AGAINST THE DAWN outdid its predecessors in many ways. For me, it was just what I needed to read. Maybe because it's like coming home when we're able to reacquaint ourselves with not just Darian's ever-changing developments but also reuniting with past favorites in a world that keeps evolving. There are some great paranormal surprises and awesome laugh-out-loud moments. One new character is especially funny with Darian, lots of snark that cracked me up, especially when Darian realizes who or what she's been dealing with. Nice twist and I hope we see him again!
I really enjoyed AGAINST THE DAWN for all its nuances, surprises, scary-evil creatures and laugh-out-loud moments, but I especially love Darian's character development throughout the series. She's hard-core tough but not without pain and love that makes her appreciate the life she lives and wants to resume. I know it's hard to imagine an assassin who becomes almost loveable but Darian has the history and inner growth over time to make it possible. I especially loved being back in this very creative urban fantasy world with all my favorite characters, adding in some new enemies to hate. If you don't know author Amanda Bonilla's evil side by now, you sure will by the end of this story. She's a wicked torturer with this novel's climatic ending and I still loved it, cliff-hanger included!
AGAINST THE DAWN continues the addiction, making this reader crave the novella coming out in November 2014.
Review by Dorine, courtesy of the Romance Junkies.
Support this site by following the above links, buying books by clicking on the graphics, or commenting below…
Don't forget to read the books in order!
What's on your mountain? Have you read urban fantasy yet?


Print this Post