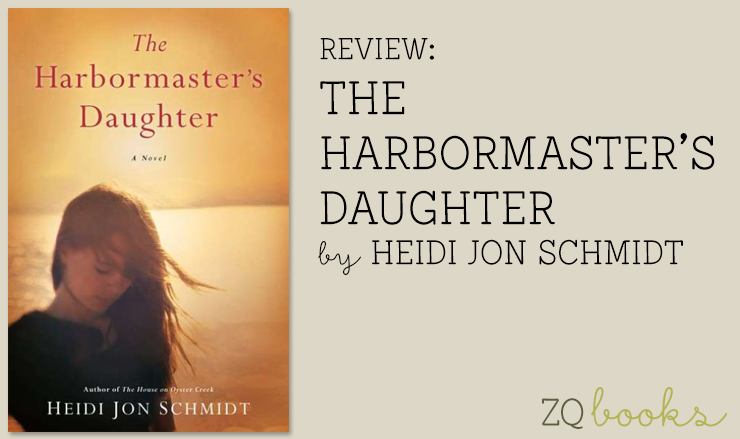 REVIEW: The Harbormaster's Daughter by Heidi Jon Schmidt
The aftermath of a murder combines with a small, coastal town coming-of-age love story that is as poignant as it is joyful. You'll easily imagine the ambiance of a community that once made its living from fishing and now must deal with the present without forgetting the past.
The Harbormaster's Daughter by Heidi Jon Schmidt
Category: Contemporary with a touch of Mystery
Publisher: NAL Trade (August 7, 2012)
ISBN: 978-0451237873
Rated: 4 out of 5
Format read: print
A coming-of-age story, THE HARBORMASTER'S DAUGHTER begins with a murder that leaves a three-year-old girl without her mother. As in most small towns, there is a tangled web of deceit born by years of covering up each other's sins. As the story unravels, we're introduced to who is who in Oyster Creek, a small Cape Cod town that was once a booming fishing cornerstone for its Portuguese descendants.
Franco Neves and his wife Danielle have suffered financial loss since the fishing trade dwindled. They now live over the bar where Franco is a part-time bartender, having lost their home when Franco didn't become harbormaster, as was his rightful inheritance if the harbor management had understood a small town's dynamics.
Sabine Gray is considered a "washashore" by the locals, someone wealthy and educated who came to their town to paint, soaking up the ambience of a small town in which a "washashore" would never belong. For some reason she set her sights on Franco, and Sabine always gets the men she wants, if only for a little dalliance. But this time she gets a lot more, she becomes pregnant with Franco's child.
Eventually Sabine becomes bitter when Franco won't leave his wife and she sues for child support. That's how Franco becomes a suspect in Sabine's murder. Franco is a happy-go-lucky guy and no one really believes he murdered Sabine, but who did it?
LaRee Farnham is Sabine's best friend and confidant. LaRee is startled at three in the morning when the police bring three-year-old Vita Gray to her to take care of when Sabine is found murdered. Nothing is sadder than a child grieving for her mother. LaRee Farnham becomes the best mother she can be to Vita, as was Sabine's wish, but even LaRee makes mistakes she's about to regret.
THE HARBORMASTER'S DAUGHTER is the story of Vita Gray and how she survives as a child born into a sordid past. She is caught in-between two worlds, the lovechild of a local and a "washashore," never really fitting in with either group and often bullied. Now a teenager, she's rebelling and hopefully will find her place in the world.
The book started off slow for me with its large paragraphs that seem to ramble without a concise beginning and end. I like smaller, more succinct paragraphs that introduce me to the characters in a less wordy narrative, with a lot more dialogue. To my delight, the rambling became fun and made sense, often exemplifying the quirky nature of the characters, encouraging me to ignore my normal quibble with this technique.
There are some sad parts to this novel, but I can tell you that it is also funny, so don't let the sadness put you off from experiencing this unique story. I was fearful that this book might end with a cliffhanger or some other heartrending climax I hate, so that anticipation was part of the story and made me want to read cautiously, but there is a welcome warmth at the end that I enjoyed.
There are so many characters that entertain with their oddities and human frailties in this book, that I can't possibly list them all. A few of my favorites were part of a theatre group preparing for a performance of Shakespeare's THE TEMPEST. Several gay men in the group were a huge influence on Vita's survival and coming of age. They were the perfect funny and loving inspiration that Vita needed when she felt so very out of touch with everyone who thought they knew her. A dinner party with them is so very entertaining and seems to open Vita's eyes to what is good in celebrating life. The theatre performance becomes the catalyst for Vita's blossoming from a strange, quirky girl into a talented young woman who falls in love.
Heidi Jon Schmidt writes flawed characters that you'll find irresistible as they recognize their weaknesses and learn to not only forgive themselves, but each other. THE HARBORMASTER'S DAUGHTER portrays a coastal small town so well that you'll hear the waves lapping at the shore and smell the briny air as you're reading.
Reviewed by Dorine, courtesy of Romance Junkies.
Support this site by following the above links, buying books by clicking on the graphics, or commenting below…
What's on your TBR Mountain Range? Do you enjoy coming-of-age stories? Any favorites?


Print this Post