REVIEW: This Gun For Hire by Jo Goodman
THIS GUN FOR HIRE is western romantic fiction at its best. It's reminiscent of great westerns with its dynamic characters and unexpected plot that will entertain fans over and over, craving a re-read of this one just to be sure you didn't miss a good part in your hurry to finish the book the first time.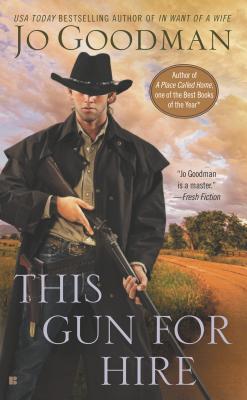 This Gun For Hire by Jo Goodman
Category: Historical Western
Publisher: Berkley (April 7, 2015)
ISBN: 978-0425277430
Rated 5 stars + Recommended Read
Format: Print ARC read – Available in print, ebook, audible/audio
THIS GUN FOR HIRE exemplifies one of the most unusual female characters of western fiction, who not only steals the show, but ensures that all the secondary characters stand out against her enigmatic personality. The one-liners of humor are well placed, often unexpected and laugh-out-loud funny, as well as sometimes epitomizing ribald humor that goes so well within a man's world. Katherine "Calico" Nash knows herself well but when she's tested with an all new role to play, anything can and will happen, including love.
Quill McKenna is many things but he's best at riling Calico to distraction. His good looks and sunshine smile blind Calico to what's happening between them until she can no longer resist. They both have jobs to do for Ramsey Stonechurch, the man that Stonechurch, Colorado, is named after and the benefactor of much that goes on in this small western town. Stonechurch's life is in danger and perhaps his daughter's too, so Quill and Calico are once again working together but this time it's because this family needs them.
I'm not going to describe the background of Quill or Calico because I think this novel will be a lot more fun for you if you just jump in and discover everything for yourself. I even advise that you skip reading the blurb, because I didn't, and I had such a great time figuring out who Calico is and then getting surprised by Quill as well. This couple is one of my all-time favorites of any romantic western I've ever read. They're feisty, charming, sexy, ornery, compassionate and heartrending, but never once will you doubt their perfection together.
Even though I enjoyed IN WANT OF A WIFE immensely and highly recommended it, I'm once again enamored by Jo Goodman's ability to tell a story in THIS GUN FOR HIRE that is fun, exciting, unpredictable, as well as predictably well-written, with characters who will win your heart with their intelligence, humility and sense of what's right without giving up their belief in justice well-served. I don't know how Jo Goodman creates the exact story I want to read but I'm sure it's takes plenty of blood, sweat and tears because I felt the emotion and enjoyed this novel as if I had been there in person.
Outlaws, lawmen, bounty hunters, jailbreaks, explosives, peril, injury, healing and sneaky villains fill up this adventure and you're never quite sure who is sabotaging Stonechurch's mine and putting the Stonechurches in danger, but there are enough duplicitous suspicions to encourage rapidly turning the pages. Completely entertaining and highly recommended, Jo Goodman sets the romantic western bar with THIS GUN FOR HIRE.
Reviewed by Dorine, courtesy of Romance Junkies. Print ARC provided by publisher.
Support this site by following the above links, buying books by clicking on the graphics, or commenting below…
What's on your TBR Mountain Range? What are your favorite western historical romance books?

Print this Post