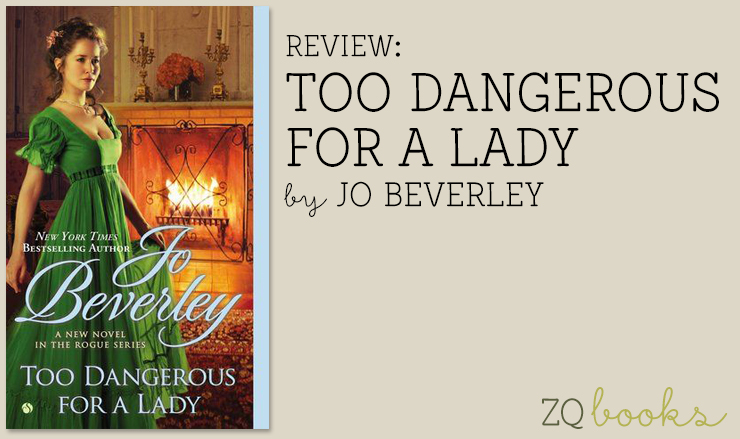 BOOK REVIEW: Too Dangerous For a Lady by Jo Beverley
An unusual antiterrorism plot for a Regency historical, this book challenges the reader's thinking and gives us another captivating hero to look forward to in the next book of this series.
Too Dangerous For a Lady by Jo Beverley
Series: Company of Rogues, Book 16
Category: Historical
Publisher: Signet (April 7, 2015)
ISBN: 978-0451471895
Rated: 3.5 out of 5
Lady Hermione Merryhew lives with her sister and her family, now that their parents are gone. She knows she must marry to help their financial status but a long-lost relative may give her a reprieve from marrying the cousin she despises. They all travel to visit their sick uncle who may be on his deathbed. They stop for the night on the way and a man sneaks into her room to hide from his pursuers. Hermione is even more surprised when this thief turns out to be the man she fell for six years ago at her first ball.
Lieutenant Mark Thayne joins a band of revolutionaries as Ned Granger in hope of thwarting their plans of destruction before they put them into play. But now that he has endangered Hermione by involving her in his undercover activities, he has to think of more than himself. Will he be able to save his country and get the girl he never forgot?
TOO DANGEROUS FOR A LADY is book sixteen of the COMPANY OF ROGUES series but it can be read as a standalone. This is my first book by Jo Beverly and although I sensed that this book may be related to others, I didn't feel as if I had missed anything until I read the author's note about the series at the back of the book.
At just over 400 pages, TOO DANGEROUS FOR A LADY is a complicated story that engages the reader with its unusual antiterrorism plot. I thought the scheme was rather ingenious because I couldn't figure out how something like that could possibly happen in this time period, but it was all sewn up neatly by the end. I really enjoyed Lady Hermione's interactions with her uncle. He is a grumpy old man and she isn't afraid to voice her opinion, which in the end makes him respect her and listen to her advice. I didn't feel as convinced with the relationship between Hermione and Mark. Their dialog seemed stilted then too chatty in several places, so I didn't get a real feel for their emotional connection. By the end I grew more attached to them as a couple, but for the majority of the book, I was more enamored with the other Rogues, the Curious Creatures and Mark's friend Brayden who will be the hero of the next book.
Interestingly, I connected with several male secondary characters which makes me think I will enjoy more books in this series because of Jo Beverly's talent at writing men of intrigue who are charmingly arrogant, mischievous and aloof when faced with danger. Their repartee with one another made me laugh and I can't wait to find out what trouble they get themselves into next. They're very charismatic bad boys with titles and Braydon seems like the sort to fall really hard when he finds the woman meant for him.
An uncommon Regency plot that will surely enthrall readers of the genre, TOO DANGEROUS FOR A LADY has many attributes historical lovers will appreciate.
Reviewed by Dorine, courtesy of Romance Junkies and TBR Mountain Range. Print ARC provided by the publisher.
Support this site by following the above links, buying books by clicking on the graphics, or commenting below…

What's on your TBR Mountain Range?

Print this Post