Review: Winter Song by Jennifer McMurrain
I love ghost stories and this is a good haunting with a beautiful and emotional end that makes me want to read more of this author's books.
Winter Song by Jennifer McMurrain
Rated 3.5 out of 5
Format read: ebook
I picked this one up as a freebie because I really loved this cover by Brandy Walker of Sister Sparrow Graphic Design. Check out her website because she does beautiful work and great covers are my favorite way of finding new-to-me authors. I finished one book about a remote location and needed something else to read in the middle of the night when I couldn't sleep, so I turned to my Kindle TBR Mountain Range to find something. Once again, this cover called to me and I'm so glad it did.
In the prologue, we learn that Cooper Davis was on a fishing boat when it started to sink. After saving one young man by giving him his wet suit, then saving the captain, Cooper tries to swim for the lifeboat, while thinking of the woman on shore waiting for him, when all goes dark. We meet Sage McKennan through Cooper's eyes as he's trying to get Sage to hear him talking to her. Deputy Richard Park, who is also one of Sage's oldest friends, knocks on her door. Meanwhile, Cooper is talking away to the Deputy who can't hear him either, while Sage gets Richard a cup of coffee. The deputy informs Sage of the people Cooper saved and of his death. Cooper can't believe he's dead and continues to argue with the two people in the room who can't hear him.
A year la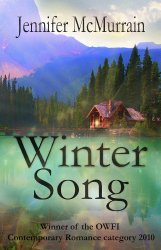 ter, Sage buys the old cabin that was her dream with Cooper. They were saving money to buy it and then fix it up to be a B&B. Sage buys it with the money she has saved, plus some inheritance money. Sage hires Noah Finnley, a down-on-his-luck handyman, to help her fix up the B&B she's calling Winter Song. She can't really pay Noah, but Noah just got evicted from where he was living so they work out a partnership to get Winter Song up and running so they will both have an income.
Noah's only problem about working with Sage is that he can see ghosts and Cooper is one of the most persistent ghosts he has met in his lifetime. He tries to ignore Cooper but this ghost is determined to protect Sage no matter what and his abilities get stronger every day. Meanwhile, Noah begins to fall in love with Sage. Can Noah convince Cooper to go into the light before Sage finds out he exists? What if Sage finds out that Noah has been able to talk to her dead boyfriend before Noah has a chance to explain why he no longer talks to ghosts?
I enjoyed most of this book because it centers on healing, forgiveness and a belief that there's something more after death. As a ghost, Cooper got annoying, possessive and overprotective, as I imagine he probably acted during his life as well. He did redeem himself in the end and I understood him more by the last page of the book.
WINTER SONG contains several things I love in contemporary romance stories with a paranormal twist — the creation of a B&B from an old home set within a beautiful, nature-filled state like Wyoming, a ghost who knows what he wants and isn't about to give up until he gets it, a cranky old man who moves in and causes havoc along with a very protective feral dog they all come to love, and a handyman who's not just handy at fixing leaky faucets and roofs, but at fixing broken hearts as well. An unexpected villain adds a few surprises to rile up the last few chapters into some suspense. The end brought tears to my eyes and made me want to look for more books by this new-to-me author. Even though I acquired this book when it was offered on Amazon for free, it's well worth the $2.99 price it's listed at today.
Reviewed by Dorine, courtesy of The Zest Quest.
Get your copy at Amazon.
Other books I'm looking forward to by Jennifer McMurrain.
What are some of your favorite ghost stories in books or movies?

Print this Post