CSA Farm Share Experiment Week Four
In week four of the CSA (Community Supported  Agriculture) farm share program with Fresh Fork Market, it feels like the normal thing to do. I'm no longer exhausted on market day because the photography goes much quicker and so does the cleaning and sorting. This week I split our Vegan share with my sister, who will learn about never-before-tried veggies with me. I traveled a lot this week so I didn't do much more than clean, sort and package our share, because we had to pick it up a day early due to our travel schedule, and now I'm back home to sort out what survived my time away.
This week our small Vegan Farm Share included (above photo)…
Broccoli – 1 head
Kale – curly – 1 bunch
Lettuce – Romaine – 1 head
Swiss Chard 1 bunch
Bok Choy – 1 head
Beets – 1 bunch of 3
Cherries – 1 pint – Rainier?
Zucchini- 2
Cucumbers – 2
Garlic Scapes – big handful
Green Beans – 1 lb
Kohlrabi – 1 bulb
My half of the Vegan small share this week and what's left since Wednesday…
Broccoli – 1/2 head – used in a garlic scape stir fry. Recipe to come soon!
Kale – curly – 1/2 bunch
Lettuce – Romaine – 1/2 head
Swiss Chard 1/2 bunch
Bok Choy – 1 head – gave this to my sister since I still have some leftover from last week
Beets – 2
Cherries – 1/2 pint – Rainier? – Mr. Carnivore ate most of these so I'd say he liked them!
Zucchini- 1 – used in a garlic scape stir fry.
Cucumbers – 1
Garlic Scapes – 1/2 big handful which I'll be using some of these with my green beans. Not sure what they are or what to do with them? Check out this great article at The Dyer Family Organic Farm blog. I used 2 in a recipe I'll share soon!
Green Beans – 1/2 lb – seriously? These won't last through our next dinner. Love fresh green beans.
Kohlrabi – 1/2 bulb – 3/4 of the 1/2 bulb left
Update on Strawberries — we went overboard on buying more strawberries so I had to get moving so they didn't go to waste. First, I sorted them as I hulled and cleaned them so I picked only the very freshest to be frozen. I then froze them whole on a cookie sheet lined with wax paper. Within 1/2 an hour, the strawberries were frozen enough to bag up into quart size bags. I plan to use these in baking and juicing later.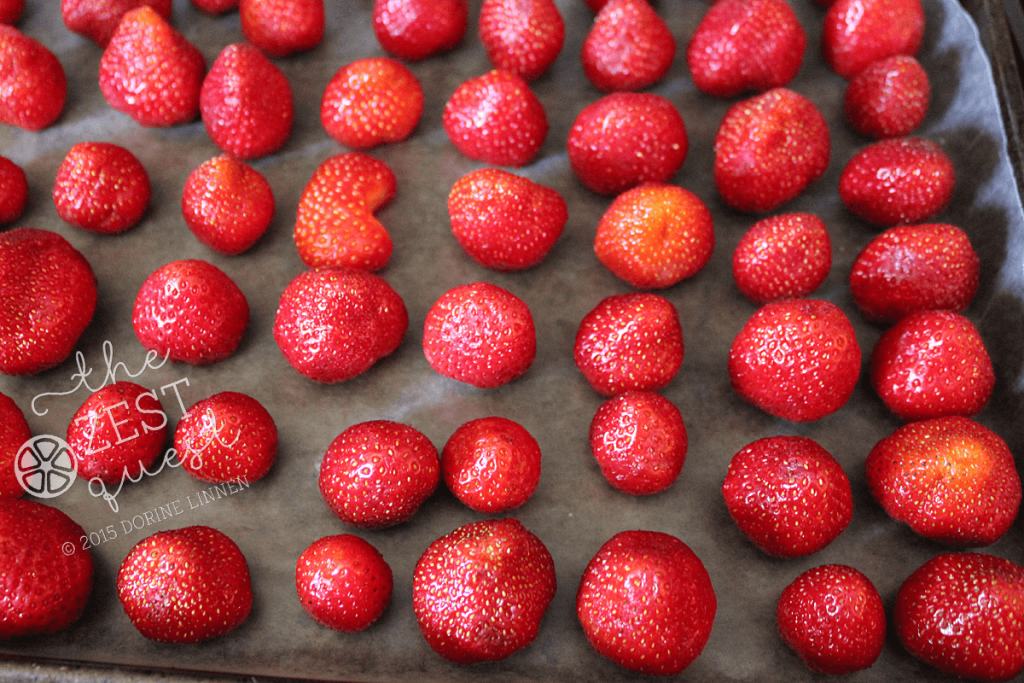 Next, the leftovers  were cut up in a bowl to use in Simple Strawberry Salad with Honey Vinaigrette. We also added some to our cereal for a couple days and also ate them as a snack. We enjoyed them immensely!
Week Two and Week Three results…
I ended up with too many greens from week two and week three for two of us to use up when we were traveling so much. Normally, I give some to my neighbors when I travel unexpectedly but I was so rushed that I didn't even think about it. So, this week I'll be sorting through to see what we lost and regrouping. It's not a devastating loss so I think overall we throw out less than we ever have in the past because we're thinking ahead and planning.

Print this Post