Herb Roasted Pork Loin Recipe Review
My herbs were so lush that I was in the mood for Herb Roasted Pork Loin but I forgot how to make it. This recipe at Epicurious was my inspiration. I hope you enjoy this photo journey of how I followed this recipe and the changes I made out of necessity or preference in this Herb Roasted Pork Loin recipe review.
It was my Grandfather's tradition to have some type of roast, mashed potatoes and some kind of vegetable every Sunday and I was supposed to be there for dinner every week. If I skipped too many Sundays, I was in trouble. I felt my Grandfather smiling down at me from above and trying to tell me what to do while I was in the kitchen the Sunday I made this roast. HA — He loved to cook and tell me what to do and I'm sure he wouldn't approve of everything I did for this meal, but I can laugh with him over whatever I didn't do right. 🙂 This one was for you, Grandpa – I miss you!
I made a few changes to the recipe at Epicurious based on what I had at hand, including only using a 1 1/2 pound center cut pork loin since it's only the two of us and we really don't eat that much meat daily to be able to use up leftovers. It turned out flavorful, so I thought I'd share my adjustments. I love the beauty of fresh herbs when roasting pork, as well as the subtle taste it lends to the meat. I think this is a good recipe that you can adapt, based on what herbs you have available. It didn't make enough sauce but I don't always follow directions real well so that's probably my fault. I could easily make more sauce for leftovers, but I was happy enough with roast heated later without it.
Instead of rubbing the Pork Loin with fresh ground pepper and salt, I used Montreal Steak Seasoning, my favorite seasoning for roasting. Then I seared the roast in a cast iron skillet to brown on all sides because I wanted to use my Pampered Chef Clay Baker to roast in, instead of using a roasting pan and rack as suggested in the recipe. That left bits in the skillet to cook the sauce so I was ahead of the game when the roast came out of the oven.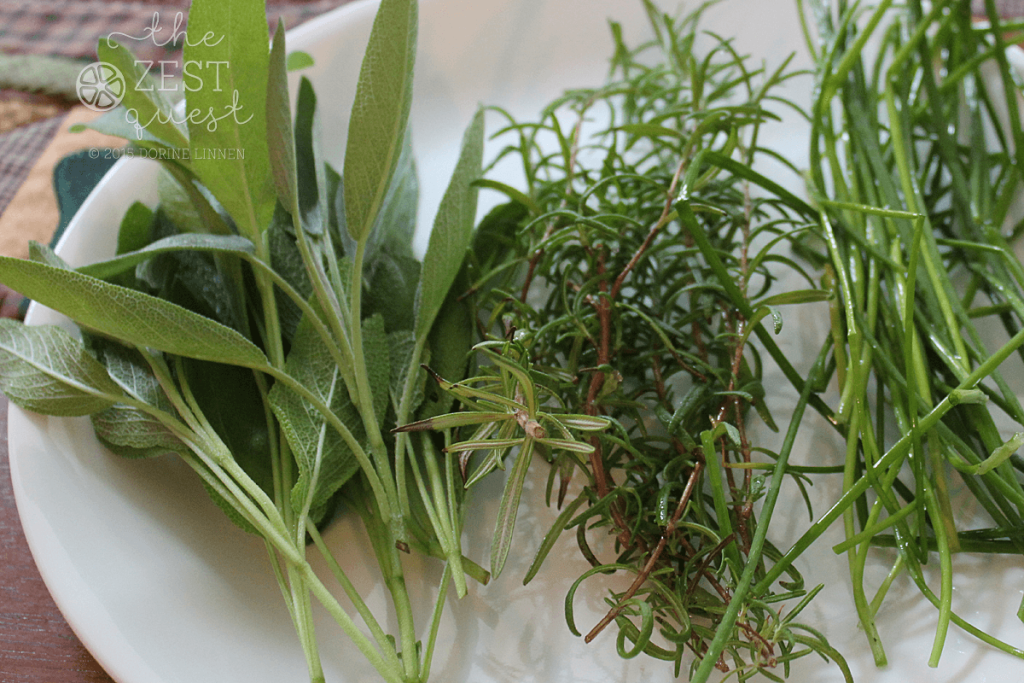 I didn't have any Savory or Thyme so I skipped those ingredients and only used Rosemary, Sage, Chives and Garlic Scapes.
I substituted the Scallions with Chives and the Garlic with Garlic Scapes.
I layered the herbs on the bottom of the clay baker, then added a drizzle of olive oil.
Then I layered the herbs on top of the seared roast as well. Don't they look lovely before cooking?
I also didn't put the mustard on the roast but only used it in the sauce. I wanted the herb flavoring to be front and center with the sauce as a choice. I used Zatarain's Spicy Brown Mustard for my sauce instead of the Dijon mustard and White Balsamic Vinegar instead of the Vermouth. I rarely cook with alcohol so the White Balsamic Vinegar seemed to work well since it was what I had available. The smell was amazing! I think this mustard sauce would be good on chicken as well, don't you? I think I'd like to try it with the Vermouth in the future, but I was satisfied with the While Balsamic Vinegar.
I don't measure most of the time when I cook from a recipe so I can't tell  you if I used the same amount of Chicken Stock – I'm going to guess that it was less since I didn't have much sauce left over. I also used the leftover herbs I had by tossing them into the sauce instead of just using the deglazed bits in the pan. Like I said, I'm terrible about following directions completely and often go off on my own merry way when using a recipe. Recipes for me are a guide and then I have fun improvising but I hope by sharing how I do those improvisations that you will go off your own and do the same successfully.
The one important thing I learned by using this recipe was how to allow the roast to rest to reach the right temperature. I've never done that before and it was a lesson well-learned. I recommend this recipe as something different to try on a cool day in the summer when the herbs are bountiful and begging to be picked! It was in the 70s on the Sunday we made this, so even having the oven on didn't heat up the house (or me in the kitchen!) too much.
We served the Herb Roasted Pork Loin with mashed potatoes and we steamed our White and Purple Cauliflower with a Leek from our farm share. It was a satisfying dinner and Mr. Carnivore was a happy man. I got such a kick out of the cauliflower that stayed purple after it was cooked.  I didn't expect that at all and it felt weird eating it but it sure was delicious. Overall, the Herb Roasted Pork Loin experiment was a fun day of cooking, taking photos and eating the results!

Print this Post