Low Fat Roasted Vegetables
This recipe was inspired after I tried roasting Asparagus and I bungled it by not paying attention to what I was reading. I fell in love with Asparagus a few years ago when we were traveling south and it was in season, but I have never made it myself. I think I ate it almost every day for 2 weeks because everywhere I went, that was the "vegetable of the day" and I was sticking to mostly vegetables due to health concerns.
This year, I took a class with Fresh Fork Market on utilizing our farm share and learned about blanching vegetables, especially Asparagus to give it a rich, green color. I wanted to roast the Asparagus with some Zucchini, so I followed the instructions for blanching the Asparagus on this page at Fresh Fork Market. I used some vegetable stock to give it extra flavor.
I like my Zucchini crunchy and not mushy, so I hoped that by roasting these two together, after I blanched the Asparagus, that it would all work out okay. The Asparagus was a rich color of green so that part worked. I drizzled on some olive oil (less than 1/4 cup) and sprinkled some fresh ground pepper and dill over the Asparagus and the Zucchini, but kept them separated in case I needed to remove one before the other, then roasted them in a 400 degree oven.
The Zucchini came out delicious but the Asparagus was a bit tough and stringy. I should have broiled or grilled the Asparagus after blanching it, instead of roasting it with the Zucchini. It all had good flavor but some of the Asparagus was a little too chewy for my taste. It took me a while to figure out what I did but I think it was just overcooking.
I stick to low fat methods of cooking as much as possible, and although the olive oil approach on the veggies was super tasty, I wanted to see if something else would work. The next day I made this low fat version of roasted vegetables since I wanted to try it again because we enjoyed the zucchini so much the first time. It's not fat free because I still think the olive oil is important for flavor and to keep the veggies from sticking, I just don't use as much.
First, I put foil on a lipped cookie sheet for easy clean-up. This gets a bit juicy because of the tomatoes so make sure your cookie sheet has a shallow side to keep it from running off the pan. I added 1 teaspoon of olive oil to the foil and rubbed it around with a paper towel to completely coat the surface.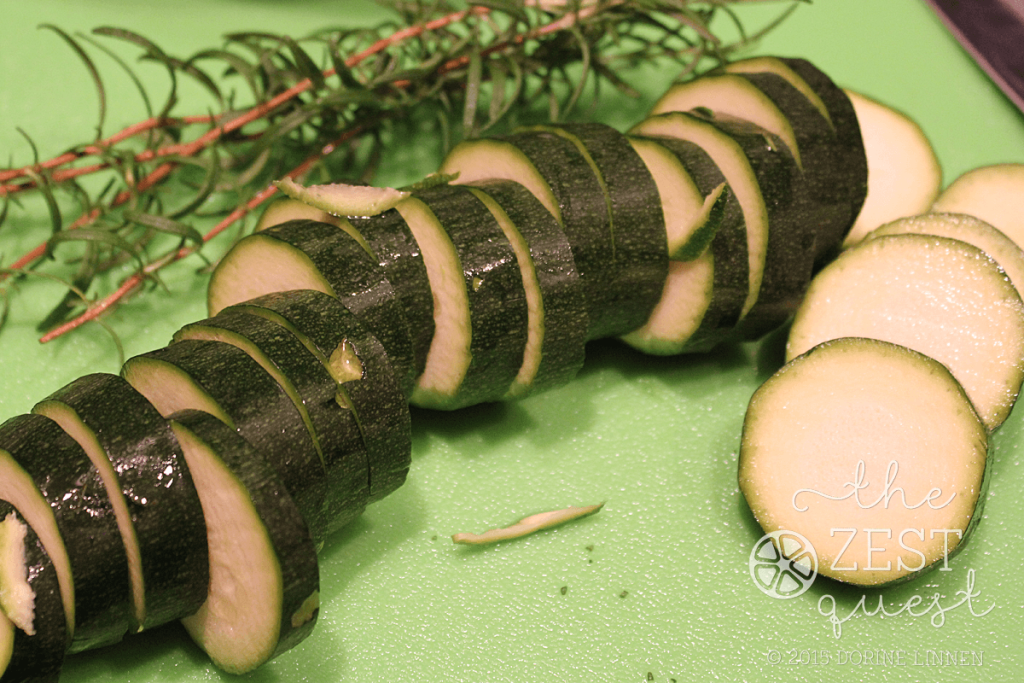 I cut up Zucchini into thicker chunks so it would stay crisp and made sure I cut the Broccoli stems into smaller chunks so they'd cook fast enough. I cut the Broccoli florets into larger sizes because any smaller and they may get too wilted for my taste.
Then I mixed the Zucchini, Tomato and Broccoli in a bowl, making sure I scraped in all the juice from the tomato into the bowl. The tomato is what adds more flavor so that you won't miss the oil. I cup up 4-5 stems of fresh Rosemary from my own plant in my kitchen and mixed it into the vegetables in the bowl, leaving a few whole pieces for looks, then added 1-2 tablespoons of vegetable stock and poured it all onto the oiled foil. Sprinkled with fresh ground pepper and roasted it in the oven at 425 for about 15 minutes, gave it a good stir, and then roasted it a couple more minutes until the Broccoli stems where tender.
Low Fat Roasted Vegetables are a fresher taste than traditional roasted vegetables without as much oil but still very good. Let me know if  you try it!
Low Fat Roasted Vegetables
Prep Time: 15 minutes
Cook Time: 20 minutes
Total Time: 35 minutes
Yield: Enough for 2 people with leftovers or 4 people without leftovers
Ingredients
1-2 Zucchini
1/2 head of Broccoli
1-2 tomatoes
4-5 stems of Rosemary
1 Teaspoon of Olive Oil
1-2 teaspoons of Vegetable Stock
Fresh Ground Pepper to taste
Instructions
Line a cookie sheet with foil and place 1 teaspoon of oil on it and spread around with a paper towel to coat all the foil lightly with the oil.
Cut Zucchini thick and the remainder of the Vegetables in bite size pieces
Cut Rosemary leaves off the stem with a knife and leave the end pieces with stem intact for looks. These end pieces should be tender new growth so they will be chewable, whereas the rest of the rosemary stems may be woody and you don't want those in your recipe.
Mix the Rosemary and Vegetables in a bowl with 1-2 teaspoons of vegetable broth.
Pour mixture onto the oiled foil-lined pan.
Sprinkle with fresh ground Pepper to your preference (I used 3-4 cranks over 1 Zucchini, 1 Tomato and 1/2 head of Broccoli)
Place cookie sheet on the middle rack of a preheated 425 degree oven. Roast the vegetables for 15 minutes, give them a good stir and roast for about 3-5 minutes more until the Broccoli is tender when forked.
Notes
You can mix up these vegetables by adding some chopped onion, peppers or change out the broccoli for cauliflower. Use your imagination but leave the tomatoes in the recipe to so that the tomato juice keeps the veggies from sticking. Enjoy from The Zest Quest!
http://thezestquest.com/2015/08/13/low-fat-roasted-vegetables/

Print this Post