Golden Nuggets in Farm Share Week 12
Farm Share Week 12 is filled with golden nuggets of fruit and vegetables. This delectable combination made my mouth water as I was slicing everything up to share with my parents. I love discovering the variety names so I can keep them on my wishlist for my own garden in the future. The colors are so beautiful to see up close that I thought I'd share a photo array.
This week our small Vegetarian farm share included (above photo)…
Eggplant – 2
Blackberries – 1 pint
Apples – Ginger Gold – 1/4 peck
Green Pepper – 2
Watermelon – 1
Cantaloupe – 1 –
Melon – Canary – 1
Spaghetti Squash – 1
Lettuce – 1 head
Basil – 1 bunch
Yellow Onion – 1
Yukon Gold Potatoes – 3 lbs
Tomato – slicing, 1.5 lbs
Tomato – grape, 1 pint
Tomatillo – 1 lb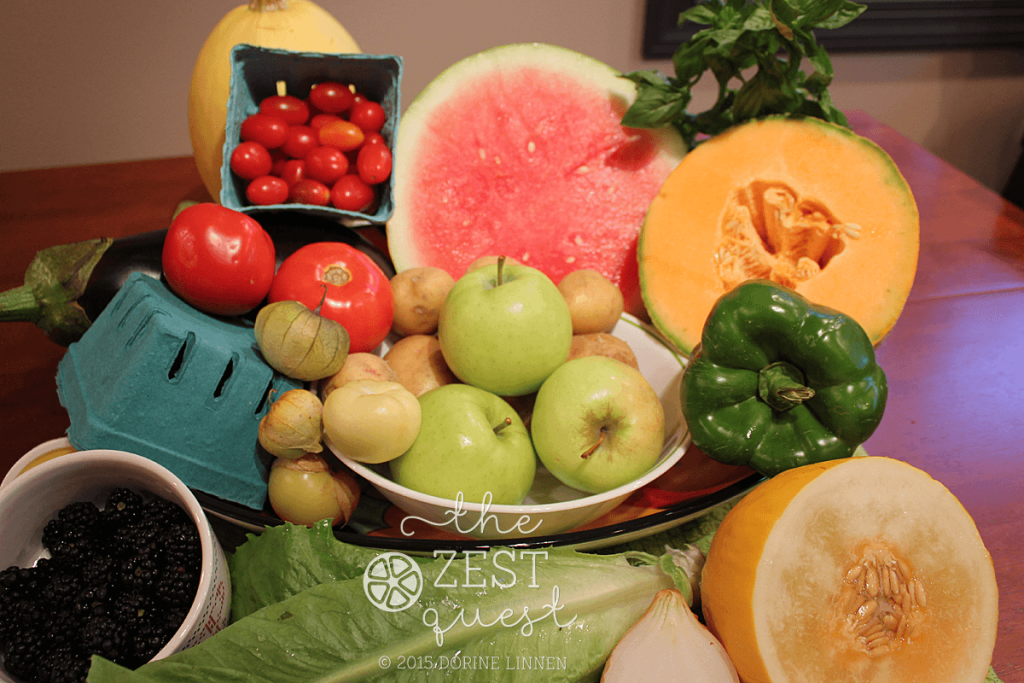 My half of the Vegetarian small share this week (above photo) and what's left since Friday, August 21…
Eggplant – 1
Blackberries – 1/2 pint
Apples – Ginger Gold – 3
Green Pepper – 1
Watermelon – 1/2 – Mr. Carnivore is happily munching on this as I type and I found a recipe for a Watermelon Salad I'd like to try if there's any left!
Cantaloupe – 1/2 – waiting on us
Melon – Canary – 1/2 – waiting on us — I think maybe a fruit salad will be on the menu this week!
Spaghetti Squash – 1/2 – I couldn't figure out how to cut this in half to share with my parents, so I'll stuff this whole thing and share it with them prepared. Found this instructional video so I'll let you know how it goes.
Lettuce – 1/2 head
Basil – 1/2 bunch – sitting on the counter in a glass of water since the last basil I put in my very cold fridge turned black too quickly.
Yellow Onion – 1/2 – eaten in the lovely Butter Glazed Yukon Gold Potatoes recipe that I'll share very soon.
Yukon Gold Potatoes – 1.5 lbs – we used the two largest in a new skillet potato recipe I'll share soon. I finally figured out how to make them with less fat and still tasty.
Tomato – slicing,  2 – these were used up on sandwiches and in a squash recipe I'll share soon.
Tomato – grape, 1/2 pint – these are mixed in with all the cherry tomatoes we're getting in from the garden. If we keep getting this volume in every week I'll start drying them in my dehydrator, then freeze them. We're low on freezer space so the dehydrating will save space.
Tomatillo – 4-5, froze these whole for use this winter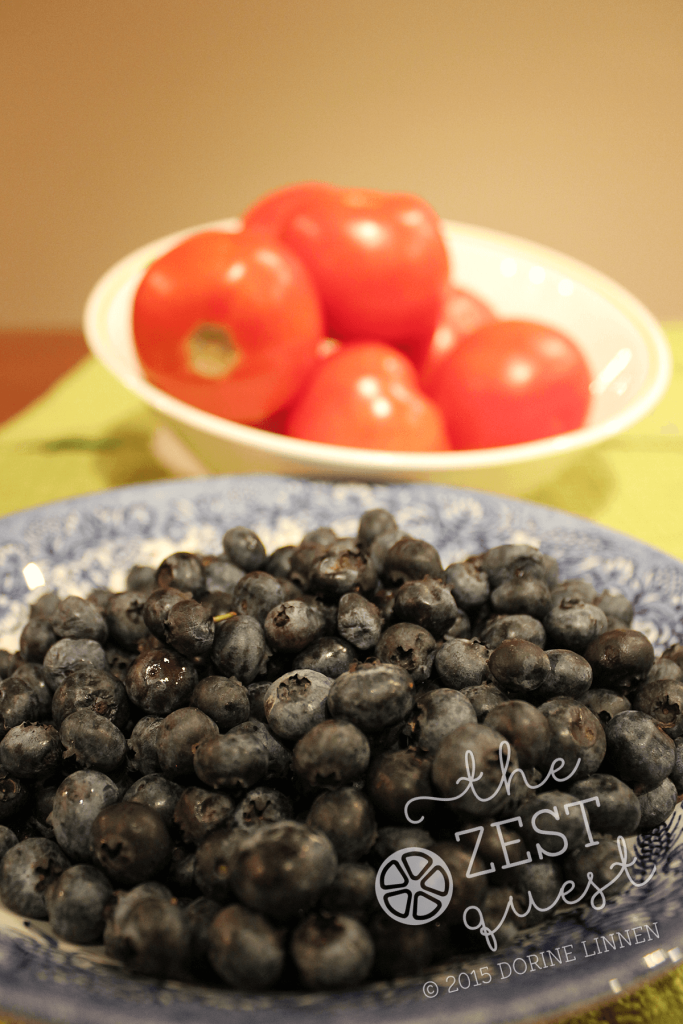 Added from Fresh Fork Market (above photo)…

Blueberries – 1 pint – using them on my oatmeal as I'm sure these will be the last of them.
Tomatoes – slicing, 2 lbs – I really can't resist tomatoes at this time of year so I always buy more than we can use. I had my first tomato sandwich made with heirloom tomatoes today at Julian's Restaurant since Dan is happy to share his garden's bounty with his customers. There is nothing better than Dan's Tomato Sandwich with lettuce, slathered with mayo and squished in-between two slices of that gorgeous bread. Decadent! Thanks for the treat, Dan!
This Canary Melon (above photo) is too gorgeous and unusual with its champagne-like color inside. Check out its small size in comparison to a standard size yellow onion and how beautiful it looks. I wish I could transfer the smell, as well, because it's a light citrus which appealed to me.
The seedless Watermelon and Cantaloupe above made our bag so heavy this week that I couldn't lift it. Thanks to my forethought, Mr. Carnivore was along for pick-up and even by carrying several other items myself, he had to hoist the bag with both hands, adding a rather loud thunk when it landed in the trunk. This is our heaviest and most overflowing bag this season. I just love how the husk of the Tomatillo (lower left) looks next to the Slicing Tomatoes and The Yukon Gold Potatoes. I was doing a little dance when I saw those potatoes as I've always dreamed of growing my own. Maybe next year I'll rig up a tall container to give it a try. I have some beautiful basil this year in my own garden, so with the addition of this bunch I might just be able to squeak out a small batch of pesto.
RESULTS…
We had some produce leftover from previous weeks and I took some time to sort through and toss, even thought it pains me to do so. This time, the Swiss Chard didn't last as long, so it was better to toss it rather than to risk it making us sick. Our 1/2 of a purple cabbage was great in salads, but it was looking a little ragged by this week so it is time to toss or do some cabbage sauteing to freeze for fall and winter soups.
My sister-in-law thought you might like to see what the refrigerator looks like on the night of farm share pick-up. This is without the tomatoes, spaghetti squash and basil which are on the counter. We have a cabinet depth refrigerator so we really pack it tight. The bags that look white are paper towel wrapped greens to keep them fresher. The "no veg" sign at the top is to remind Mr. Carnivore that no vegetables go up there because with the refrigerator packed this tight, the fan can't do its job and that area becomes a freeze zone. Just so you know how imperfect I am, we had ham and cheese sandwiches with fresh sliced tomatoes and chips for dinner that night, because I was one worn-out puppy after cleaning and slicing up this massive bag of produce and was done at 9:30p.m. There is no way it would have fit inside our fridge without some slicing, pushing and shoving. If we had a full share, we'd have melons on the counter with the tomatoes and spaghetti squash because there is no more room at the inn!
We also have a small counter-height refrigerator that we use for bottled water and assorted drinks, as well as a 3 foot x 4 foot freezer in addition to the drawer freezer at the bottom of the refrigerator. I can store my overages in my parents' freezer so that's an option, too. Either way, I'm hoping to get into more freezer preparedness this year than years prior. We've also made the decision to carry on with the Winter Farm Share program, which is omnivore and not vegetarian. This will make Mr. Carnivore a very happy man.
It's hard to believe it's almost September and we really haven't had that many tomatoes, zucchini or cucumbers in our garden. It was such a strange gardening year that I'm grateful that someone is getting produce in for us!
How's your food prep going this week? Any preserving going on for winter?

Print this Post