REVIEW: Evergreen Springs by RaeAnne Thayne
Recommended Read, soon-to-be-a-classic, contemporary Christmas story destined for your keeper shelf!
How do you know you've read one of the best books ever written by RaeAnne Thayne? When you feel wistful and sigh-worthy at the end of the book and yet, oh-so-sad because you can no longer see into the characters' lives. I didn't want the book to end. EVERGREEN SPRINGS is a Christmas story perfect for every keeper shelf!
From the beginning, I was captivated with EVERGREEN SPRINGS and read as fast as possible without missing a word until the last page. Devin didn't stand out to me more than any other character in the previous two novels, so I was very surprised how fast I became enamored with her story. As a small town doctor, Devin has her hands full. Her cancer survival, then living life with gratitude is admirable. She'll steal your heart with her compassion and inner spirit. There is one key motivation in Devin's emotional want-list that Cole and his children fill and you'll want it for her too.
Cole is a great hero. He's a dark and brooding ex-con with a tiny bright light just waiting to shine when nurtured by the right woman. He's a handsome, rugged cowboy whose bad boy ways have almost broken him, like the horses he hopes to train. Love will fix him if he follows his heart. Cole's two children are a fabulous component to this story, adding just the right touch to embolden the childlike wonder of a Christmas-themed book. Eight-year-old Jazmyn is a bit contrary toward her father, having been influenced more by her mother and her grandmother with unsavory words about him. Her six-year-old brother is such a treasure, especially since he puts up with his bossy sister without complaint.
There are so many secondary characters that make this book brilliant beyond the lead couple, which is saying a lot since I really enjoyed them. None of the secondary characters seem frivolous, each of them move the story forward with their circumstances that involve Cole or Devin. Cole's father intervenes even though Cole wants nothing to do with him. He's even more broken than his son and he'll touch your heart. Cole's sister Tricia is pregnant with twins and estranged from her husband, another storyline that's especially poignant in the holiday season.
I really enjoyed Cole's darkness against Devin's light. Although they've both faced adversity, Devin was surrounded by a positive, loving environment. Whereas Cole was faced with sorrow and uncertainty. Cole's adversity led to recklessness, while Devin's led to devotion to healthcare due to her care during her own illness. Both learned lessons that made them better people, but what each of them lacked is filled by the other in order to eventually complete them. The story evolves as the characters awareness of each other expands and their mutual need is realized in each other. Such a beautiful story.
Another key factor to this book that made it such an easy, enjoyable read is the magical snow-covered mountain setting with a hot spring to heat things up. Throw in a bunch of cute animals, plus a group of seniors who need that hot spring, and you've got some aww moments that will melt that snow and any ice in your heart.
EVERGREEN SPRINGS is the third book in the HAVEN POINT series which is lightly related to the HOPE'S CROSSING series. It is not necessary to read SNOW ANGEL COVE and REDEMPTION BAY in order to understand this story, nor the previous series, even though they're each special in their own way. Fans of this series will be delighted with cameo appearances of their favorite characters from the previous two books, while catching up on what's happening in their lives right now.
I think EVERGREEN SPRINGS may be my favorite holiday story ever. It's one of those books that can easily become a yearly re-read because it's that special. Its positive, hopeful message clearly illuminates the season.
Like a crackling fire on a cold night with the magic of a starlit sky – EVERGREEN SPRINGS will warm your soul and melt your heart. RaeAnne Thayne has surpassed my expectations with this novel – sure to become a treasured holiday favorite for years to come. Recommended Read!
Reviewed by Dorine, courtesy of Romance Junkies and The Zest Quest. Print ARC provided by the publisher or publicist.
Get your copy at Amazon.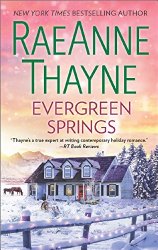 Evergreen Springs by RaeAnne Thayne
Series: Haven Point, Book 3
Category: Contemporary Small Town Romance
Publisher: HQN Books (September 29, 2015)
Rated 5 out of 5 + Recommended Read
Read my review of Redemption Bay here, and my review of Snow Angel Cover here.
Click on the covers below to order the first two books in the series from Amazon.
What are you reading?

Print this Post