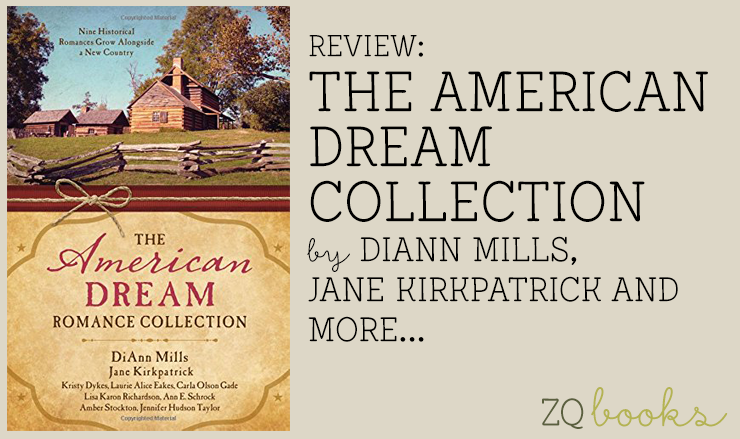 REVIEW: The American Dream Romance Collection
A great Christian romance anthology filled with nine captivating novellas that are perfect for those who love early American history.
I requested this book when I found out there was a story that takes place in 1753, because I love that year in colonial America more than anything. This collection is a treasure trove of stories with a diversity that's sure to please a wide variety of historical romance lovers. An enjoyable way to find new-to-you authors and historical stories you've been craving.
CARVING A FUTURE by Carla Olson Gade is the story that pulled me in to read this anthology. Constance Starling, a Lady of means, is captured in London and transported to Connecticut as an indentured servant in 1753. Nathaniel Ingersoll, a carver, barters his services with the ship captain who plans to sell Ms. Starling's indenture. Starved and barely alive, she will work her way out of his debt and into Nathaniel's heart. CARVING A FUTURE reminds me of the POLDARK series I've been watching on PBS. Great story and I'll look forward to reading more by this author.
TRADING HEARTS by Amber Stockton takes place in 1754 in the Connecticut River Valley when Nathaniel's brother, Captain Jonathan Ingersoll, encounters high water, endangering his ship's passage. Captain Ingersoll makes port and finds an inn where he meets Clara Marie Preston, the innkeeper's daughter. Will Clara's brother accept the captain's sincerity toward his sister, or will his own experience with traders ruin all her dreams? This story was more formal than I expected and Jonathan seemed so different from his brothers, but I liked the scenes with the Ingersoll family. I also enjoyed this couple getting to know each other better through letters.
OVER THE BARREL by Laurie Alice Eakes introduces us to the third Ingersoll brother, Micah, who ran off to war and came home injured by a musket ball, which has left him with a limp and in considerable pain. Micah spends his time baking bread for sale. When Micah finds Sarah Chapman's daughter hidden in a flour barrel, he's determined to save the child from the woman who claims she's her mother. Will Micah believe that Sarah is a widowed heiress on the run from the man insistent on becoming her next husband? Such a clever story. I liked that the hero enjoyed baking and so did the heroine.
IMPRESSED BY LOVE by Lisa Karon Richardson kicks off when Doctor Alden Ingersoll, the fourth brother, is impressed into service by the English Navy when a ship captain's niece fears for her uncle's life in 1762. Once Alden performs an unusual procedure with Phoebe's help to save her uncle's life, will his impressment be over, or is he doomed to serve for years in the war as a doctor on a ship? Both characters are well-written and the storyline gripped me from the start, earning it a spot as one of my favorites in this anthology.
WHEN THE SHADOW FALLS by DiAnn Mills seized me by taking place on Michilimackinac Island and because the heroine is a trapper like her father in 1763. I love trapper stories but I have never read one about a woman who was so capable in such an isolated place. Ninette Curvier lives a lonely life without other women to talk to, but she loves her father and does her best to please him. When she discovers an English soldier near death, will she help heal him, or leave him to die as her French father would wish? Great conflict and adventure all the way to the last page. Another favorite.
NEW GARDEN'S HOPE by Jennifer Hudson Taylor is a love story about two Quakers who postpone their wedding twice, hoping for the perfect time. Shopkeeper Josiah Wall only wishes to postpone his wedding until after the 1808 election, due to his involvement with the Federalist movement. Ruth Payne refuses Josiah's plea to reschedule, because how can he have time for her when he's so focused on politics? Josiah is determined to prove his love but will their political differences continue to tear them apart? An interesting twist for a Quaker story and I'd like to read more about this couple.
NEW GARDEN'S CROSSROADS by Ann E. Schrock was a bit harder to understand because of some of the nuances of the Quaker faith and history, but I loved that it focused on freedom for slaves. Nathaniel is a slave hunter who meets Deborah when he's chasing slaves for their bounty. Deborah's family hides and abets the slaves and Nathaniel suspects. When he's injured in a flood while chasing escaped slaves, will his Quaker faith be renewed due to his thankfulness to the Friends who save him? Having a hero as a repentant slave hunter was a twist I never expected, but it kept me captivated, wondering how the hero would be redeemed.
FREE INDEED by Kristy Dykes introduces us to Winkie, who has lived her life as a slave and then is freed by her owner in 1856. Winkie makes a life for herself and her daughter, living with grief and anger over her husband's death. When she meets Joseph, a handsome carpenter and slave, Winkie believes her life will improve by marrying this man. But Winkie can't accept Joseph's deep faith and Joseph can't accept Winkie's lack of it, so how can there be a future for this couple? The vernacular in this story was difficult sometimes. The faith message seemed deeper than the other novellas, so I was troubled by this couple's journey. I wanted Joseph to be more understanding but by the end, I understood Winkie better. This story will appeal to those who enjoy a romance that is fraught with religious conflict.
A MOTHER'S CRY by Jane Kirkpatrick delves into a midwife's life in 1843 in the Wisconsin territory and how one mistake in her past troubles her future. Years later, Adele, a recent widow, and her daughter are midwives together when they meet another woman with a similar health concern to the first mother Adele lost in childbirth. Will Adele accept this woman's brother's request to treat his sister? Will Adele follow her past, or her unexpected future? Great story that left me wishful for more. I hope there's a sequel because I really want to read more about these characters.
The first four novellas in this anthology are connected by heroes who are brothers so it's like one continuing narrative about the Ingersoll family. Some of the novellas include recipes from a historical cookbook that are related to something within the tale. I had hoped all the stories had that connection, but they didn't. It would have been a nice touch. Religious beliefs and sweet romance are another thread these stories have in common. Faith plays a key role in this collection, with a wide variety to meet every preference from just a sprinkling of faith to stories filled with numerous bible verses to ponder.
As with any anthology there are novellas I enjoyed more than others, but the talent and background of each author is impressive. I would readily read another book by any of these authors because they all added value to the anthology as a whole.
THE AMERICAN DREAM ROMANCE COLLECTION will delight romantic history lovers. A carver, a sea captain, a baker, a doctor, a soldier, a political activist, a slave hunter, a slave, a banker – nine heroes will satisfy a varied readership. The heroines are just as diversified so you'll find a good variety of attributes to admire. If you enjoy Christian early American historical fiction, then grab this anthology for hours of reading pleasure.
Review by Dorine, courtesy of Romance Junkies and The Zest Quest. Digital ARC provided by the publisher through NetGalley.
Get your copy at Amazon!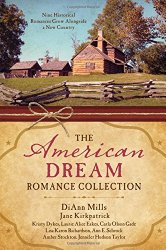 The American Dream Romance Collection by Dykes, Eakes, Gade, Kirkpatrick, Mills, Richardson, Schrock, Stockton, Taylor
Category: Christian, Women's Fiction, Historical, Anthology
Publisher: Barbour Books (Oct 1, 2015)
Rated 4.5 out of 5
Do you enjoy reading anthologies to find new-to-you-authors?

Print this Post