Root Vegetable Paradise – Winter Farm Share Week 5
It's a Root Vegetable Paradise in Winter Farm Share Week 5 Vegetarian Pilot from Fresh Fork Market. Lots of goodies perfect for soups and casseroles to come.
We couldn't wait a minute to try the Broccoli Soup so we had it that night. It was spicy and full flavored deliciousness — more please! I'm loving the winter farm share bags but most of all, I'm loving the prepared entrees. It's really fun to try these creations and they're usually a combination I wouldn't think up on my own for Vegetarian meals.
This week our small Vegetarian farm share included (featured photo at top of this post is full share)…
Peaches – Canned – 1 qt.
Apple Cider – half Gallon
Carrots – 1 lb.
Butternut Squash – 1
Collard Greens – 1 bunch
Broccoli Florets – 1 lb.
Kohlrabi – 1
Rutabaga – 2 (2 lbs)
Stuffed Acorn Squash Entree
Broccoli Soup Entrees
Acorn Squash – 1
Fingerling Potatoes – 3 lbs
Onion – 1
Whole Wheat Bread
Mr. Carnivore and I share this Vegetarian Share with my parents, so every week is an adventure in how we split the goods. I marked everything "share" in the photograph below because I was taking the photo prior to splitting everything up between our two families. Sometimes we can split everything between two households easily and other times, like this week, it's easier to plan on sharing a meal.
My half of the Vegetarian small share this week (above photo) and what's left since Friday, December 18…
Peaches – Canned – 1 qt. – we'll be sharing this after Christmas for dinner together.
Apple Cider – 1 quart – enjoying it as I type.
Carrots – 1/2 lb. – these are added to my stash while I use up some from a previous week first.
Butternut Squash – 1 – my parents took this and we got the Acorn Squash.
Collard Greens – 1/2 bunch
Broccoli Florets – 1/2 lb. – love getting these!
Kohlrabi – 1 – Dad got this to enjoy while we got the onion.
Rutabaga – 1 (1 lb)
Stuffed Acorn Squash Entree – we're saving this in the freezer to enjoy one night with the peaches.
Broccoli Soup – 1 – this was plenty for 2 for a Meatless Friday dinner that included leftover Roasted Cauliflower and Brussels Sprouts – pictured below.
Acorn Squash – 1
Fingerling Potatoes – 1.5 lbs
Onion – 1 – used half of this in a Roasted Chicken Thighs and Vegetables meal pictured below – recipe coming soon!
Whole Wheat Bread – my half is quite beautiful and sliced very nicely! Very heavy bread.

Added…
Milk – grabbed this to try. I also want to try the whole milk.
Yogurt – we haven't tried the flavored yogurts yet so I grabbed some to try. The Lemon Ginger sounded very interesting.
Eggs – we had some eggs left but I'll need more for Christmas baking.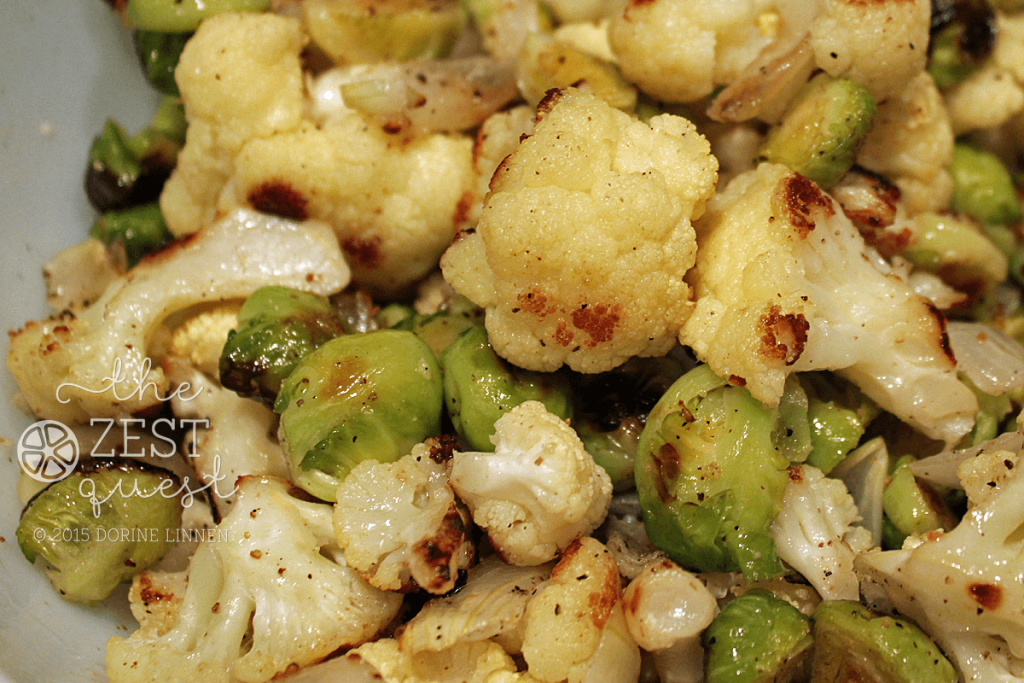 RESULTS…
We used up the last of the Brussels Sprouts this week by roasting them with some Cauliflower. Recipe and instructions coming soon — perfect to convince a non-Brussels-Sprouts-eater to try them.
Our Carrot stash was overflowing so I made Rosemary Roasted Chicken Thighs with Vegetables to use some of them up. I really love Potatoes and Carrots done this way. The Chicken Thighs really add some extra flavor to the vegetables beneath them and I like having only one pan to clean up afterward. This has become a new favorite way to use up an overage of vegetables so I'll be sharing the recipe soon. Thanks for sharing the idea, Mel!
We have quite a bit left over from the last share date because of the number of days we ate outside the home and my crazy migraines that prohibited me from doing what I normally do. Hopefully, I'll get some time this week to cook up a storm to clean out the fridge. Maybe some vegetable soup for Christmas? I have my eyes on some veggie dips to make as well, God willing!
My apologies for dropping the ball on posting some recipes. I had a cluster of migraines that lasted six consecutive days. I've had to stay off the computer to give my eyes a chance to recover. I also get migraine equivalents where I lose my eyesight temporarily, so doing whatever I can to avoid that is necessary sometimes. I'm easing my way back into working on my photos and getting the recipes ready to post. That strains my eyes, so I'm working on them a little each day. The good news is that I have a backlog of recipes that I'm working on so you'll get quite a few this winter. Thanks for your patience!
I hope you're enjoying your preparations for the holidays. I'm looking forward to squeezing in some baking this week! What about you?

Print this Post