REVIEW: The Wrong Bride by Gayle Callen Recommended
THE WRONG BRIDE by Gayle Callen is an exceptional stolen bride story that includes a hero who will convince the reader of his value right along with his intended bride. If you love Scottish historical romance, don't miss this one! Recommended Read!
Soon to be Highland Chief, Hugh McCallum kidnaps his betrothed from her home in Great Britain. Lady Riona Duff is frightened at first, then enraged at the man who claims they have a marriage contract arranged by their fathers. The contract was drawn between their two clans when Hugh and Riona were children so that shared land could benefit both clans. Riona's clan has benefited over the years by the contract. It's now time for Hugh's clan to claim her dowry and the marriage that will insure peace. Riona is determined to convince Hugh that he took the wrong woman, and if that doesn't work, she'll find a way to escape. Can she protect her heart from this brave man determined to safeguard his people?
Catriona Duff shares the same family name with her cousin because their fathers refused to change their intent, so everyone calls her Riona and her cousin, Cat. Riona is staying with Cat's family while her own family is in France, hoping to cure her terminally ill sister. Riona's uncle took her cousin off to the country, unexpectedly, and suggests that Riona stay in Cat's room while hers is cleaned and painted. Did her uncle purposely set Riona up for this kidnapping to get out of the contract between their clans?
Riona is determined to convince this barbarian that she's not his intended bride. Hugh is determined to seduce his bride-to-be so that she will no longer resist their marriage. Will Lady Riona outwit the man who wants to win her heart?
I thoroughly enjoyed Riona and Hugh's story, even though I doubted they would find their happy-ever-after because of a very viable conflict. That doubt that lingered created great tension and made the conclusion an exciting end to their story.
I love romance novels that build the love between couples with the fear that it may be torn away. Hugh and Riona were both convinced that they knew the truth about one another and it was fun watching them fall in love.
There are some intriguing secondary characters that add to the plot of this first book and hopefully they'll all contribute to the future of the HIGHLAND WEDDINGS series. I'm especially intrigued by Hugh's seer sister who defies her talent. We'll get to know her better in THE GROOM WORE PLAID due out in March 2016.
There's something so appealing about these stolen bride stories and especially when it's done in error. I laughed at how Riona could agitate and entertain Hugh in the same moment. Hugh is a likable hero who feels a great responsibility to his clan. He tried to comply with the contract through her father first, but his refusal forced Hugh to take action. He wants a good marriage, even considering the circumstances, and he works hard to woo Riona. Hugh hasn't always been agreeable about an arranged marriage and his past slowly comes out in the book and adds to the emotion. By the end, I was thoroughly convinced they were perfectly matched, and I loved the anticipation as well as not knowing how their happy-ever-after would ever happen.
Riona is realistically outraged, but she recognizes Hugh's commitment to his people as honorable, even though she wants no part of this arranged marriage. How Hugh wins Riona's heart is entertaining. He's quite determined and truthfully, Riona doesn't stand a chance at denying him the love he desires.
I thought this was the first book I've read by Gayle Callen, until I discovered she also writes contemporaries as Emma Cane. I now know why I enjoyed Emma Cane's book so much when I thought she was a debut author. It's hard to hide experience and talent such as this from an avid reader. Although her styles are distinctly different under the two published names, Gayle Callen's storytelling skills engage the reader in the time-honored dance of a loving relationship. I recommend THE WRONG BRIDE to historical lovers of Scottish romance as a captivating love story full of promise for the future of a series.
Review by Dorine, courtesy of Romance Junkies and The Zest Quest. Print copy provided by the publisher.
The Wrong Bride by Gayle Callen
Series: Highland Weddings, Book 1
Category: Scottish Historical Romance
Publisher: Avon (October 27, 2015)
Rated 5 out of 5 – Recommended Read!
Coming in March 2016!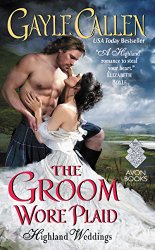 What's your favorite type of historical reading?

Print this Post