REVIEW: A Heart Stuck on Hope by Jennie Jones
One dollar a week rent entices a single mom to move with her eight-year-old troubled daughter to a small town in Australia. A HEART STUCK ON HOPE by Jennie Jones is a fun beginning to a multi-author series.
Thirty-one-year-old single mother Adele Devereux and her eight-year-old daughter take advantage of the one dollar a week rent for hardworking people, as it was advertised, and move to Dulili, Australia, from Sydney. Determined to give her daughter Ali a safe environment to grow up in, Adele hopes the change will encourage Ali to speak again. Something is wrong with her little girl and Adele will try anything to help her.
Tom Wade comes home to Dulili from Canberra when a tragedy threatens to ruin his rigging business. When his employee is paralyzed in an accident, Wade sells his home to provide an income for the man. He accepts one of the houses his grandmother Imelda owns as temporary housing, right next to new tenant Adele and her daughter Ali. Ali immediately takes to Wade and begins to talk.
Adele and Wade form a friendship bound by Ali's trust in Wade. Wade doesn't really know how to help the kid, but apparently just being his rugged self is exactly what fascinates the little girl. Even though there is an immediate attraction between them, Adele and Wade know a long-term relationship won't work for several reasons. Will time heal all their misgivings?
A really cute concept by three different authors, the A DOLLAR FOR A DREAM series is kicked off by A HEART STUCK ON HOPE by Jennie Jones. I enjoyed meeting the Dulili townspeople. Imelda gets a lot of page time and finally tells her secrets to Tom. I got such a kick out of Imelda's personality. She seems like a cranky seventy-year-old woman, but Imelda has a huge heart. Adele discovers a bit about Imelda and Tom's history when she joins the historic society as a volunteer. Adele is a very sweet, loving mom who is in need of a chance to begin anew. Ali's teacher, who is also Adele's new good friend, also has a strong secondary role in this story.
I was attracted to this series by the one dollar a week rent concept. It's the Dulili residents' method of bringing the town back to life with new people. Adele volunteers in the town to partially pay them back, as well as works a part-time job to support her and her daughter.
I especially enjoyed the vernacular that makes this Australian setting so appealing. At 140 pages in length, this first book is an easy read that sets the tone for what promises to be an engaging series from Escape Publishing, the digital-first division of Harlequin Australia. I've been eyeing the Australian titles for quite some time, so it's really fun to finally be able to try them. I can't wait to read HONEY HILL HOUSE by Lisa Ireland coming out on March 5, 2016 and THE HEALING SEASON by Catherine Evans releasing on March 15, 2016, books two and three in the A DOLLAR FOR A DREAM series. An enjoyable tale about new beginnings, A HEART STUCK ON HOPE conveys Australian family values and a sweet contemporary love story.
Review by Dorine, courtesy of Romance Junkies and The Zest Quest. Digital ARC provided by the publisher through NetGalley.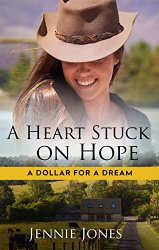 A Heart Stuck On Hope by Jennie Jones
Series: A Dollar For a Dream, Book 1
Category: Contemporary Romance
Publisher: Escape Publishing – Harlequin Enterprises, Australia Pty Ltd (February 25, 2016)
Rated 3.5 out of 5
( #ContRom2016 )
Click on the covers below to order Books 2 and 3 of A DOLLAR FOR A DREAM series.
Do you enjoy books by different authors with a connected theme like this one?

Print this Post