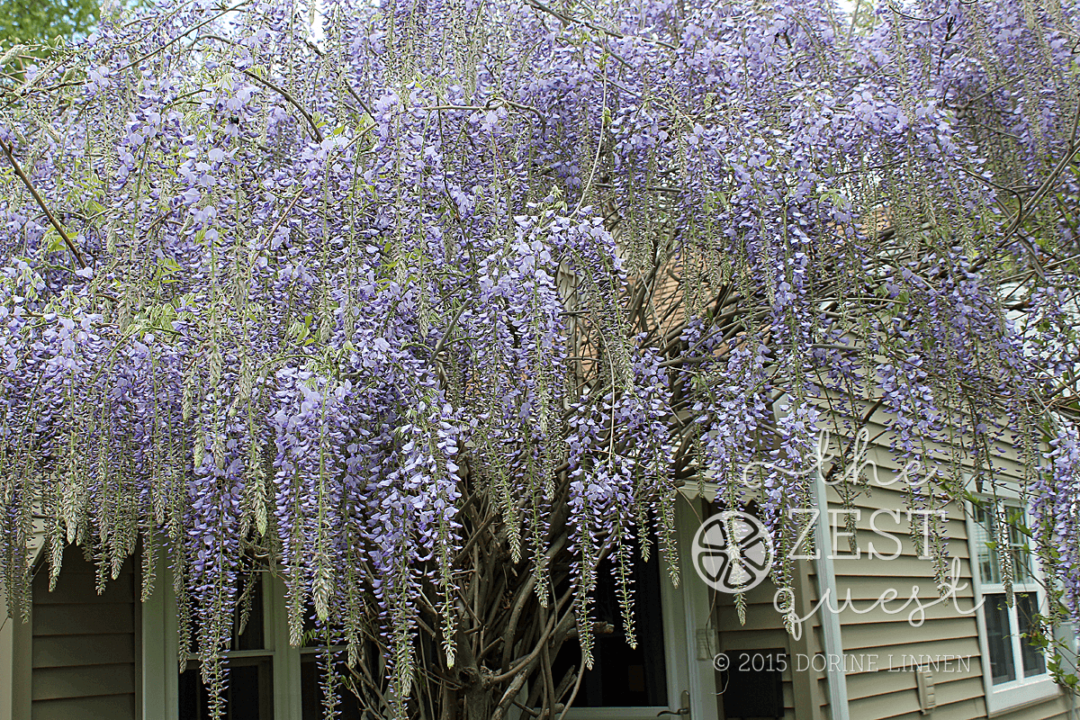 Wisteria Hysteria – plant love gone bonkers
Wisteria Hysteria – plant love gone bonkers basically says it all when you have two of these things competing for attention at the same time. This is the first year this has happened — that the Wisteria tree is blooming its heart out at the same time the Wisteria vine has decided to explode, creating Wisteria Hysteria at my house.
It doesn't matter that there are tree seedlings run amuck waist high, or that the crab grass is an army of garden thugs marching across my perennial beds, or that every mature Rose of Sharon croaked during the winter. Nope, I don't care – Wisteria Hysteria is here!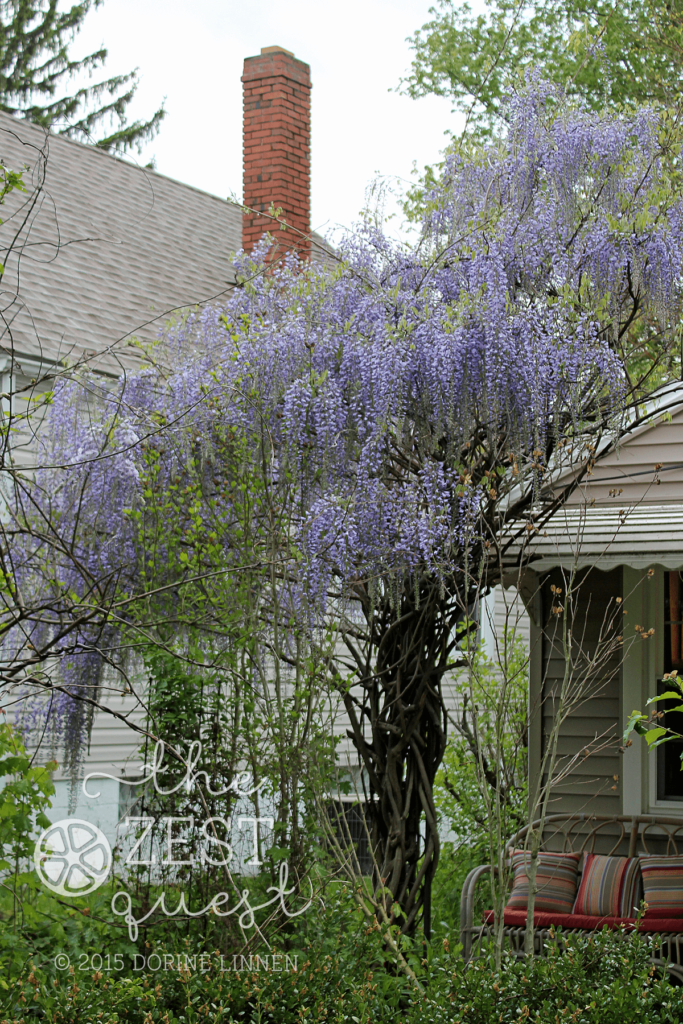 I can gawk at the vine (above and featured photo) all day and get absolutely no weeding done. Every day it changes shape, gets larger, more rambunctious and the racemes get longer. The bees get louder in their frenzy to slurp up all that pollen goodness.
I'd much rather be sitting out on the porch, listening to the bee frenzy, drinking coffee or tea and just being in the moment than weeding.
And the fragrance! It's like a lilac but deeper and sweeter.
The frost came, it sleeted and snowed and the glorious Wisteria Hysteria blooms on. I take pictures each day, even in the cold or rain, just to make sure I don't miss a moment of this awesome bloom year.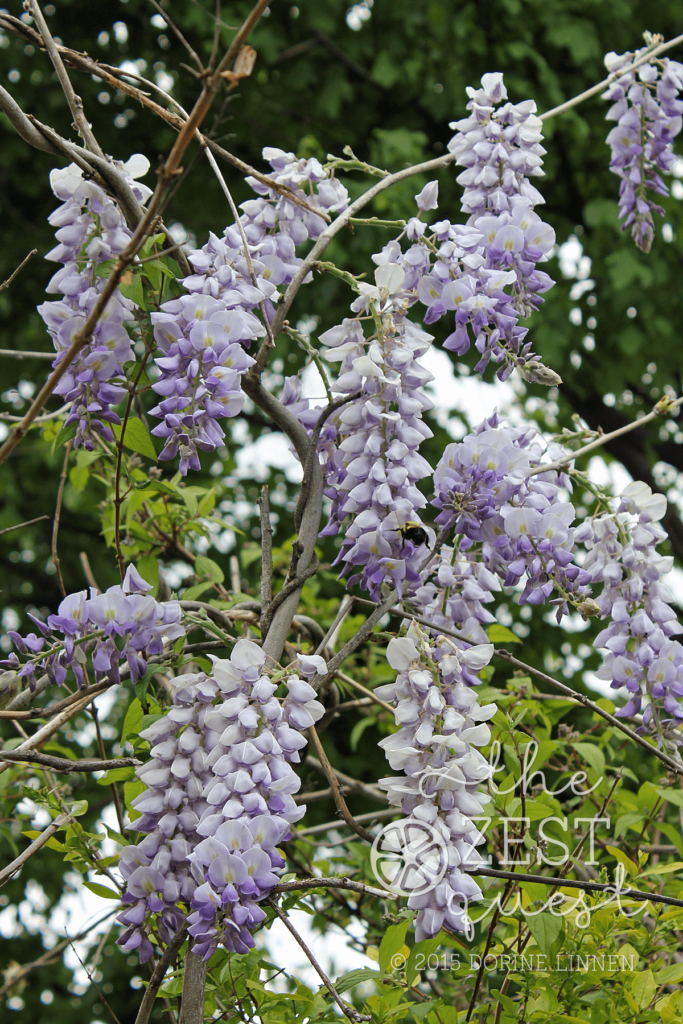 With Wisteria, you just never know. Even though our vine blooms yearly, some years there might be ten blooms. You can see what it was like last year in comparison to this year. Then there are those bonus whopper years like this year when I can't even count the racemes. The Wisteria tree is much more finicky (above). It usually blooms really early and sparsely, but this year it has graced us with many fluffy blooms.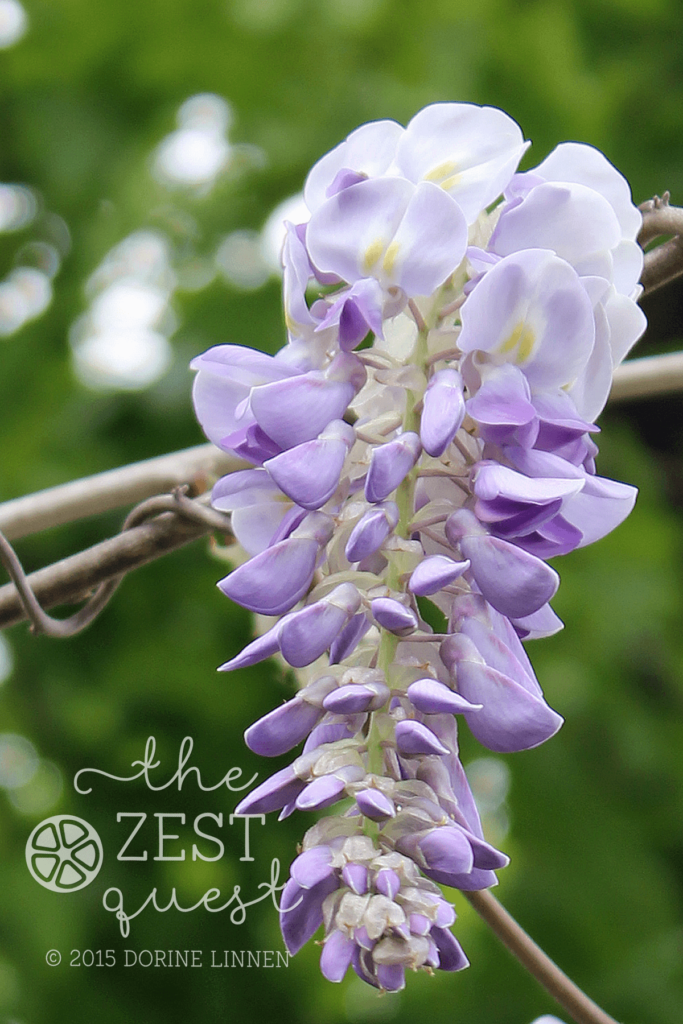 In comparison to the vine, the tree (above) has shorter blooms that are wider and not as fragrant, but just as attractive to the bees.
What is our secret? Chop the roots and the vine as if you're going to annihilate it. Make it think it has to fight for its life. If you don't, it will eat your house. You must make sure it knows who is boss and chop, chop, chop – once, twice, sometimes three times in the spring and summer. If you're lucky, it will bloom a second time in its desperation to set seed.
We take turns trimming it and try to shape it into an arch over the sidewalk. It becomes a tunnel of purple plant love gone bonkers as the Wisteria tree reaches for the Wisteria vine. We don't let them hold hands very long, opting for separation so we don't find the mail carrier entangled by our Little Shop of Horrors man-eaters.
Yes, this creepy thing reaches out and tries to grab you as you're walking by. If you stand still long enough, you'll swear it has a brain and wants you for breakfast.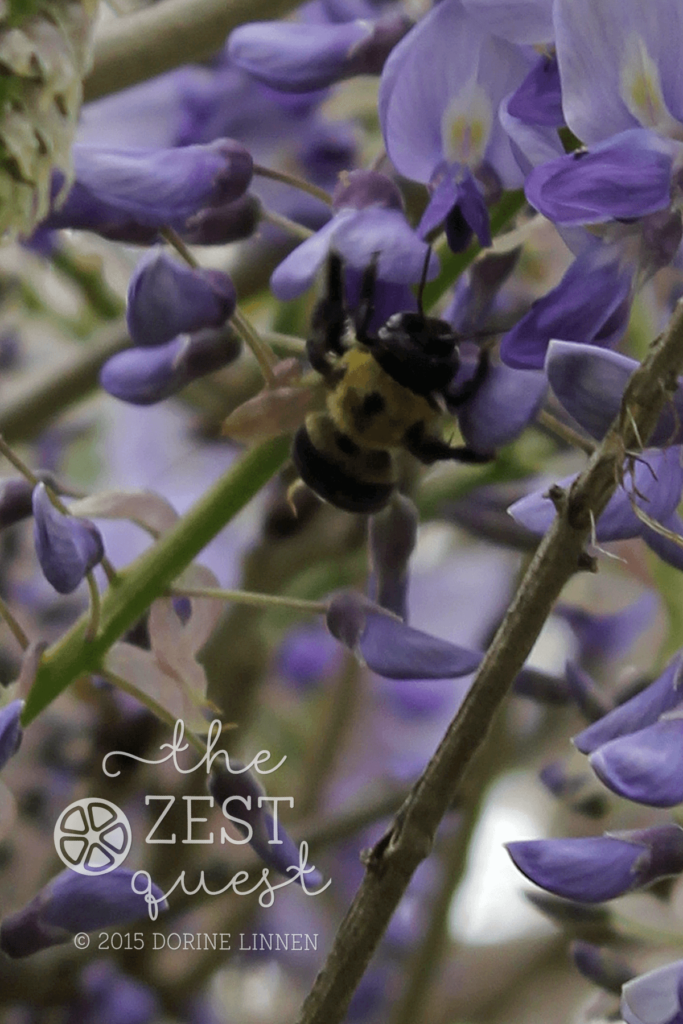 On a sunny day, the bumble bees are so loud that it sounds like an army of weedwackers. It makes for a scary entrance-way for visitors, but we're used to the chaos. The bees are zestfully happy when they're sipping on the vine, so they ignore us.
My favorite spring moment is Wisteria Hysteria induced. Purple insanity is a good thing for the heart and soul. And the best part is that this lovely Wisteria was a gift from cousin Nancy. She made my cottage garden dream come alive.
Plant love gone bonkers, shared. What's not to love?

Print this Post