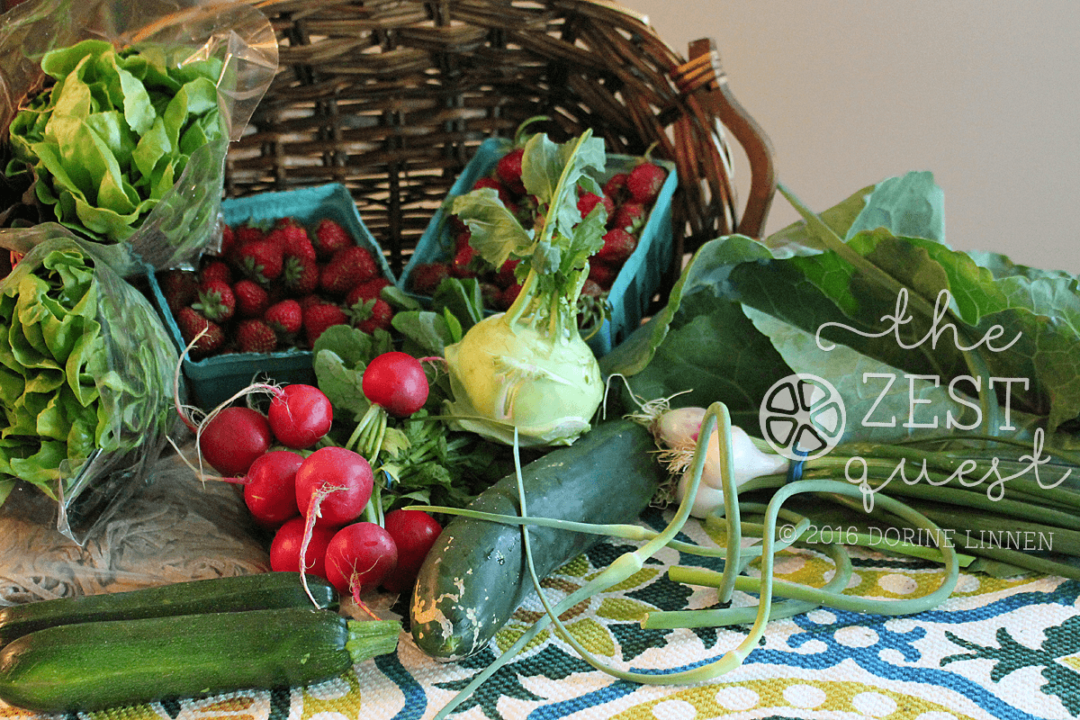 Summer Farm Share Week 2 influenced Grilled Veggies
This week's Farm Share influenced Grilled Veggies when our son and granddaughter came over for an impromptu barbecue. Mr. Carnivore and I finally bought a new grill for our wedding anniversary last month. We've had several grills in the past, but we have never been satisfied with their performance. It's probably the reason that we've never grilled veggies and are now addicted to them with this particular grill.
We bought a Char-Broil TRU-Infrared Portable Grill2Go Gas Grill so that we can take it to the boat, or one of the parks we love to go to for picnics, as well as use it camping. It's the perfect gift to ourselves for the summer and we're enjoying it immensely. What I like best about it is the unique stainless steel cooking grate because food doesn't fall through it and there's no reason for a grilling basket for veggies or fish. The no flare-up cooking system is amazing, even with olive oil on the veggies, the flare-ups were minimal and contained. So far, every piece of meat we've cooked on it comes out perfect. I highly recommend it.
Week 2 of our small Vegetarian summer farm share included (featured photo at the top of this post is full vegetarian share)…
2 Sleeves Lettuce (two small heads of spring lettuce – green and red)
Strawberries (2 quarts)
Radishes – 1 bunch
Pasta – Whole Wheat Linguine
Zucchini – 2 small
Cucumber – 1 large
Kohlrabi – 1 bulb
Onions – Green Bunching
Garlic Scapes
Collard Greens – 1 bunch
My half of our small Vegetarian summer farm share (below photo) and what's left since Wednesday, June 8…
Lettuce – 1 sleeve (two small heads of spring lettuce – green and red) – we have all of this left as we just finished last week's lettuce.
Strawberries (1 quart) – we ate about 2/3 of these and put 1/3 in the freezer for cereal
Radishes – 1 bunch  – we enjoyed these fresh in salads for two nights, then grilled the rest. Love them grilled.
Pasta – Whole Wheat Linguine – this is in the freezer. I'm thinking I'll make some meat sauce with one of the jars of Heirloom Tomato Sauce I've been hoarding from the farm share.
Zucchini – 1 small – grilled this with the radishes
Cucumber – 1/2 large – ate this in our salads for two nights
Kohlrabi – 1 bulb – gave this to my parents and I kept the bunching onions
Onions – Green Bunching – grilled these with the radishes and zucchini
Garlic Scapes – I think I have one of these left
Collard Greens – 1 bunch – I'm thinking that this recipe at Fresh Fork Market sounds awesome for these. Maybe I'll change my mind about the pasta and make enchiladas instead. It's a good excuse to use up some more of my roasted tomatoes.
RESULTS…
We have a few vegetables left from week 1, but not much after our cooking this week. The broccoli didn't make it to our stomachs. It was a little overripe when we got it and I didn't get to it fast enough. I don't like broccoli that's that far into flower, so I avoided it until it was too late. I had to get my preservation mind in gear for the summer season and it has taken me a week to get it together. I've been lazy this winter with so much frozen in the farm share.
We ate the last of the lettuce from week 1 last night and it was still really fresh. We stretched the Asparagus until last night as well. We fixed the larger pieces the night before by roasting them in the oven, which I didn't like because they just get too gushy and stringy. Last night we grilled the smaller pieces and those were awesome. We still have some Parsley and Kale to do something with tomorrow. Both still looked great the night before when I added them to our salads.
I'm much prouder of our progress in week two. I was focused this week and worked at using everything up in a timely manner. When the only fresh veggies left are the Collard Greens and the Lettuce after three days from pick-up, I feel like a champion!
The secret to our success this week was prioritizing. I knew from week 1 experience that the strawberries needed handled within 24 hours, so I sliced about 2/3 of them to eat in 24 hours, then froze 1/3 to use in cereal later. That worked beautifully. We can't usually eat a quart of strawberries in 24 hours but I focused on reminding us both to have them in our cereal in the morning, then as a snack both evenings. No more wasted strawberries!
The second reason for our success was having our son and granddaughter for dinner one night to help us eat all the grilled veggies we made. We had planned on taking everything to their house for a barbecue, but the youngest got sick, so mom and youngest stayed home (thanks DIL, we missed you!) while the oldest got a daddy and grandparents' day. It was a super hot day, so we played Uno inside in the air conditioning and ran outside for a quick grilling session. Then back inside in the air conditioning to chow. I added in grilled Turkey burgers, a salad, and some Bob Evans garlic mashed potatoes to make it a massive feast. We grilled onions, zucchini, asparagus, more onions (we love onions!), and radishes. It almost filled a large mixing bowl, so we certainly love our veggies. 🙂
We weren't sure how convincing we'd be with the granddaughter to try the grilled veggies, so the mashed potatoes were supposed to be for her, but the rest of us couldn't resist them. HA She did pretty good trying the grilled veggies. I'm not sure she has quite acquired the taste for them yet, but she tried them which was great. Us adults apparently loved the veggies because before we knew what happened, they were completely gone.
Grilling veggies is super simple. I clean them and cut them into similar sizes so I can grill them all at once. I put them in a bowl and drizzle on some olive oil then season with a Hickory salt and fresh ground pepper. Then place on the grill. I grilled one side at medium-high and then turned it down when I turned everything over. I like my veggies a bit crisp, so I test them with my tongs to see it they give a little when I pinch them. That's when they're done for me because I don't like them gushy.
I hope I can keep up this trend of using everything up quickly for the rest of the summer. Wish me luck!
What has your fork or spoon been shoveling in this summer?

Print this Post