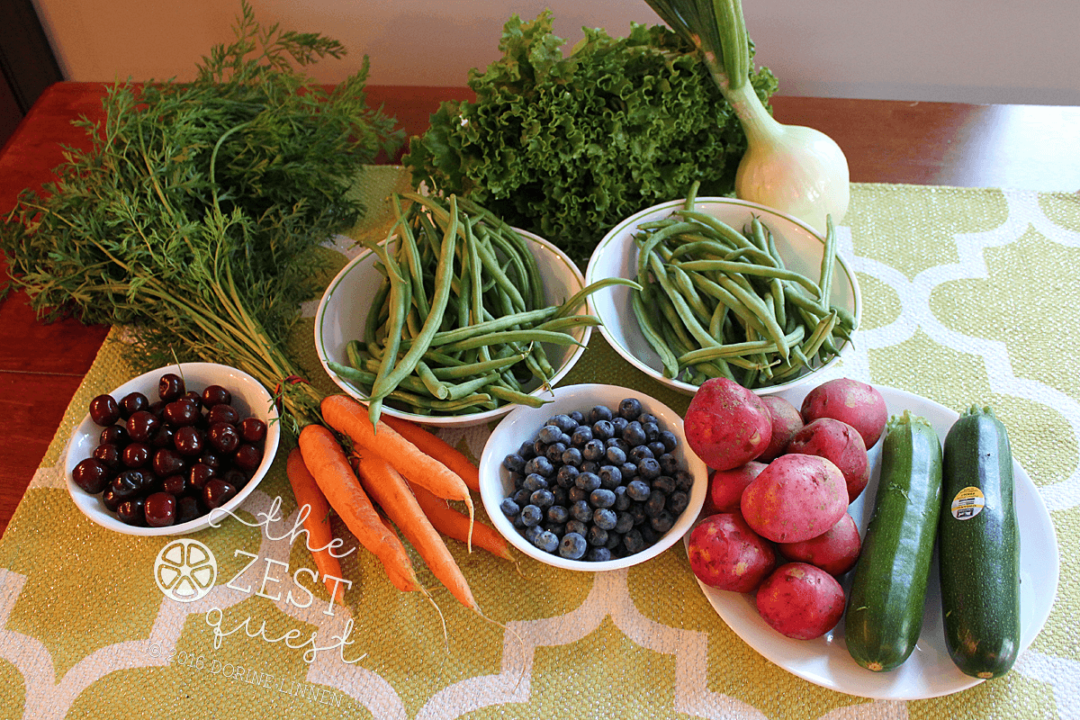 Summer Farm Share Week 7 – Green Beans
Summer Farm Share Week 7 brought us Green Beans, so I had to try something different with them. Mel suggested bacon. I had never tried that. We also received red potatoes and a bulb onion, so we got two great meals out of those. This is one of my favorite farm share weeks – I just love everything in it and the color combination is just gorgeous, isn't it?
Week 7 of our small Vegetarian summer farm share included (featured photo at the top of this post is full vegetarian share)…
Carrots – 7
Green Beans – double order (instead of cabbage)
Lettuce – Green Leaf – 1 head
Onion – one large bulb onion, Candy Sweet?
Cherries – 1 lb.
Blueberries – 1 pint
Red Potatoes – 9 (2 lbs.)
Zucchini – 2
Pinto Beans – 1 lb. (not pictured above because I forgot them!)
Cucumbers – missing due to crop failure – will get next week
My half of our small Vegetarian summer farm share (above photo) and what's left since Wednesday, July 13…
Carrots – 4
Green Beans – 1 lb.
Lettuce – Green Leaf – 1/2 head
Onion – one large bulb onion, Candy Sweet?
Cherries – 1/2 lb.
Blueberries – 1/2 pint
Red Potatoes – 5 – approx. 1 lb.
Zucchini – 1
Pinto Beans – 1/2 lb. (I remembered them in this photograph!)
Cucumbers – missing due to crop failure – will get next week
RESULTS…
I asked for a swap this week when we picked up our farm share. I rarely do that, but we had 2 cabbages from weeks past to to do something with, and I can't feed Mr. Carnivore cabbage after his surgery. That means 2 cabbages have to be put into the freezer and I can't stomach cooking that much cabbage at once. I love to eat it, but I just can't tolerate the smell of it cooking very long. Thankfully, they were kind enough to give us extra green beans instead. As I said, I don't make a habit of asking for an exchange, and if I think about it, this may have been the first time. Farm share is the luck of the draw based on what the farmers have and I believe in following that path as much as possible.
Since Mel and I went to Duma Meats this week to stock up on farm fresh protein, peppered bacon won for the green bean debate. I love being able to support our local businesses and Duma Meats is a wonderful place to get a wide variety of meat. I was especially impressed with their honey ham. It was too pretty to resist and it was on sale at a better than great price. Mr. Carnivore really loves ham for his sandwiches. I also got some of their 95% lean ground beef to try and some mild Hungarian sausages. Mr. Carnivore loves his sausages and I rarely fix them because of their fat content. We'll see how these work out. What I like about shopping at Duma's is that they have small packages that are perfect for two people. Even though the bulk of what we eat are vegetables, fish and chicken, we still season with beef or pork, which is why I like the small packages.
On farm share night we had leftovers and I had some Sausage and Cauliflower casserole that mom made. She's sending me the recipe so I can try it. If I rework it enough, I'll share it here, otherwise I'll find one similar that I can link to in order to share.
The next night we dug into the red potatoes we got this week and made our favorite Skillet Red Potatoes with Sweet Onion, Dill and Rosemary. We really look forward to those in our share. I sliced up the bulb onion and potatoes, then sauteed them in some olive oil with dill, pepper and 2 small fresh sprigs of rosemary. It was good, but I could have thrown in 2 more sprigs of rosemary and it would have been even better. We oven baked some frozen breaded flounder with the potatoes and onions, so it was an easy meal.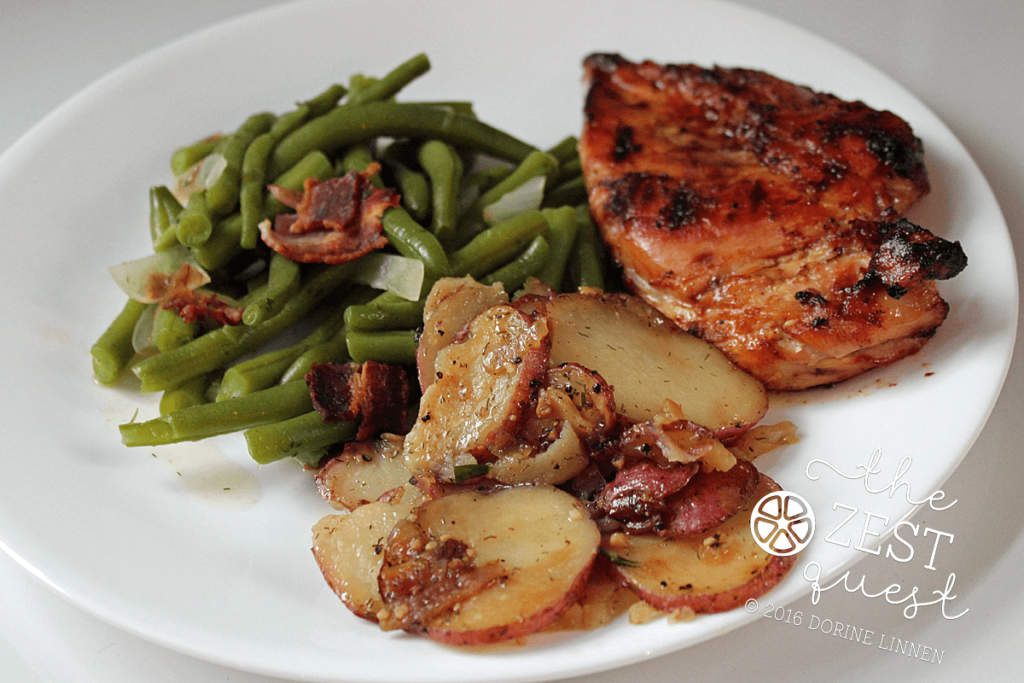 Friday night I wanted something easy but filling since I missed lunch, so I pulled the barbecue chicken from the freezer that we had leftover from our July 4th picnic. We reheated the leftover potatoes and I made the green beans with peppered bacon. I sauteed the bacon with onions until it was crispy, then added it to the green beans which were already simmering in some vegetable broth. I defrosted the chicken in the microwave, then tossed it a couple times in the leftover bacon grease in the skillet. There actually wasn't that much fat in the pan from 4 pieces of bacon so I didn't feel that guilty about it! 😀 It added that extra oomph to the barbecue chicken that it needed. That peppered bacon we got at Duma Meats was some of the best I've had in quite some time.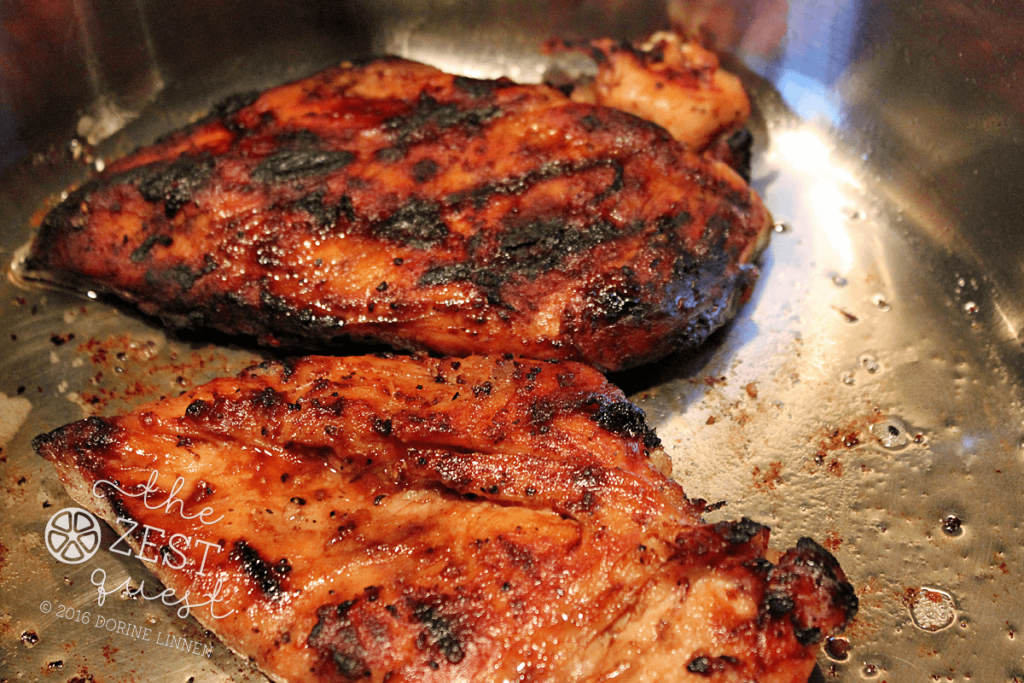 It doesn't take long to warm up the chicken in a hot pan with a little bacon fat.
Green Beans and Peppered Bacon with Sweet Onion is a meal all by itself. YUM!
—
We did have some causalities from week 5 and week 6. About half the lettuce, two thirds of the spinach and kale, as well as 1/4 of the broccoli had to be tossed. The broccoli had been near flowering so although I used it in salads and in a stir fry, I should have froze the small bit leftover instead of thinking I'll fix it one more time. We also lost the bok choy because I ran out of bags, then promptly forgot about bagging it when I got home. With all our running up and down the highway for Mr. Carnivore's appointments, there was just no more time/energy for cooking/prepping.
The rest of the causalities were on my parent's end when their refrigerator broke. They lost so much food it makes my heart sick to think about it, since I've experienced that several times in my lifetime.
I finally broke down and bought a new set of pans. I found them on sale and I had a bunch of coupons, so it wasn't as painful as it could have been. After reading all the hoopla about Teflon and PTFE/PFOA, I wanted to try something different. We got a 10 piece set of Cuisinart Ceramica pans, although I hung on to my two stainless pans, one cast iron skillet and a griddle, plus a hard anodized non-stick pan for Mr. Carnivore (his scramble-eggs-making pan) and my favorite Calphalon pan for stir fry. Of course, that forced me to clean out two cupboards to make room and reorganize. Our pans have annoyed me for quite some time because they weren't the right sizes, then they never fit right in the cupboard where I intended them to go and a couple were so banged up that lids no longer sealed.
Getting new ones forces me to get rid of some I never use. I'm still working on that, but I got two cupboards cleaned out and a stack of pans to go to the curb. I've got another stack going for a garage sale or flea market day.
I'll use less olive oil with the ceramic pans, so they'll work great for our health. I just have to remember to cook at a lower temperature since they heat up so fast. It's fascinating to watch them create their own liquid from the food. I tried reheating some pulled pork in them, then added some barbecue sauce and not one bit of sticking. Amazing.
A family of two really does not need that many pans but since I'm always experimenting with recipes for the blog, it's good to practice with different surfaces. I'm also always cooking wherever I go so I often take a favorite pan with me. I know — crazy — but we're all creatures of habit, right? This gives me enough pans that I won't absolutely die if I leave one of my pans somewhere. 🙂
What has your fork been digging into?

Print this Post