Summer Farm Share Week 9 – Stir Fry Steam
Summer Farm Share Week 9 influenced what I like to call a "Stir Fry Steam". It's a simple way of combining veggies by sauteing, then softening them a bit more with some steam, which also enhances the combined flavor. With or without rice, it's delicious and this week we re-purposed it a few times. A combined Veggie Steam gets more flavorful as a leftover, so I always make too much on purpose.
Week 9 of our small Vegetarian summer farm share included (featured photo at the top of this post is full vegetarian share)…
Candy Onion – 1
Cucumbers – 2
Green Peppers – 2
Sun Jewel Melon – 1
Yellow Bumpy Squash – 2
Yellow Wax Beans – 1 lb
Carrots – 1 bunch
Blueberries – 1 pint
Sweet Cherries – 1 pint
Lettuce – 1 head
Apples – 5 tart Lodi
Swish Chard – 1 bunch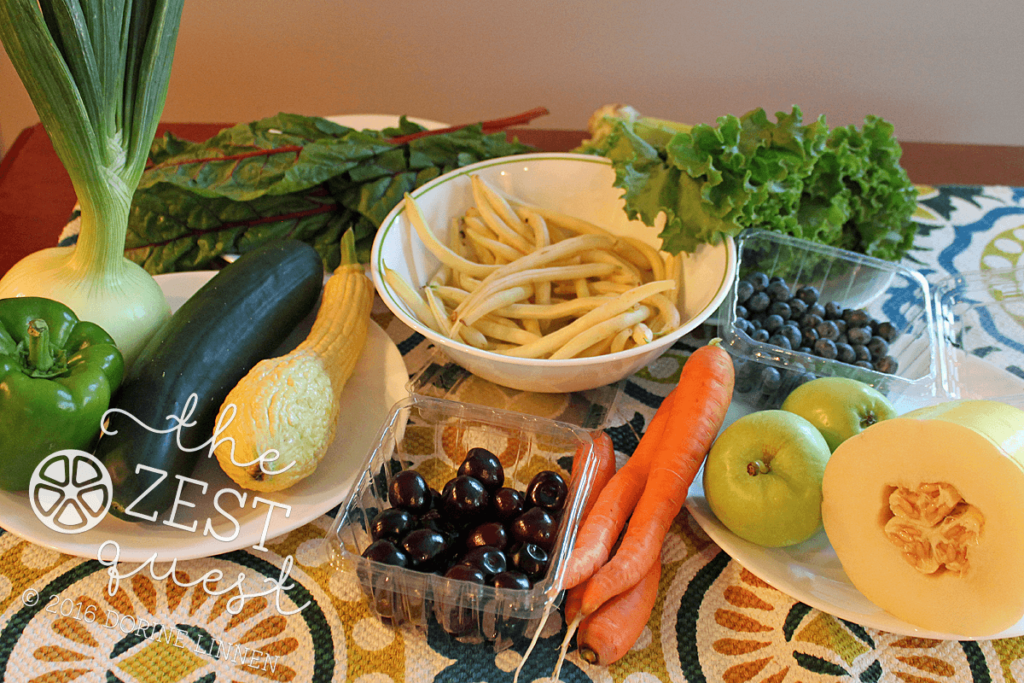 My half of our small Vegetarian summer farm share (above photo) and what's left since Wednesday, July 27…
Candy Onion – 1/2 – used in the Stir Fry Steam
Cucumbers – 1 – I tried storing this on the counter and it got mushy too fast. Going back to storing them in the fridge.
Green Peppers – 1 – used 1/2 in the Stir Fry Steam
Sun Jewel Melon – 1/2 – we ate most of this with the help of our granddaughters who love their fruit!
Yellow Bumpy Squash – 1 – I left this out on the counter but will refrigerate next time as it gets too ripe that way. Used in the Stir Fry Steam
Yellow Wax Beans – 1/2 lb –  I fixed these with some ham and onions, then re-purposed them by adding them to the Stir Fry Steam leftovers.
Carrots – 1/2 bunch – never got to these
Blueberries – 1/2 pint – ate 1/2 of these in cereal
Sweet Cherries – 1/2 pint – Mr Carnivore devoured these
Lettuce – 1/2 head – had a couple salads with this but didn't eat it fast enough
Apples – 2 tart Lodi – my granddaughters loved these tart apples combined with the sweet Sun Jewel Melon
Swiss Chard – 1 bunch – I didn't get to this
Extras…
I ordered a half a dozen sweet corn as I absolutely love the tender first corn of the season. My grandparents farmed corn, so I grew up on the sweet taste of Silver Queen. Once you're spoiled on that corn, it's real difficult to eat bi-color or any other corn that comes out later in the season. It's just not the same. This corn was close to how I remember Silver Queen, so I was thrilled.
The Yellow Wax Beans weren't enough for me. I had to have Green Beans as well.
They had free Broccoli at our pickup so I came home with 3 heads. It wasn't fresh enough to be included in the shares because it had to be eaten or frozen that night, so they kindly offered it to whoever could use it up immediately. Even though I was exhausted, I took the time to blanch those three heads and freeze them. I love Broccoli that much!
RESULTS…
Share night is always crazy because I'm usually running errands as well as picking up our share. This week wasn't any different. But I wanted that corn, so I fixed 3 ears for us and saved 3 for my parents. BEST CORN EVER! We had a salad and a marinated salmon patty that we buy already prepared.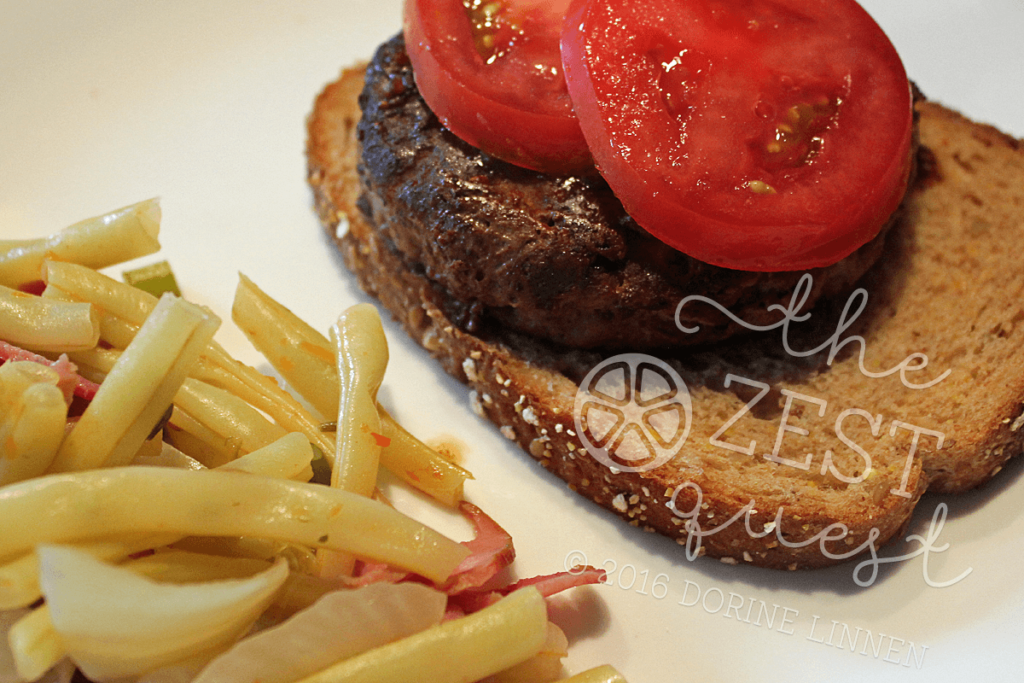 The next night I made turkey patties with these gorgeous tomatoes (they taste as good as they look!), plus the Yellow Wax Beans with Ham and onion.
Our son and granddaughters joined us on Friday for lunch so we scrambled eggs with a bunch of veggies. I still had some frozen tomatoes from Winter share, so we added those into the eggs, some ham and onions. We ate the rest of our peppered bacon from Dumas, something everyone wished we had more of!
We lost a zucchini from not eating it fast enough and got to the Yellow Squash barely in time. I froze some rice one night so we'd have some easy meals in the future.
Stir Fry Steam Recipe and how to re-purpose…
Stir Fry Steam is something I do quite often but I did something a little different this time. I saved the broth from the Yellow Wax Beans and Ham, as well as the juice from the frozen tomatoes, knowing I'd use them for the steam.
First, I saute onions, garlic and peppers in some olive oil while I'm cutting up the rest of the vegetables. This time I used Cauliflower, the frozen Broccoli, and the Yellow Squash.
Once the onions and peppers are softened, I add the Cauliflower and the broth and tomato juice to "steam" the Cauliflower for a few minutes by covering the pan with a lid cracked open a little. Then I add the Broccoli and steam it and finally add the squash last so it doesn't get squishy. I turn off the pan and let the vegetables settle for a few minutes in the broth. We ate this the first night all by itself.
The next night we served the Stir Fry Steam reheated over rice with some fish on the side. The third time we added the leftover Yellow Wax Beans to the Stir Fry Steam, after cooking 2-3 Chicken Tenders in a skillet to go with it.
That's the nice thing about Stir Fry Steam, it keeps on giving and tasting better each night!
Do you re-purpose meals to make the leftovers more interesting?

Print this Post