Summer Farm Share Week 20 – Celeriac Root
Summer Farm Share Week 20 brings us Celeriac Root and Red Kuri Squash, two fun veggies to play with. I love putting Celeriac in with soup, so I plan to make a big pot of Chicken and Vegetable Soup in the slow-cooker this week. The Celeriac leaves will go into the freezer to use this winter. Red Kuri Squash is more well known as a Hubba Hubba squash in the Hubbard Squash family. I'm not sure what I'm doing with this yet, but I'm anxious to try it.
Week 20 of our small summer Vegetarian farm share included (featured photo at the top of this post)…
Spaghetti Squash – 1
Cauliflower – 1 head
Red Kuri Squash – 1
Potatoes – Yukon Gold – 3 lbs
Onion – 1
Celeriac Root – 1
Green Beans – 1 lb
Plums – 2 lbs
Eggplant – 1 small
Beets – 2 bunches of small ones
Kale (missing)
My half of the share (above photo) and how we used it.
Spaghetti Squash – this went to my parents but it was rotted inside so we'll have to get an exchange this week. It wasn't visibly rotted so hard to tell.
Cauliflower – 1/2 head – cauliflower is always gorgeous and appreciated.
Red Kuri Squash – 1 – in the fridge as the stem fell off and exposed the flesh.
Potatoes – 1.5 lbs – we'll use these in soup.
Onion – 1 – this is huge – will stretch as far as 4 regular onions.
Celeriac – 1 – such an ugly looking vegetable but the taste is delicious.
Green Beans – 1/2 lb – these went right into the freezer for another day.
Plums – 1 lb – we've been munching on these each night for desert. So sweet.
Eggplant – gave to my parents.
Beets – 1 small bunch – this will be enough to fix for Mr. Carnivore one night.
Extras (not pictured)
1/2 gallon of Wholesome Valley whole milk – you have to shake this milk as the fat separates but it's delicious. I like using it instead of creamer in my coffee. After shaking it, it's like steamed milk in a hot cup of coffee — all foamy goodness at first. This is a great article about milk to check out.
Ohio City Pasta – Garlic and Chives – just smelling this will make you buy it.
Turkey Kielbasa – this is uncooked sausage that I've been anxious to try.
RESULTS (week of October 10, 2016)…
I wrote a little about this in the Week 19 post because many times the weeks overlap when using up our share. I wanted to show you pictures of the pasta dish that I make with Ohio City Pasta. We liked it so much that I ended up getting some Garlic and Chive pasta to try this week.
Here's the roasted red pepper pasta, cooked.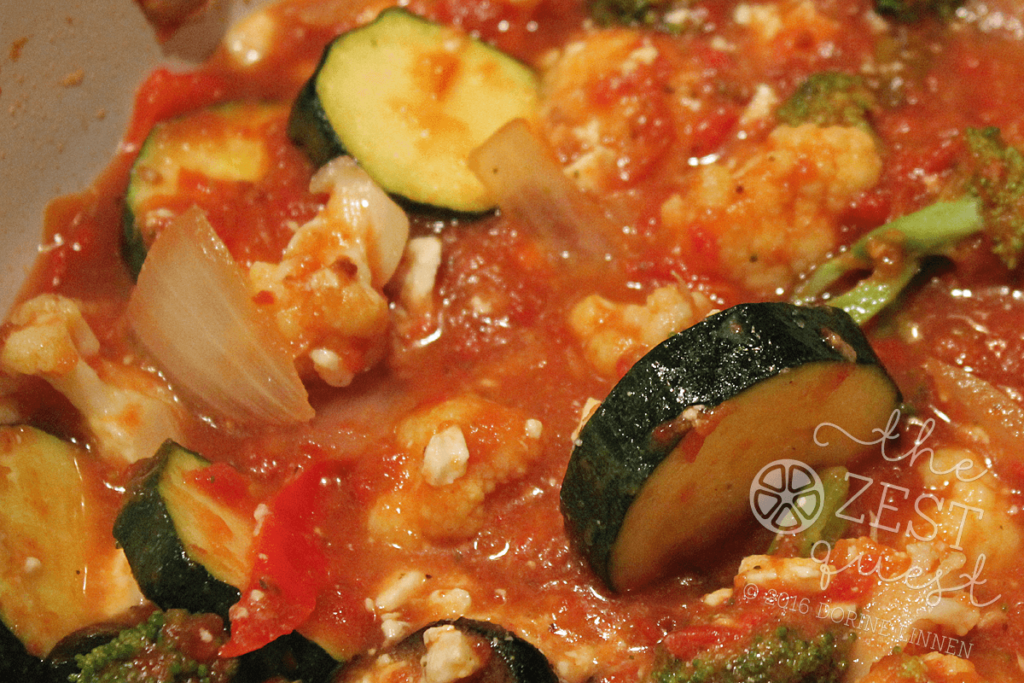 I steamed some vegetables, then added some heirloom sauce and cooked the two until hot.
The first night we poured the sauce/veggie mix over the pasta, then the second night when there was just a little bit left, we added some cheese. Truthfully, this pasta is so good that we don't need the sauce. A little butter or olive oil with the veggies would have been just as good.
I plan to use the celeriac in a chicken and veggie soup that I'll make in the slow cooker. We have lots of carrots and potatoes to mix in there for a hearty soup. I'll probably freeze some of it because I'll be able to make a really big pot with all the veggies I've stockpiled.
I also want to try making some potato soup with the Yukon Gold potatoes and the whole milk to see how that differs from how I usually make it. I haven't made this in a long time, but it always reminds me of my great grandmother when I do. Her chicken and dumplings, pasty and potato and leek soup were my favorites.
The Red Kuri Squash's stem broke off on the way home with it this week. I wasn't sure what to do about that as it exposed the flesh of the squash, so I refrigerated it. I think I want to roast it, but this soup recipe at Fresh Fork sounds good. I also found this information at Rachel Ray's site that makes me think this squash is one I want to grow next year. That said, I might not be able to resist this quick bread recipe at Fresh Fork.
Do you enjoy winter squash? What would you make with a Red Kuri Squash?

Print this Post