Winter Farm Share Week 4 plus Thanksgiving
We enjoyed our Winter Farm Share Week 4 plus Thanksgiving, so this post covers the what, the how and photos! I planned all the food we'd need for ourselves, to share at potlucks, as well as the food fest for Thanksgiving around both shares. There wasn't time to take pictures of the Thanksgiving share which was a fresh, pasture raised Tom Turkey approximately 23 lbs and a bunch of veggies in a box. I'll just share some finished pictures. Best turkey I remember eating as it was moist and meaty. I'm so thankful for family and good food every year but eating healthier makes it even better.
Week 3 of our Winter Omnivore farm share included (featured photo at the top of this post)…
Corn Crackers
Brussels Sprouts
Canned Peaches – 1 quart
Carrots – 1 lb.
Onions
Ground Beef
Sweet Potatoes – 3 lbs
Eggs – 1 dozen
Acorn Squash
Apples – this week's plus what was missing from Thanksgiving
Frozen Corn – 1 pint
Frozen tomatoes – 1 qt, diced
Celery
My half of the share (above photo) and how we used it…
Corn Crackers – 1/2 bag — munched on these without dip – not greasy like store bought corn chips.
Brussels Sprouts – this thing is HUGE — see the photo below. These are ready for roasting soon.
Canned Peaches – 1 quart – gave these to my mom and dad because they love them.
Carrots – 1/2 lb. – I can never have enough carrots. Made some for Thanksgiving (see below), had them in the roast (see below), plus in salad.
Onion – 1 – I think this one is still in the pantry since we got so many with the Thanksgiving package.
Ground Beef – this is in the freezer. I think some we'll use it for Sloppy Joes or Stuffed Peppers.
Sweet Potatoes – 1.5 lbs – we baked it in the microwave to share with turkey burgers.
Eggs – 1/2 dozen – probably go into some holiday baking.
Acorn Squash – my parents got this one along with the peaches and I got the Brussels Sprouts.
Apples – this week's plus what was missing from Thanksgiving – I think these are finally gone. Delicious!
Frozen Corn – 1 pint – my parents froze corn this summer so we kept the whole pint.
Frozen tomatoes – 1/2 qt, diced – these are in the freezer waiting to be used.
Celery – ate most of this in salads and dinners.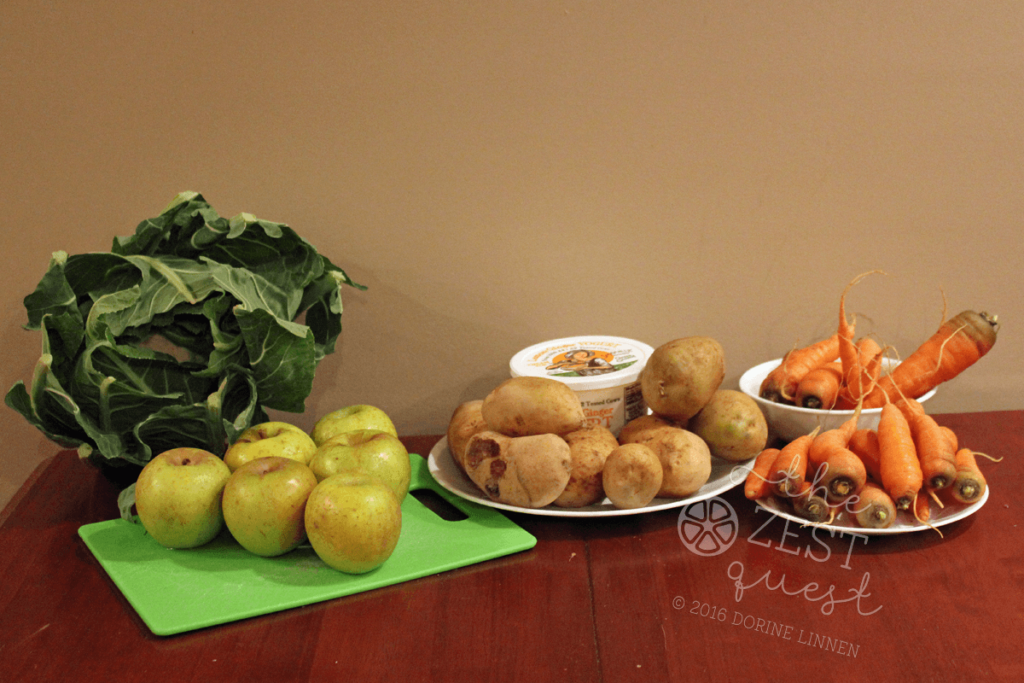 Extras and how we used them…
Unbelievably, I bought more apples. I filled a huge wire basket with all the apples we've been getting in the share and we each have one every day. You know, an apple a day keeps the doctor away and all that jazz. 🙂 We couldn't resist the Yukon golds which we baked and they landed in the with the roast. Still some left. Haven't touched the yogurt yet. Forgot about it! Lookie at all those lovely carrots. We've been munching on them and cooking them. So good. And yes, another Cauliflower because ya know I can't resist them.
Turkey and veggies package not pictured but what we got and did with them…(see finished spread below)

1 Turkey – sis and her hubby brined this and roasted it. YUM. Best Turkey Evah.
2 bunches Carrots (see photo below)
3 lbs Candy Onions (these went into everything Thanksgiving.
4 lbs Sweet Potatoes – my sister made these for Thanksgiving.
4 lbs Red Potatoes – I think these landed at my sister's because they were too small to use for mashed.
1 lb Shallots – in my pantry to use someday.
1/4 lb Garlic – we used some of this but leftovers went into our pantries.
1 dozen Eggs – my sister got these because I have too many eggs.
1 head Lettuce – this went into the pretty salad in the picture below.
1 Sugar Pumpkin – sis used this as a table decoration.
1/2 peck Apples – I got these and munched.
RESULTS (week of November 21 and 28)…
It might seem crazy to get all these extras in addition to the Turkey/Veggie share, but Thanksgiving as a food-centered holiday gives us every chance to use it all up. Besides that, I need to grab Cauliflower, Broccoli, Carrots and Potatoes in volume at this time of year. They're a mainstay in our winter eating. I like the convenience of frozen foods in the winter, so I freeze a lot of Broccoli and Cauliflower to just take out to use as we need it. The carrots and potatoes store wonderfully, especially when they're farm share fresh, so they won't be wasted.
Here's some of the Thanksgiving Day spread — we had a table full of desserts too, but they're not pictured. This is for seven people. Of course we couldn't eat it all. Check out those huge Turkey legs. I never saw anything so big. I made the salad, the carrots and baked cookies, as well as brought a Marie Callendar Coconut Cream Pie. She's a better baker than me and for $3.99 — who wants to compete?
This was our first year trying a Fresh Fork fresh pasture raised turkey and the veggie package. It was delicious. I'd really like to try roasting one myself but my refrigerator isn't big enough for these birds. Luckily, my sister and brother-in-law brined (following these directions) and roasted the turkey at their house. I just had to pick up the food and deliver it to them. We all pitched in and made some of the items so it was a family effort.
So what happens the day after Turkey day? Leftovers! Mom made a rice noodle and turkey/cheese casserole for more family gathering. My niece has to eat gluten free so that's the first time I had rice noodles. I took leftovers home and added broccoli for two more meals for Mr. Carnivore and I.
Finally, I made a roast with potatoes, carrots, onions, mushrooms and garlic in a Veggie broth. It was much better the next day and we had enough broth to eat it like a stew. Put some of it in the freezer as well.
We pick up our Week 5 share this week and I can honestly say I might be able to find room in our refrigerator for a few things. At first, I thought I'd never say that when I was putting veggies in a ice chest in the garage until I had time to break them down into smaller packaging. Those cauliflowers are huge and take up a lot of room.
Same with the Brussels Sprouts. These things were as tall as my kitchen table is wide. That's a dozen eggs in comparison. We're talking several meals for two people.
Whew! I made it through a couple weeks of food fest! I can't say I'm real anxious to cook dinner again anytime soon. 😀

Print this Post