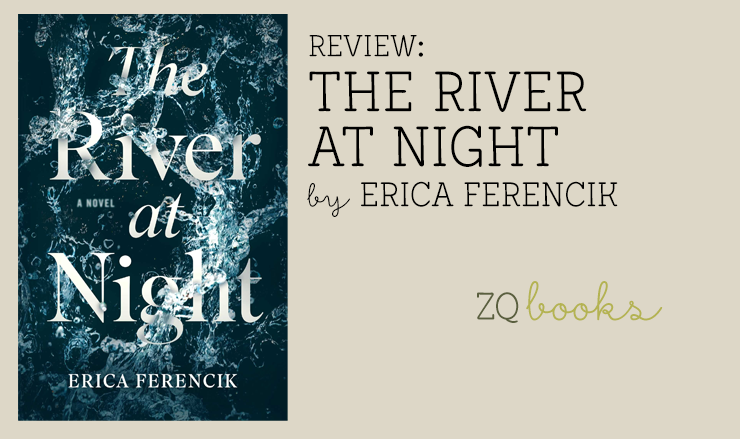 REVIEW: The River at Night by Erica Ferencik
THE RIVER AT NIGHT by Erica Ferencik illustrates the Maine wilderness in a captivating, adventure thriller. If you love mid-life-crisis, off-the-grid suspense, you'll be enraptured by this vivid prose. It kept me reading late into the night. I didn't dare stop for fear I'd dream about the inevitable, scary thing that would happen next.
Winifred "Win" Allen is tempted yearly by her adventurous friend, Pia Zanderlee, to go on their next girls' weekend away. This year Pia is out of her mind, believing that four almost-middle-aged women can white water raft in the middle of the Maine wilderness. Win has ominous premonitions of this trip, which is way outside their realm of ability, as she tries to think of a way out of it. But Pia is relentless, so Win accepts the challenge along with their good friends, Rachel and Sandra. Each one of them is facing one of life's challenges, so what's one more?
Pia finds a guide to take the four friends on the adventure of their lives, on a river just recently opened for rafting trips. They hike to base camp and after some training, set off down the river. The experienced guide doesn't expect anything drastic to happen, even though he prepares them for every emergency. Thankfully, Rachel is an ER nurse so they are in capable hands if something does happen. But, of course, you know the inevitable will go wrong, because this book wouldn't be an adventure thriller without the anticipated mishap that puts them smack dab in the middle of facing nature and everything it can lash out at them.
Throughout their journey, the reader gets to know each character and something of their lives, expectations, dreams and fears. Their friendship is tested by their dangerous circumstances, so their worst sides come to light. Even though I would normally consider the relationships portion of this novel as women's fiction, I think the book is better described as a suspenseful, adventure thriller. The human part of the story offsets their imbalance when times get tough.
The best part of this book is its pacing. There are great descriptions of nature as it unfolds from Win's point-of-view. She's not enamored by nature but she comes to appreciate its beauty and solitude. She never stops fearing it, with good instincts that increase the anticipation for what will happen next.
I don't read every thriller because some of them are just too gory or heinous for my taste. THE RIVER AT NIGHT reminds me somewhat of the meandering style of author Ron Rash's THE COVE as he builds suspense. This book also has a wicked villain who is a bit warped as in Diane Thomas' IN WILDERNESS. I compare THE RIVER AT NIGHT to these two thrillers because they're an example of unforgettable prose and stories I won't soon forget. This story is the least gory of the three novels but with an equally creepy, unexpected villain.
I prefer a thriller like this one so I'm elated to discover Erica Ferencik. THE RIVER AT NIGHT is eloquently written with an entertaining style that puts you right in the moment with the characters. Its unique women's fiction thriller sub-genre ought to excite those who crave this type of story.
The highest compliment I can give this novel is that I couldn't stop reading. I was afraid to stop for fear I'd dream about the black moment that would put these friends at risk. I'm not a literary style book reader for the most part, so some of the sentence structure threw me off in the first few chapters. I easily became absorbed after I became accustomed to the sharpened fluidity. I've never been to Maine so I can't vouch for the authenticity of the setting, but I did have my doubts to the remoteness, not having something to compare it to for reality. That didn't stop my enjoyment of the book, it just made me wonder.
THE RIVER AT NIGHT meanders, misleads, then puts the hammer down, rushing the rapids of emotional and physical pain, hoping for endurance, to be able to say they lived it and survived. I loved this adventure and look forward to more by the talented Erica Ferencik.
Review by Dorine, courtesy of The Zest Quest. Digital advanced reader copy provided by the publisher through NetGalley for an honest review.
The River at Night by Erica Ferencik
Category: Suspenseful Adventure Thriller
Publisher: Gallery/Scout Press (January 10, 2017)
Rated 4.5 out of 5
Do you take off on adventures with your friends or live vicariously through others?

Print this Post