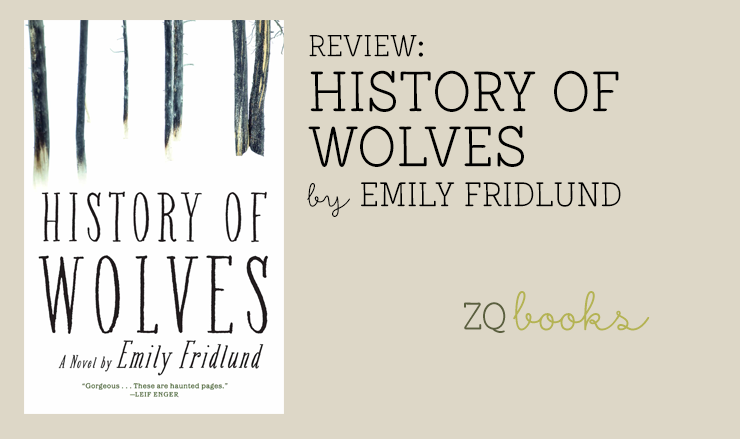 REVIEW: History of Wolves by Emily Fridlund
HISTORY OF WOLVES by Emily Fridlund is a coming-of-age story about a young girl who struggles to live within poverty with ex-hippies as parents in northern Minnesota. When she begins babysitting for the neighbors across the lake, she starts to feel a part of something bigger than herself. Until she witnesses and allows a terrible thing that will shape her life.
The rambling style of the main character's thoughts is addictive, even though it left me perplexed quite often. I loved the descriptions of the woods and nature. The author's words illustrated the love and appreciation of the wild. I feel as if I've lived a childhood similar, running off through the woods in the 1960s because my parents needn't worry about my safety. I wish I could have given that happy, carefree, childhood bliss of the innocent to my own children. But that unique world was too far gone by the time I became a parent. This novel's descriptions make me wish for simpler times.
Overall, I enjoyed the book, except for the sexual connotations that felt like they were coming from an abused individual. Linda showed no evidence of abuse, but she was very imbalanced in her thinking, often coming off as a sociopath. This isn't always a comfortable book to read. I wonder if her deviant thoughts are used as a metaphor or simile to explain something that happened, or that she assumed or wished happened. At times, I felt these odd thoughts were placed for shock value to heighten anticipation. Since this story is mostly about growing up with ex-hippie parents and unusual friends and neighbors, the strangeness of the main character's thoughts can be explained. But many times, I wondered if she was on the brink of a manic episode. Linda has an eerie, strange voice that's captivating and addicting.
My only disappointment is that I didn't understand the final chapter, even after re-reading the last few chapters several times. I feel like I should understand it and I have some guesses, but I'm left wondering what I missed. This seems like one of those literary books that everyone will rave about but I won't understand without discussing within a group. The other half of me is offended that I don't get it and now I wonder what I missed.
I had a very hard time coming up with a rating for this book because of the final chapter. The end leaves me with so many questions and disappointment. I'm not sure if I'm disappointed in myself because I don't get it, or in the author because it isn't clear. For that reason alone, I could rate this book a 3 but it doesn't do it justice. For the bulk of the book that's wondrously talented, plus my eager enjoyment, I'd rate it 4.5 to a 5, so I've compromised with a 4. It leaves me with the belief that each reader's mileage will vary. My hope is that more of my friends will try this book so we can figure it out together!
Originally attracted to the title and the cover, this story wasn't like anything I expected. The significance of the title confused me until the end when I realized what affect one moment early in her childhood had on Linda's life. Beyond what the title means to the main character, I believe HISTORY OF WOLVES represents a family nucleus as a pack of wolves. Yes, the mother and father are near, but there are far more influences on this adolescent's life that flow into adulthood. I'll always wonder about her story twenty years into the future. Will she always wander as a lone wolf?
Author Emily Fridlund writes in a literary style that rambles eloquently, but in the same manner as human thoughts, zigzagging across several subjects at once. An articulate and creative author to watch, I'm super curious about her next endeavor. In the HISTORY OF WOLVES, simple paragraphs are lifted with a vision, as words become thoughts that engage and tease the reader. The beauty of each sentence is captivating. I could get lost for hours reading and re-reading pages of this book. If you love the written word, read this book for the author's expressive sentences that transport. Emily Fridlund creates evocative storytelling in a haunting debut.
Review by Dorine, courtesy of The Zest Quest. Digital advanced reader copy provided by the publisher through NetGalley for an honest review.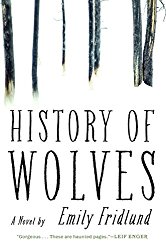 History of Wolves by Emily Fridlund
Category: Literary Fiction
Publisher: Atlantic Monthly Press (January 3, 2017)
Rated 4 out of 5
What types of Literary fiction have you enjoyed?

Print this Post