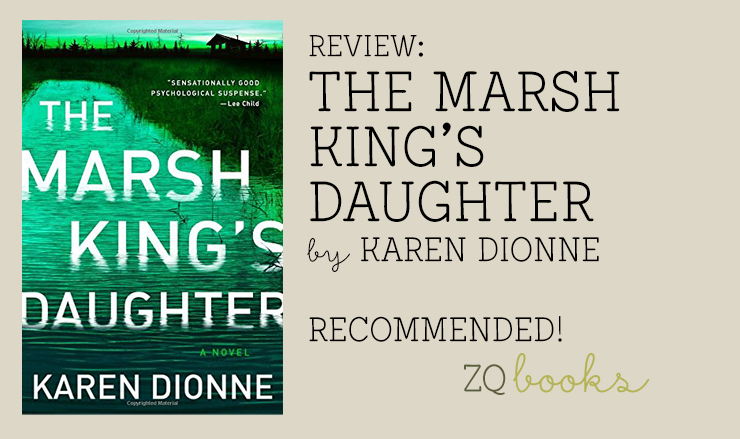 REVIEW: The Marsh King's Daughter by Karen Dionne
The Marsh King's Daughter by Karen Dionne is an exciting thriller with an unusual heroine, filled with the survivalist detail that I love.
Helena Pelletier's father kills two guards and escapes from prison near her home. That's enough to fear, especially since her father abducted her mother as a teenager and held her captive in the wilderness of the Upper Peninsula of Michigan for the first twelve years of Helena's life.
No one can track this master survivalist as well as the daughter he trained to be just like him. Currently a married mother of two, Helena must protect her family from her father and her secretive past. How will her nature photographer husband react when he learns his wife is the product of a child abductor and killer?
The Marsh King's Daughter is everything I crave in a thriller. I immediately connected to Helena because of her love of the outdoors. She's a likable and unusual narrator with a warped sense of right and wrong due to her upbringing. Tough and wilderness savvy, Helena's tracking and survival skills are fascinating. Her love and hate of her father are equal to her struggle to live in a society with rules and technology.
This is the type of book I want to read over and over. I already skimmed the entire book again after devouring it once prior to my review. I kept getting sucked right back into the story the second time, even though I knew what would happen. It's hard to write a review that does this book justice, which is why it took me a month to do it.
The only part of this book I didn't enjoy were the excerpts inserted from The Marsh King's Daughter by Hans Christian Andersen. Although it's clever to use a classic that parallels what's happening in this story, I wasn't fond of the technique used so repetitively. It stalled the book for me and eventually I started skipping those parts.
Helena as the narrator is riveting. She tells her past as she experiences her present so the reader gets snippets of her world, never quite sure when the hammer will drop. The tension builds and at about 75% through the novel, the gruesome expectations are exceeded. This villain creeped me out as much as Helena's reaction to him.
Moody like the mist of a fog, this novel captivates with every inner thought, sight and sound from Helena's experiences. I couldn't read it fast enough. Even though I'm not fond of the violence and gruesome bits, they had to be there to amplify the story. I am beyond mesmerized by this author's talent. The flow of this novel is perfect and I was rightly shocked when I should be, not able to let the story leave my head after the last page was turned.
Atmospheric, chilling, heartrending and shocking, The Marsh King's Daughter has me anticipating whatever is next by Karen Dionne. Highly recommend to thriller fans.
Review by Dorine, courtesy of The Zest Quest. Digital copy provided by the publisher for an honest review.
The Marsh King's Daughter by Karen Dionne
Category: Thriller
Publisher: G.P. Putnam's Sons (June 13, 2017)
ISBN: 978-0735213005
Rated 5 out of 5

Print this Post