Review: The Blackbird Season by Kate Moretti
THE BLACKBIRD SEASON by Kate Moretti is edgy and current with startling twists. Exactly what I expect from this author, who is fast becoming a reading obsession.
This eerie story takes place in a small town in Pennsylvania where the teachers are too close to the pulse of teenage angst. Is it a misunderstanding, or will they go one step too far? When one thousand starlings fall from the sky, is it a sign of what is to come, or just a physical reaction to something explainable?
High school math teacher and baseball coach Nate Winters is the golden boy of his small town. His seniors are hopeful for college scholarships and Nate is known to go the extra mile for them. Nate has ample opportunity to earn the love and admiration of most of his students and their families.
Nate's techniques may be considered unethical by some, but he feels that following the lives of his students on social media is how he keeps them on the right path. Nate is loved by everyone. He feels the need to be friends with his students, hoping they will come to him when they need help. But who will protect Nate when accusations fly?
Nate is married to Alecia and they have an autistic five-year-old son, Gabe. Alecia's whole world is Gabe's condition, hoping to help him improve with the latest therapies. When Nate is suspended during an investigation of a rumored impropriety with a student, Alecia kicks him out and his friends doubt him. Nate is lost in a world looking to persecute him.
The reader follows along in four characters' point of view (POV), while the suspense intertwines within their lives like a snake waiting to squeeze the life out of them. Nate and Alecia have their issues with each other and the frenzy that follows Nate's troubles. Bridget, another teacher and their best friend, is trying to recover from the death of her husband. Tripp is a police officer but also their friend, which puts him in more than one sticky situation. There are students who play a vital role in their lives, some of them very creepy, as well as the expected police and detectives investigating the allegations. The whole town is incensed with the assumed vulgarity of the situation, so there's no telling what each of them will do.
Even though I wasn't as enthralled with this book as much as the author's novel THOUGHT I KNEW YOU, I still enjoyed it immensely. If you love thrillers that aren't too gory but are bursting with psychological suspense instead, then Kate Moretti may become your go-to author. I can't wait to read more of her backlist. My rating reflects how this novel made me feel in comparison to the only other book I've read by her. If I'm comparing it to other authors I've read this year, Kate Moretti's style is exactly how I like my thrillers and it would be rated higher. I always feel invested in her characters whether I like them or not.
This is the kind of book that can confuse the heck out of me because of its multiple POV switches. The switches are well marked at the beginning of each chapter, as well as giving a timeline so you know whether you're going backward or forward from the day when one thousand starlings dropped dead from the sky. I caught on eventually, even though this isn't the style of book I read often. Those POV changes are perfect for giving this novel a keen edge. You're never quite sure which character is guilty and who will be the one to figure it all out.
What I loved most were the students. They added intriguing uncertainty and made me wonder what really happened. Their "coming of age" is probable which makes this novel disturbing but gripping. There are references to violence against a female student so if this is a sensitive trigger for you, you may want to avoid this book. Not always easy to read, THE BLACKBIRD SEASON might be closer to reality than most of us want to know.
Eerie with a favorable amount of backwoods references and creepy buildings that intensify the suspense, THE BLACKBIRD SEASON is an edgy and clever whodunit. A tightly woven thriller, Kate Moretti leaves the reader no time for breathing or sleeping until you've reached the end.
Review by Dorine, courtesy of The Zest Quest. Digital copy provided by the publisher from NetGalley for an honest review.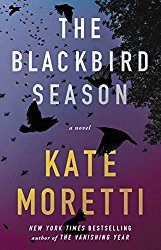 The Blackbird Season by Kate Moretti
Category: Mystery, Thriller & Suspense
Publisher: Atria Books (September 26, 2017)
ISBN: 978-1501118456
Rated 4 out of 5

Print this Post