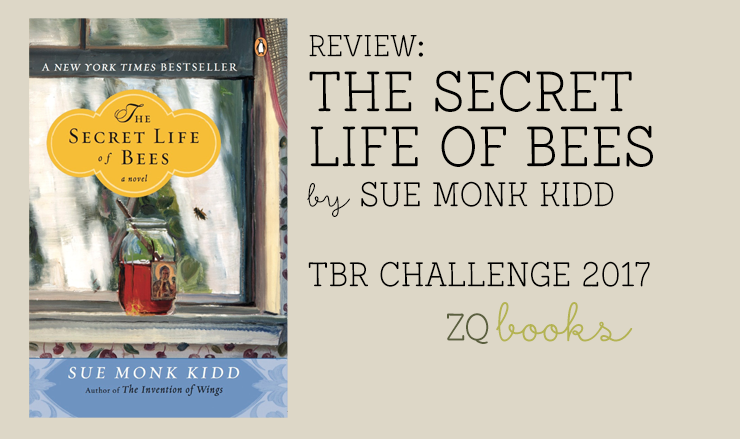 REVIEW: The Secret Life of Bees by Sue Monk Kidd
THE SECRET LIFE OF BEES by Sue Monk Kidd contains several elements I enjoy in women's fiction. Stepping back into the 1960s was both a joy and a disturbing reminder of how far we've come, and yet, how far we still need to go regarding racism. In the end, it's an uplifting story about family, and loving them, whether they're biologically related or not.
Why was this book in Dorine's TBR? This month's TBR challenge with Wendy the Superlibrarian was supposed to be a recommended read. I'm late with my review, and I can't say this novel was recommended to me by anyone specific. It was crisp fall weather. I was going on vacation to a cabin in the woods. My literary love beckoned. And the beekeeping element called to me. I guess you could say I recommended this book to myself!
Fourteen-year-old Lily Owens lives with her abusive father, T. Ray, whom she can't call Daddy because he's not daddy-like to her. Rosaleen, one of the workers at her father's peach farm, became Lily's nanny when her mother died in a tragic accident. It's 1964 in South Carolina when racism is riled-up about the voting rights for blacks.
Lily loves her black nanny and hates her white father. Lily's father insists that it was Lily who pulled the trigger on the gun that killed her mother. Lily thinks T. Ray lies as much as he abuses her. When Rosaleen gets arrested on her way to register to vote, Lily is jailed right along with her. T. Ray gets Lily out of jail, but he leaves Rosaleen there to suffer more abuse.
That's when Lily decides to take matters into her own hands. She packs her bag and breaks Rosaleen out of the hospital where the police are guarding her. They hitchhike to Tiburon, South Carolina, the place listed on the back of a photo of Lily's mother. Rosaleen has no idea what's going on in Lily's head. Lily doesn't know what to expect, but she finds a link to the black Madonna label in her mother's things to the honey making home of the Boatwright sisters: May, June and August.
A coming-of-age story, Lily's journey is often sad and bewildered. But, Lily is brave and determined to find out more about her mother. She's not sure of the connection, but she feels the Boatwright sisters hold the key to her mother's story. Lily creates a mountain of lies to worm her way into the sisters' household. The reader is forever wondering when the cruel father, or the law, will catch up to them.
What's especially entertaining is that Lily is the only white person within her new-found friends. That adds to the humor and the pure love that surrounds her. Lily isn't racist, but she recognizes faults in herself that could lead her in that direction. Lily is growing up and learning to love without prejudice. She is far from perfect, so her thoughts are often not what I expected. Even with all her faults, I couldn't help but root for her.
The Boatwright sisters and their friends are entertaining characters. May Boatwright is especially moving, especially her ingenious way of dealing with sadness. August Boatwright represents strength and June Boatwright is the contrary one, not completely accepting of Lily's interference with their lives.
I'm particularly fond of books that have a farming element, or nature theme, that leads the story. The beekeeping aspect drew me to this book in the first place, along with the 1960s time-frame. I had hoped it would contain the folksy background I love, and I wasn't disappointed. Even though I have worked on a farm that raised bees, I learned from the lessons taught to Lily. I was surprised there wasn't more about gardening in a book full of bee habits.
Once again, the chapter quotes had me befuddled. Most books that include these annoy me because I'm forever trying to make sense of them in comparison to where the story is going. I finally "got it" toward the end, but I wish my brain would get it from the start. This is typical of me as a reader, so I can't say it's the author's fault.
The history of the black Madonna was something I had never heard of before. The "Daughters of Mary" create their own sense of religion that may be off-putting to some. It does make sense by the end of the book, but it seemed more fantasy and folklore, sometimes hokey, matched against the genuine sisterly love that shined the brightest.
Expecting more comeuppance for the villains, I would say that's my biggest disappointment. I can understand it's more realistic, but I still wanted justice for their transgressions. Disliking bullies above all else, this book had some doozies.
I didn't know there was a movie based on the book, so now I'm excited to view this story and see how it differs. I love reading a novel first, then to experience the movie. I'll add more to this review afterward to include those impressions.
When I travel, one of my favorite style of books to read are trade-size paperbacks because they bring me comfort. This one is lightweight and comfortable in my hands. Its typeface is the perfect size and the paper stock is easy on the eyes with a booklight. The cover got pretty banged up, especially along the binding, so I'm not sure if I did that or if it was already damaged when I bought it. The cover just seems less durable than other trade-size I own. Since it's a book most people will want to share, it might be better to buy it in hardcover. I enjoyed the interview with the author about how the book was born. It also includes discussion questions. SALE ALERT: the ebook is $1.99 at Amazon as I'm writing this review.
THE SECRET LIFE OF BEES is an engaging novel to read at a leisurely pace. It was a nice break from the thrillers I've been reading lately. But, it still had that element of suspense that propels the story forward. The characters are quirky, sad, funny, and most of all, loving and thoughtful human beings. A good book for those who love the power of women united.
Review by Dorine, courtesy of The Zest Quest. Print copy purchased.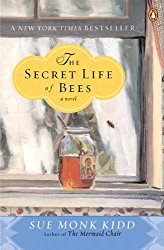 The Secret Life of Bees by Sue Monk Kidd
Category: Women's Fiction
Publisher: Penguin Books; 1st edition (January 28, 2003)
ISBN: 978-0142001745
Rated 4 out of 5

Print this Post