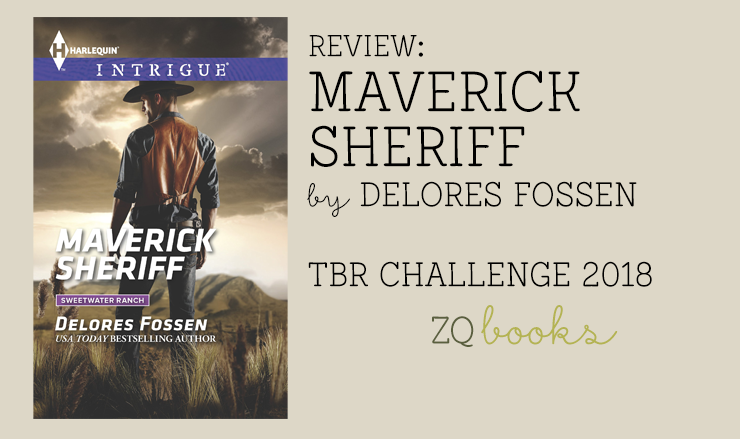 Review: Maverick Sheriff by Delores Fossen
MAVERICK SHERIFF by Delores Fossen is an exciting Western romantic suspense full of intriguing characters. A good beginning for the type of series I will consider continuing.
Why was it in Dorine's TBR? Several of my reading friends enjoy Fossen's books, so I wanted to try one. That's why I grabbed this freebie, along with a couple others, even though I'm not an avid Harlequin Intrigue reader. Not that I don't like suspense – I do, but I lean more toward thrillers with a lighter romantic element. I'm also partial to law enforcement heroes since that's my husband – I love it when they get the bad guys, as well as the love of their life.
My main problem with spicy romantic suspense is how in the middle of danger, the H & H can't wait to tear their clothes off one another. This just seems unrealistic to me, especially when their child can be harmed by some psycho. Although MAVERICK SHERIFF did have some of those elements, it wasn't over the top or constant, so I didn't get frustrated with it. The attraction was nicely done and mostly believable.
I had already DNF'd two books from my freebie TBR prior to starting this one for out "series" TBR Challenge, so my mood wasn't exactly agreeable. I had 24 hours to get my TBR book read and review written, so I hoped the third was the charm. Fossen had a lot to prove to keep me reading, and she successfully kept me riveted until I finished.
MAVERICK SHERIFF is a complicated plot with a variety of likeable characters and suspected villains. Cooper McKinnon and his large family are well-established law enforcement of various kinds in Texas. Their stance against lawlessness is a formidable wall for evil to penetrate. But evil runs deep with no boundaries. This is what they're up against.
District Attorney Jessa Wells needs the McKinnon family's help when threats are made against her adopted child. She had paid dearly for this little boy, and her love was all encompassing. But, the losses the McKinnons have experienced in their lifetime are brought to the forefront as they reluctantly help Jessa. That's because Jessa is prosecuting their estranged mother for murder.
Cooper has AB negative blood and is called in when Jessa's son needs it after their car accident. Cooper and Jessa are at opposite sides of a legal battle, well sort of since Cooper isn't exactly happy about seeing his mother again, but that doesn't stop this couple's attraction to one another. It may make them ponder it a bit, but they just can't help themselves. But, this small town's secrets, and the people who need to squash them, may end everything before they have a chance to decide on their romantic fate.
Cooper is a definite alpha male, so he made me bristle with his high-handed ways toward Jessa sexually. Jessa annoyed me sometimes when she forgot her professionalism because she was too busy swooning from the alpha's kisses. For a smart woman, she sometimes seems like the "little woman" who can't think straight when the man is around. That just seemed off to me for her position as a district attorney.
Those were very small annoyances on my part because overall, Cooper treated Jessa with love and respect. Jessa won me over when her mama-bear instincts roared to save her son, as well as Cooper. I wasn't sure I liked this one, at first, but the hero's loss and discovery got to me. This family is huge and dysfunctional – I couldn't wait to find out what happened next.
As far as first books in a series, this one does introduce a lot of characters and a mystery to be solved in future books. Fossen does that well without much confusion on my part. The suspense did seem a bit far-fetched in places, but that didn't stop me from gobbling it up.
MAVERICK SHERIFF is a solid 3.5 rating, leaning closer to a 4, so I'm giving it the benefit of my crankiness toward romantic suspense in general with a 4 rating. I liked the setting, but there wasn't enough detail for me to get a good feel for the area. I'm hoping future books lay that out more. I am curious about what will happen next because the characters really intrigue me, and because these books are such a quick read, I'll try book two. If you're an avid Intrigue reader, I'm sure you'll love this book. If you love a series that features a good number of law enforcement heroes, then I'm betting this one will be a favorite. I lost count how many were introduced, male and female, so I think it will be fun to see where it goes.
Review by Dorine, courtesy of The Zest Quest. Digital book obtained for free from the publisher's promotion through Amazon. Thank you in advance for using the buy links within this review. Affiliate links assist with the maintenance costs for this blog.
Maverick Sheriff by Delores Fossen
Series: Sweetwater Ranch, Book 1
Category: Western Romantic Suspense
Publisher: Harlequin Intrigue – August 19, 2014
ISBN: 978-0373697823
Star Rating: 3.5 to 4 out of 5
Check out more of my TBR Challenge books here. I'm a couple books behind on TBR Challenge reviews.  Dealing with recurring Pancreatitis has slowed me down, but I'm hoping to catch up soon!

Print this Post