REVIEW: Lavender Blue by Donna Kauffman
LAVENDER BLUE by Donna Kauffman entertains, filled with family and misfits who find their way to this loving artists' community. Kauffman has a knack for writing about the place I'd like to call home. I was easily taken in by the characters' welcoming nature, while enchanted by their comradery and empathy when healing wounded hearts.
Even though this novel is filled with light, that doesn't mean there isn't deep emotion. Far from it. But the light is always there, teasing the shadows to dispel. There may be some triggers for anyone who has suffered loss recently. This book features recovery but determining whether you're ready to witness it in multiples should be considered before reading it.
Four friends from grief counseling move to the Blue Ridge Mountains to run a lavender farm and open a tea room. Each with their own set of issues and talents, their armor-in-common binds them together. Illustrator and painter Hannah Montgomery hopes to create an artistic place for her talent to regroup, as well as learn the lavender business, after losing her young son Liam. Her friends Vivienne, Avery, and Cheyenne each lost someone close to them, so this new venture between them is self-preservation as much as financial.
Blue Hollow Falls is the perfect place to start a new business, especially an artistic one. The artist community is growing, expressly with Addie Pearl motivating the expansion. I really loved the music scenes and felt my loss for not reading BLUESTONE AND VINE, first. I'll remedy that soon.
Getting acquainted with Will McCall and his son in BLUE HOLLOW FALLS set the stage nicely for their stories in this book. I was quite excited to see Will as the choice for Hannah. It was far from an easy journey, though, since he's still overcome by the loss of his wife. Will's grief nestles into his quiet demeaner. Hannah's loss is just as fresh, but she has done the work toward healing. Can Hannah be the light Will is seeking, or is he too far behind Hannah's recovery to make her feel safe in a loving relationship?
There are so many things to love in LAVENDER BLUE. An artist-themed story is always a preference and one of my favorite herbs is lavender. Having spent years taking classes and teaching them in herb-related themes, the location feels like home. Farming in general is a hot button, so I would have grabbed this title without Hannah's background. Add in the artists' community and a tea room and I'm ready to move in. Even though every theme and idea hit my favorites, this book didn't match my love for the first novel, BLUE HOLLOW FALLS.
I think what put me off the most is Hannah going gaga over Will's body, ogling him and going on about it every chance she gets in her mind. I get it. She's into him – it just became a repetitive thought process. Being the type of reader who doesn't like too much inner dialogue, it tends to annoy me if it's repetitive. Other than that, I loved everything else about this book.
But I was shocked by something Addie Pearl did – she irritated me, and it seemed over-the-top busybody-ish. Almost mean and I wasn't expecting that from her. Even though I adored Addie Pearl toward the end, I felt that if I was Hannah or Will, I'd be a bit more miffed than they were. Being especially fond of all the characters in this community, I can feel a bit protective. It's that kind of place where you don't want to close the book and see them go away.
If you're new to the series, I highly suggest you read it from the beginning just for pure enjoyment. I skipped book 1.5 and book 2, in order to review this quickly and wasn't confused, but I feel like I missed out on some of the fun. I'm glad I have the other two books in my purchased TBR so I can catch up. If you just want to know what all the fuss is about, it won't hurt to start the series here and work backwards. LAVENDER BLUE is a fun book, so it's worth the read no matter where you start.
There was one especially tender moment between Will and Hannah that spoke to me. Hannah made me cry, even though I tried to hold it together. She's normally a very bubbly person, so when her emotion hits, it's hard not to feel deep compassion for her. I love Donna Kauffman's way of setting a scene between two people. She inserts their movement with the dialogue just enough so I can see their facial expressions as if they're in front of me. Will and Hannah had so many telling, tender scenes like that.
About halfway through, this book slowed, and I had a hard time staying focused. That could have been my flighty January brain, or repetitive thoughts from the characters, that bogged me down. Repetitiveness is one of my pet-peeves, so whether that slowed the book for me or not, it was why I dropped my rating a point because of my own picky preferences.
I adored Will and Hannah, especially Hannah's bubbly personality. Vivienne, Cheyenne and Avery are great additions to the cast. I'm especially excited that Avery's story is next in LAVENDER & MISTLETOE because I do love a female Brainiac. I am sad that it's only a novella because I'm sure I'm going to want more.
LAVENDER BLUE by Donna Kauffman is a fun novel to take you to a good down-home rendition of music, art, festivals and community. Grief recovery is a stand-out theme throughout, but it's cathartic and not overly sad, with laugh-out-loud moments to buoy the mood. Hannah's light is a big reason for the beauty of this book. A cute addition to the Blue Hollow Falls series.
Review by Dorine, courtesy of TheZestQuest.com. Digital copy provided by the publisher for an honest review. Thanks in advance for following links and promoting this review on social media.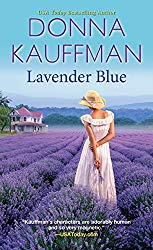 Lavender Blue by Donna Kauffman
Series: Blue Hollow Falls (Book 3)
Category: Contemporary Small-Town/Rural Romance
Publisher: Zebra (January 29, 2019)
ISBN: 978-1420145496
Rated 4 out of 5
What's your favorite setting for a novel? Is it rural, urban, or something else?
Buy the series in order: Blue Hollow Falls, The Inn at Blue Hollow Falls, Bluestone and Vine (Seth's story), and A Season to Celebrate, an anthology that contains book 2.5, Christmas at Blue Hollow Falls, Lavender Blue, then Lavender & Mistletoe coming October 2019.

Print this Post