REVIEW: Kiss a Girl in the Rain
Kiss a Girl in the Rain by Nancy Warren is a keeper for many reasons, but especially since it matches the theme of my blog. After living through too many hard knocks, I decided to track my lifestyle goals by creating TheZestQuest.com. It's all about finding your zest in every aspect of your life. To appreciate every minute of every day, and to be thankful, even for the difficult moments, as they make us who we are.
Even before this website was formed, I had been trying to live that life. The website just reminds me to stay focused, and not let the messy stuff sway me from the positive that's there if we look hard enough. Books remind me of those special moments that drive my own journey.
Why was this book in Dorine's TBR? I collect freebies, especially category length or less. They relax me in-between the larger books I read as a steady diet. I couldn't resist the cover of this one. It's soft in tone, romantic, and has a cute dog in an outdoor setting with beautifully set font. I'm drawn to a well-designed cover like a moth to a flame. This one spoke to me in every way. And the story matched my love for the cover! Yay!
Unfortunately, this was one of those months when our TBR theme did not work for me. I tried to find something spooky in my TBR, but after reading the amazing The Widow of Rose House by Diana Biller, nothing else would satisfy. Then I tried suspense and that lasted about five minutes. Finally, I just couldn't settle long enough to get into any book I picked up, until this cutie-pie.
Review…
Kiss a Girl in the Rain by Nancy Warren is a beautiful story that reflects my yearning for a zestful life. I liked the concept of this one right away. Thirty-five-year-old wealthy lawyer gets a wake-up call. Maybe his Hippie mom saving his twelve-year-old self's bucket list is just what he needs. Get on that motorcycle and run far away…go on, leave life behind and discover who you really are…. I couldn't wait to see where he lands.
Running away from home has been my mantra. It can be only twenty minutes away at our favorite camping spot in the woods that refills my zestful soul. Running away from home is a frame of mind. It's a way to leave the worries behind and recharge so that you can face whatever comes your way.
In my opinion, it doesn't matter how you find your zest, only that you focus and take those you love on your journey. Evan figures this out in this book.
Evan's Amazing Life list pushes him out on the road, but he doesn't expect to almost kill a stray dog and wreck his bike in a small town while finding his bliss. Serendipitous fate leads him to a doctor who makes him wonder long and hard about his list and his future.
Caitlyn is a wonderful heroine. As a small-town doctor, she also experienced a rebirth after giving up her super-charged days as a big city surgeon. That doesn't mean she has it all figured out, even if she thinks she does.
They're both ready for love, but that doesn't mean they won't need a few reality smacks upside the head to make them recognize it!
I loved this story. The characters are likable and easy to root for from the very beginning. At 194 pages, it's a fun one-sitting read, and at $2.99 for the digital copy, what's to lose? I believe you'll smile and sigh at the perfect HEA conclusion.
The best part is that I discovered Nancy Warren. Oh, I've heard of her, but never took the time to try her books. I immediately downloaded the freebie Chance Encounter: Prequel, which is about Evan's parents and all the kids they brought into their home. That's another favorite theme of mine – adopted or foster children who find a loving home. I'll read that next.
There are so many reasons I loved this book that I needed a list. The main character taking a trip across country to find himself. I love a road trip. A doctor with no wanderlust curious enough about this man to take a chance. Small town docs are the best. Hippie parents who obviously love the kids they've connected with over the years. Which means lots more books to read about Evan's siblings. An adorable ugly dog. Lots of love. And it made me smile. A lot.
Great book and TBR Challenge success!
Review by Dorine, courtesy of TheZestQuest.com. Print book received for free in an Amazon promotion. Thanks in advance for following links and sharing this review on social media. #TBRChallenge #RomBkBlog
Kiss a Girl in the Rain by Nancy Warren
Series: Take a Chance, Book 1
Category: Contemporary Romance
Publisher: Ambleside Publishing (March 8, 2014)
ISBN: 978-0992078010
Rated 5 out of 5, Recommend
Book pulled from the eBook TBR, purchased by me.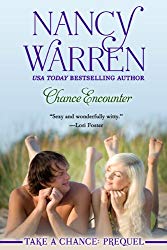 Print this Post