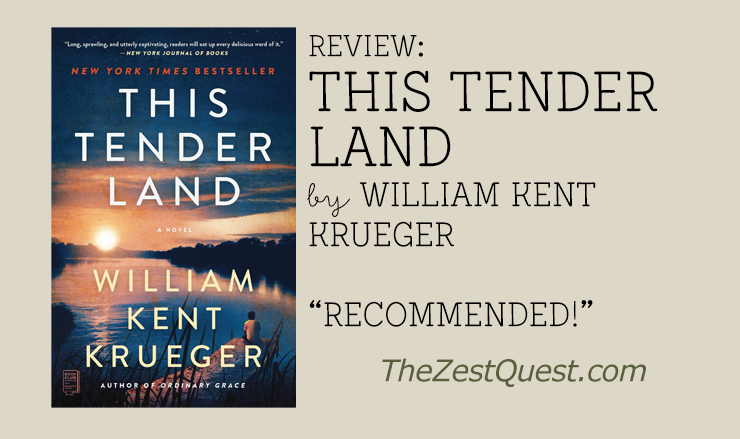 REVIEW: This Tender Land
THIS TENDER LAND by William Kent Krueger is an adventure story with all the key features I enjoy. I'm drawn to historical books about orphans, as well as Native American history. But even with my preconceived expectations, I was continually surprised by this novel by a new-to-me author.
The book begins with Odie O'Banion and his brother Albert describing a jail they're in for the night. The fact that they're only children makes no difference to the evil woman who runs this boarding school for Native American children. Odie is eight and wise beyond his years. Albert is four years older and less likely to get into trouble as much as Odie. They're also the only two white kids here. That Odie decides that "God is a Tornado" in the first few chapters pretty much describes their torn apart lives.
There are a couple nice adults in this school, who are mostly powerless to the whims of the malicious female superintendent. Several evil characters force the children through all kinds of atrocities including starvation, solitary confinement, beatings, and rape. They're also forced to labor at neighboring farms in the hot sun with little to eat or drink.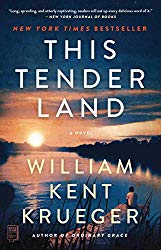 It was easy to fall into this book for hours. It's the good vs. evil aspect that tugged at my heart, making me hope for their salvation. I had anticipated more Native American characters and details, but Odie and his brother and friends captured my heart. I love books about those with no hope who take a chance to find a life wherever they land. The reader guesses early on that these friends won't stay in this school forever. They'll run the first chance they get, and they do.
Four children running for freedom make this exciting, sad, engaging, and heartwarming. I did worry about Odie's soul. Will he grow into the man he admires, with so much violence forced within his hands? I couldn't wait to see where their adventure took them next.
A lot of what these kids endure isn't for the faint of heart. But like all tough, streetwise kids, they push forward, hoping for a better life. They're scrappers and that's what gives this story heart.
I especially enjoyed their time with a tent revival healing crusade. The musicians and Sister Eve were fascinating. Especially since Odie and Albert struggle with their faith, doing what they have to in order to stay safe and alive. Emmy's special power and Mose's limitations round out these vagabonds.
The friends grow up and apart, yet still together. Their school of hard knocks is worse than some and better than others. Who to trust? Will they ever find a place to call home?
Some of their experiences seem far-fetched, but I loved them anyways. These children will fill your heart and soothe your soul. When I read the author's intention that this book be an "update of Huckleberry Finn," and that he loves Charles Dickens, then it all made sense. This book has some key features of those adventure stories I loved as a kid, and they haven't grown old for me as an adult.
THIS TENDER LAND is a whopper of a story taking place in 1932, made possible by an entertaining storyteller. Through Odie we get to know author William Kent Krueger, the ultimate storyteller. It's a story within a story, which is a fun concept. I enjoyed it from beginning to end, including all the extras the author included to allow us into his process. I was captivated just as much the second time I read it, so I have a feeling that just like Huckleberry Finn, this will become a classic.
Review by Dorine, courtesy of TheZestQuest.com. A digital advanced copy was provided by the publisher for an honest review. Thanks in advance for following links and sharing this review on social media.
This Tender Land by William Kent Krueger
Category: Historical Fiction with Faith elements
Publisher: Atria Books (May 19, 2020)
ISBN: 978-1476749303
Rated: 5 out of 5, Recommended!

Print this Post