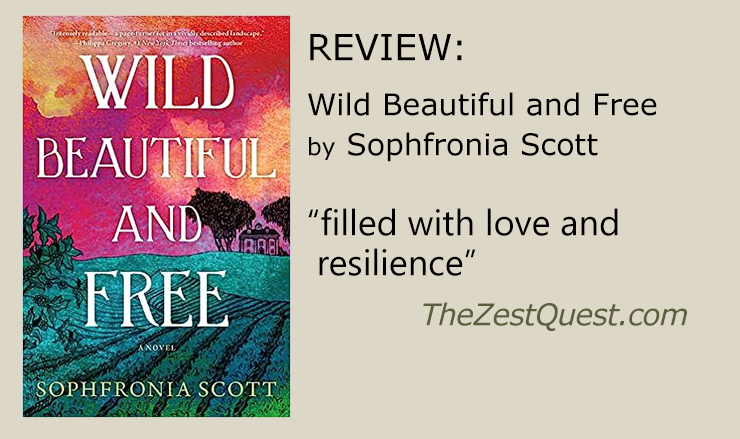 Wild, Beautiful, and Free – Book Review
Wild, Beautiful, and Free journeys through the days before and during the American Civil War. Jeannette Bébinn is a privileged mixed-race child in a comfortable household, until her father dies and she is cruelly forced to experience what enslaved truly means.
Why was this book in Dorine's TBR? Author Sophfronia Scott intrigued me because she grew up in my home state of Ohio. American history-based fiction is one of my favorites and this book sounded like an unusual African American story, so I downloaded it through Amazon's early reading program. Sophfronia Scott did not disappoint. The novel conveniently met our "baggage" TBR theme with how the characters traveled, as well as all the emotional baggage they accumulated within their lives.
Wild, Beautiful, and Free paces itself through history at different speeds. Sometimes it is very detailed, and other times it seems to just skim the surface. I enjoyed this method as it never becomes too detailed or too fluffy for my taste. I like grit in my historical fiction, as well as well-honed emotion, and this author accomplishes both.
This is not a novel about the entire war – it is more about the effects of the war on two groups of people and how they survived what they endured. There are several unexpected twists that make the internal turmoil even greater for two people in love. I love a good twist!
Yes, there is an evil stepmother who is the reason for Jeannette's "journey" away from her home. It is what Jeannette accomplishes for herself and others that develops her character into someone I wanted to cheer for.
This book begins in Louisiana with Jeannette Bébinn's father's death and the fallout afterward. By Chapter three, Jeannette understands what slavery can do to a twelve-year-old girl in Mississippi. A large portion of this book can be considered "coming of age" within the worst circumstances. It is quite the journey and I could not help but feel empathy in many directions.
Jeannette's love for her father and their heritage helps her endure her worst days. It is that love and pride that seems to push her through insurmountable odds. Even though I do not classify this as a romance, Jeanette does experience love and all its intricacies that can keep a couple apart, as well as help them stay together. This should satisfy those who prefer a happy-ever-after fictional tale with romantic elements.
I was not always thrilled with the characters' choices. Jeannette was a bit stubborn and took risks that made me worry over her safety. Her love interest irked me, too, so the characters weren't always what I wanted them to be. But those tiny moments did not keep me from thoroughly enjoying this novel. I will look for more fiction by Sophfronia Scott.
Wild, Beautiful, and Free is a heart wrenching novel filled with love and resilience amongst the gravity of slavery and the horrors of a war-torn country. It held me spellbound and broke my reading stagnation.
Note: I acquired my digital copy for free through Amazon Prime membership's advanced reading program. That is how I like to try new-to-me authors.
Review by Dorine, courtesy of TheZestQuest.com. Thanks in advance for following links and sharing this review on social media. #TBRChallenge
Wild, Beautiful, and Free by Sophfronia Scott
ASIN: ‎ B09Y5HYBV6
Category: African American Historical Fiction
Publisher: ‎ Lake Union Publishing (March 1, 2023)
Print length: ‎322 pages
Rated 4 out of 5

Print this Post