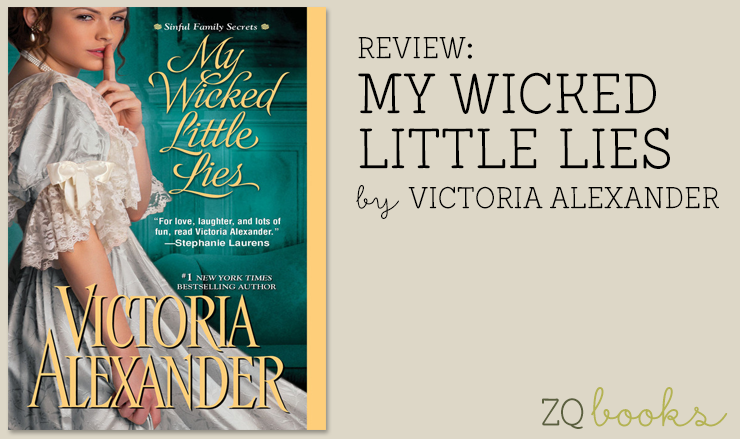 Review of My Wicked Little Lies by Victoria Alexander
Will Adrian manage his wife, the spy, before it's too late, or will he finally realize that there's no controlling Evie without some well-deserved groveling? Entertaining repartee is the best part of this engaging historical romance!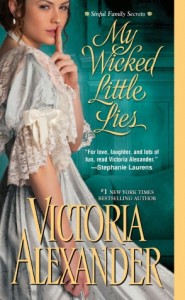 My Wicked Little Lies by Victoria Alexander
Sinful Family Secrets, Book 2, published January 31, 2012
ISBN: 978-1420117066 | Review Rated: 4 out of 5 Stars
Book and review courtesy of Romance Junkies.
Evelyn "Evie" Hadley-Attwater, the Countess of Waterson, has kept her past a secret from her husband. He assured her before they married that neither of them need reveal their past, but instead, should begin with their present and future together. Evie spent five years of service to her queen as an agent in a secret organization. When she left the organization and married Adrian Hadley-Attwater, the Earl of Waterson, she never expected to be called back to service as a spy. But, her fellow agents are in danger of discovery and she has no choice but to help find a missing file before the secrets of the organization become known to all. Can she outwit the man she loves without lying to him outright?
Two years after their marriage and Adrian is still smitten with his wife, maybe even more so than when they first met. But, she has been distracted lately and although he yearns for some excitement himself, he's not altogether sure a woman should have those feelings too. Not that he would ever be unfaithful to Evie, but he can't seem to explain his restlessness and the cure for it. Evie's odd behavior makes Adrian suspicious of his wife in ways he's never before considered. Following her reveals more than he cares to know about himself, but can he truly trust his wife unconditionally?
Taking place during the Victorian era, MY WICKED LITTLE LIES gives us a strong, independent heroine who knows her own mind. Evie's confident attitude toward her former colleague, when she discovers that he wants her back as an agent for one more assignment, is a great introduction to a woman who knows what she wants and isn't afraid to do whatever is necessary to get it. Evie's past as a spy drew me into the story immediately. I liked her spunk and found her ways of handling her besotted husband and his misdeeds true to her character. I liked how she was never quite sure if she was pushing Adrian too far, but she couldn't resist doing it anyway because she felt it was the only way to know if their love was true.
Adrian is adorable when he suspects the worst from his wife. It's without question that they both have a deep love for one another, but like most couples, they have miscommunication that runs amok. Adrian can't help but get himself into a bit of hot water with his wife, and it's amusing to watch him try to squirm out of every predicament. Adrian's family and Evie's best friend, Celeste DeRochette, add to the charming and sometimes naughty situations that made me laugh and kept me reading. Adrian's mother, Helena, is especially entertaining with her meddling ways that are half-expected but not always fully-appreciated by her family. Of course, that won't stop her or even give her pause, which endeared her to me instantly. Even though the plot is sometimes predictable, the banter and relationships amongst the characters make for a very fun read.
Author Victoria Alexander's talent shines in believable situations influenced by engaging repartee that immediately draws the reader to her characters. MY WICKED LITTLE LIES is a feel-good adventure in forever love. I'm looking forward to more revelations in Ms. Alexander's SINFUL FAMILY SECRETS series.
Order Print or eBook or Audio at AMAZON | B&N | BAM!
~~~
What's on your mountain?

Print this Post