Review of The Unfinished Garden by Barbara Claypole White
A Recommended Read! A women's fiction novel that brilliantly contradicts uniformity with quirky characters in need of stability amongst their inner chaos.  Tilly and James are uniquely flawed individuals whose friendship encompasses more than just a boy meets girl story.  This novel unabashedly dives into psychological fears created by death, guilt and OCD, testing friendships beyond the normal range with humor, vivid emotion and understanding.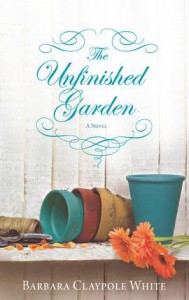 The Unfinished Garden by Barbara Claypole White
Available August 28, 2012
ISBN: 978-0778314127 | Rated 5 out of 5 Stars and Recommended Read!
Book and review courtesy of Romance Junkies.
Tilly Silverberg began gardening to work through her grief after she lost her husband, left to build a new life as a widow with their young son in tow.  She hadn't planned to start a business of her own, but eventually, her wholesale perennial business became her livelihood.  Her gardens in North Carolina speak of her passion for color and not surprisingly, draw the attention of someone who wants to hire Tilly as his garden designer.  Can she let a man into her life and consider a change in direction for a business that she's satisfied with as it is?  It has been three years since her husband's death.  Is it really time for her to move forward?  So far, avoiding people as a plant wholesaler has suited her just fine.
James Nealy has hidden his OCD fears and compulsions from everyone in his life until now.  Having sold his successful software company and his home in Chicago, he moves to North Carolina with the hope of finally beating his demons into submission.  He wants to build a garden to offset his fear of dirt.  Once he sees Tilly Silverberg's gardens of chaotic color, he knows she's the one to help him.  After meeting Tilly, James is sure she is the answer to everything he wants in his future.
James and Tilly are wonderfully damaged characters who will snag your heartstrings from the very beginning of their story.  Tilly's son, Isaac, enhances the hilarity of their first meeting and continues to be a catalyst for Tilly's every thought in their future.  When Tilly has to rush back to England to help her mother, James follows uninvited, pursuing his wishes without thought about what kind of chaos he's bringing to Tilly's already strained friendships from the past.  Will Tilly's friends and family push James away, or see the truth that Tilly refuses to acknowledge?
I'm easily drawn to books with "garden" in the title or gardening as a theme.  I've always felt the healing properties of being one with the soil and creating something so very unique with nature's help.  Naturally, being drawn to THE UNFINISHED GARDEN was inevitable and instantaneous, but I never expected to be enraptured by every emotion this novel evokes.
At first, you don't realize how damaged Tilly is emotionally, or how much she needs James in all his self-professed, flawed glory.  The humor is what enamored me in the beginning, but it was curiosity and caring generated by the characters through author Barbara Claypole White's unique style that made me race to the end.  Tilly and James aren't the only ones grieving for one reason or another.  Sebastian, Tilly's teenage love, as well as Rowena, Tilly's lifelong best friend, have almost as many issues to overcome, which Tilly slowly discovers as she tries to figure out just where she and her son belong.
For those who understand the longing for your childhood home, a time when memories glow bright and vivid, even if you've made a new place or a different country your home, THE UNFINISHED GARDEN will tease some of those cherished memories to the surface.  You can't help but love Woodend and Bramwell Hall estates in England, including their gardens, as Tilly relives her past while trying to heal her future.  Landscapes come alive, teaming with nature, vibrantly portrayed by Tilly's observations and memories.
The character development in THE UNFINISHED GARDEN is superb, quirky, heartrending and enchanting.  The language used is oftentimes raw, but completely appropriate for the times, as well as creates some hilarious laugh-out-loud moments.  For gardeners, this novel is pure nirvana, coaxing the rebellious cottage gardener within out to play.  I loved this book, filled with imperfect people struggling to find the quiet within their emotional storm.  Beautifully written, THE UNFINISHED GARDEN blooms with intensity and a riotous wit perfectly suited for the survival spirit within us all.  A fabulous debut novel, THE UNFINISHED GARDEN easily earns Romance Junkies' highest rating of five blue ribbons and a recommended read status for its unpredictable originality!  So good!
Order Print, eBook or Audio at AMAZON | B&N | BAM!
~~~
What's on your mountain?

Print this Post