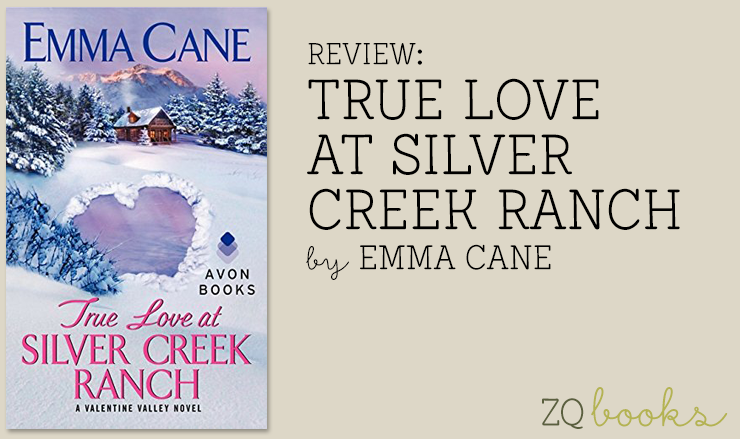 REVIEW: True Love at Silver Creek Ranch by Emma Cane
If you love small town romances with some naughty nuances then Brooke and Adam's story will entertain you.  Brooke's cowgirl toughness is well-matched with Adam's ex-Marine silence to add some fireworks you hope will be their happy-ever-after.
A Town Called Valentine by Emma Cane
Series: Valentine Valley series, Book 2
Published December 26, 2012
ISBN: 978-0062102294, Rated 4.5 out of 5 Stars
Book and review courtesy of Romance Junkies.
Brooke Thalberg is happiest working alongside her brothers on their ranch, facing the harsh winters and long hours with every bit of the energy and confidence of a man.  Oh sure, she likes girly things and she can clean up real nice, but when it comes to her career, working their ranch is her life.  When she fights a barn fire with the help of a stranger who conveniently wanders in, Brooke realizes that she needs something more.  Does this mean that this stranger whom Brooke recognizes as someone she knew in high school has ignited a fire deep inside her?  In risking their lives have they somehow reconnected, or is she just craving a change in her life?
Adam Desantis joined the Marines, went to war and has the emotional scars to prove it.  Worried about his grandma's health, Adam returns to his hometown to spend some time with the woman who was more like his mother than his real one.  The Widow's Boardinghouse always has room for someone looking for a place to stay and his grandma, with the help of her widow friends, immediately set their sights on fixing Adam's non-existent love life.
Adam has changed.  He's no longer the most popular guy in high school and most of the friends he had as a Marine are dead.  He says very little but he listens to Brooke.  Brooke is the bossy sister you'd expect on a ranch, able to hold her own against any man and not opposed to showing an ex-Marine who's boss.  Adam needs a job to keep him away from the meddling widows, and Brooke's family just happens to be grateful enough to give him one.  Just how long does Brooke think she can keep an ex-Marine submissive when all he can think about is taking control?
Brooke and Adam are very different from your normal couple and not who you would think of as long-term relationship material.  Oh sure, you hope it's possible because they obviously need each other, but their independence makes you wonder if they'll recognize love before it's too late.
Brooke lives a full life, she knows what she wants and isn't afraid to work hard to get it.  She has plenty of friends and enjoys an active social life with no need for anyone to take care of her.  Some of the best parts of this book are when Brooke takes control and taunts Adam beyond reason.
Adam is the strong, silent loner.  Preferring a quiet evening by the fire, he's not the type to go out to a bar to reunite with old friends or make new ones.  Mainly because he can't answer the questions he's sure they'll ask, without the guilt and memories of his war experience resurfacing.
For all their differences, there are two significant things that Brooke and Adam have in common—their raging sexual desire for one another and their passion for helping others above and beyond their own needs.  Will passion and mutual respect convince them that they really need one another after all?
TRUE LOVE AT SILVER CREEK RANCH is book 2 in the VALENTINE VALLEY series by Emma Cane and although you won't be confused by reading out of order, you'll enjoy the reoccurrence of characters from book one if you've read it first.
If comparing the two, I think A TOWN CALLED VALENTINE overall was very special and perfect for the lead-in for the series.  Sweet and fun-loving, it set the stage for this entertaining small town.  TRUE LOVE AT SILVER CREEK RANCH serves as a nice supporting role that takes the sensuality up a notch and tosses in some naughty giggles.  This leaves us wondering about Josh's story next and if my inklings are correct, that book could give us some hanky-panky that's going to rattle leather-artist Josh out of his quietude.  I'm betting that structured and steady Josh is going to fall hard—for a woman who knows the tools of her trade.
As expected, the grandmas who put a capital M in meddling and match-making, a.k.a. the widows, go overboard to get a new business approved by some stuffy town council members.  The widows add unexpected mischief to this sweet small town.  Except, this time one of them adds a capital M to manipulative in their efforts to make their personal wishes come true.  Can grandmas fool their grandkids, or embarrass them once again?
Something's smoldering in Valentine Valley that may put more than a little sizzle in every woman's step!  Feeling beautiful in Valentine Valley goes deeper than most can see, and who doesn't love a little naughty with their nice?  It's one of the reasons that I really enjoy these books.  The characters are engaging, often in unexpected naughty ways that are laugh-out-loud funny.  Author Emma Cane's characterization builds in a charming manner with a little sizzle and pop to tease, revealing banter leaves the characters vulnerable and open for love at just the right moment, leaving the reader anxious for the laugh-out-loud one-liner that sums it all up at the end.  TRUE LOVE AT SILVER CREEK RANCH is sweet contemporary fun with a little naughty streak zip-lining through the meddling!
Order Print or eBook at AMAZON | B&N
~~~
What's on your mountain?

Print this Post